Shannon Talbot is an adoptive mom and blogger.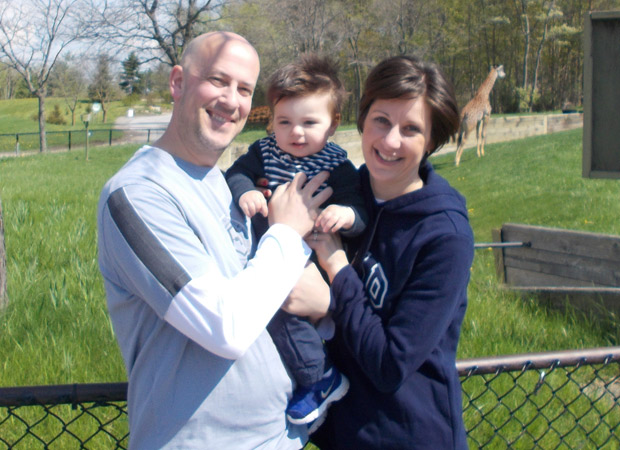 I recently asked friends and family what they would like to know about open adoption but may be too afraid to ask.
I received lots of really great questions (a lot of the same ones I had before I started my adoption journey). So thought I would share them here, along with how my husband and I answer them.
Everyone is different but I don't offend easily, especially when it comes to open adoption terms or questions.
If you've never been exposed to adoption, it's unlikely you know a ton about things like open adoption or terminology like "birth mother."
All we can do is let people know more about it and hope that awareness increases.
So here are a few of the questions and our answers.
Q: What exactly is open adoption?

A: Open adoption is where your adoptive child has some sort of relationship with his/her birth family. This could be through letters, phone calls and/or visits. Usually an open adoption agreement is made between the adoptive and birth parents on how they'd like openness to work for them.
In our case, open adoption means a few visits per year and texts/emails with pictures and updates. It's really like having more extended family who we get along with well and who love our son and want to see him doing well.
Q: What challenges does open adoption pose?
A: In the beginning before we knew much about open adoption, we thought it would mean our son having multiple parents weighing in on decisions and him being confused about who we were. We're now a year and a half into our open adoption and the only challenge we face is scheduling visits with multiple people and busy calendars.
But we have that same challenge with our immediate family, too, so really it isn't any different. The best way I've heard adoption explained is it's really just more people to love and care about our son.
Q: How did you decide between open and closed adoption?
A: When we first started down the adoption route, we were focused on international adoption which would mean a closed adoption. We then attended a PRIDE session (training session for prospective adoptive parents) and heard a story from an adoptive mom.
She adopted internationally and the older her son gets, the more she wishes she knew about his history to share with him as he starts to ask questions. She even hired an investigator but couldn't find out any information on her son.
This story changed my mind on the spot and made me realize how great open adoption is for both sides. Our son's birth parents get to see he's doing well and our son gets to know his birth family and history. It's a win-win!
Q: How are you going to explain adoption to your son?
A: This is a tricky one as we don't know what questions our son will have once he'd old enough to understand.
We have talked and read about adoption with him since Day One and we feel that having him visiting with his birth family will also help. When the time comes, we'll figure it out as we go.
Q: What will he call his birth parents?
A: Another good question that we just don't know. We'll let him decide when the time is right.
Q: How many heartbreaks did you have along the way?
A: We had three very close calls where we came in as second choice with birth parents (one time after getting to know the birth mother pretty well). I've never had a miscarriage but I can only imagine that similar emotions are felt.
You get so close to being a parent and then that hope is taken away. I strongly believe everything happens for a reason and knew our time would come when it was right. Everything worked our better than imagined in the end and we are very blessed.
Q: How do you handle when people don't know he's adopted and say he looks just like you?
A: I'm sure my answers will get better as time goes on, but for strangers I say "thanks," and for others I'll tell them he's adopted but still thank them. I love that people say that and a lot of the time it's people who know he's adopted and forget, which puts a smile on my face.
The comment I received that threw me off the most was when I was out for a walk when my son was six weeks old and had someone say 'you can't be his mom' which totally threw me off. I just stared at him blankly and then he said 'you don't look like you just had a baby.'
The conversation really threw me so I just smiled and kept walking. The other question I like is when people ask where his hair comes from and I just say "well his dad's bald"
Q: What type of emotions does each member experience when seeing his birth family?
A: The beginning was extremely emotional for everyone and it took me a long time to be able to talk about the hospital visit meeting our son and his birth family for the first time.
The hospital visit was not one of joy as it is with meeting most newborns, but one of sadness having to watch the birth parents who knew this was the best decision yet was probably one of the saddest and worst days of their lives. As time goes on, there are definitely tough moments for everyone but also moments of happiness and laughter.
Open adoption to me is just another way a family is formed. There are single family homes, divorced homes and adoptive family homes, all with their own unique benefits and challenges, and the best we can do is spread awareness on the different types.
Shannon Talbot is an adoptive mom of a beautiful boy living in Toronto, Ontario, wife of six years to an amazing man, banker by trade, bilingual in Spanish, dog lover with five-year-old beagle and blogger who loves sharing her story to help others through infertility and adoption. Check out her blog. 
Do you have an adoption story?
We'd love to share it with your community. Email us any time or find details here.