Linda Rosenbaum is an adoptive mother and author.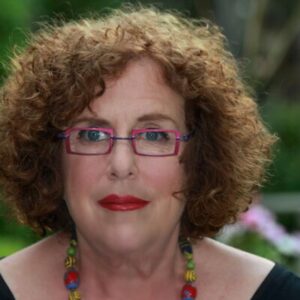 My husband and I had always told our daughter that we wanted her to wait until she was at least eighteen before meeting her birth mother.
That day was now three weeks away.
Sarah was eighteen and ready. Denise, her birth mother, let us know early on that when Sarah was ready, she would be too.
For eighteen years, Denise and I had been speaking on the phone, exchanging letters or, more recently, e-mails.
I made sure she heard when Sarah lost her first tooth, bought her first hockey skates, kicked a winning goal in soccer and saved her brother Michael from falling into a dangerously big hole.
Since she was fifteen, Sarah had been communicating directly with her birth mother through emails, and every once in a while, spoke to her on the phone.
If Denise was calling me and Sarah happened to pick up, she spoke to her.
When it first happened, Sarah immediately pressed the phone into my hand, too nervous to speak, but that soon changed.
Sarah had a strong desire to meet Denise when she was thirteen, but I had suggested she ask Denise for pictures of herself instead, and somehow, that sidetracked the immediate urge.
For many years, a large picture of Denise was prominently displayed in Sarah's bedroom, just as photos of our son Michael's birth mother was in his. 
We started making plans for the reunion, all agreeing it should be at Denise's home in Kitchener, a city roughly one and a half hours outside Toronto.
As we did when Michael was going to meet his birth mother, we spent time talking to Sarah about her expectations of the meeting, any hopes or dreams she harboured.
It wasn't the same as it was for Michael, though, because Denise wasn't an unknown, like Michael's birthmother 
We knew so much about Denise, even the sound of her voice. She knew about us, too. We just hadn't yet met.
Nevertheless, this was a major, possibly life-altering event, as was the phone call I received from Denise eighteen years before: "Hi, I'm calling about your ad in the newspaper."  
As we piled into the car, I wondered if the trip to Denise's might be painful for Michael. He'd been so close to meeting Kira, his own birth mother, but because of her unexpected death, just weeks before their planned reunion, he never did, never would.
I worried this might make him sad or jealous. "Mike, will it be hard for you to see Sarah meet Denise since you didn't get to meet Kira?" I asked. 
"No," he said. I thought our young man of few words was finished, but he then added, "I'm happy for Sarah." I was so proud of him. 
Michael was adopted at birth, and was a troubled child from the day we brought him home. No one, including his doctors, understood what was wrong.
Six years later, he was diagnosed with fetal alcohol syndrome (FAS) at the Hospital for Sick Children. I remembered how at the time, Dr. Roberts told us we had to "model" emotions for Michael so he could learn words for what he was feeling. 
Over the years we had been saying things like "You must be feeling angry, Michael," when someone bullied him at school. "You must be sad, Michael," when his birth mother Kira died. "You must be proud, Michael," when he learned to ski.
On his own, right then, as we were driving to meet Sarah's birth mother, he said he was happy for his sister. 
He probably was. Michael doesn't have a mean bone in his body.
I didn't say much on the drive out to Denise's. I had learned over the years that I didn't always have to rescue my family from uncomfortable feelings.
Sure, everyone was nervous, but we'd survive. Anyway, I knew that once we were at Denise's I was going to be commandeered into active duty to keep everything moving along nicely. 
We drove up to the small, wood-sided white house where Denise was living.
"You walk in first, Ma," Sarah said, virtually shoving me at the door of Denise's small basement apartment, at the back of the house. 
I knocked, and Denise came quickly to open the door, dressed casually, in jeans and a T-shirt.
She said hello in her husky voice, then gave me a hearty laugh and spontaneous hug. I moved in quickly to make room for Sarah who was standing directly behind me.
Denise gave her an even bigger bear hug.
When they eventually pulled apart, they just stared at each other for what seemed forever, but was more likely just a few intense seconds. 
Denise ushered us into her living room and led us to seats on her cushy couch.
A huge television on mute was playing in the corner of the small room. Photographs of Sarah were hung on a wall alongside other family members. 
Denise brought out bowls of corn chips, salsa, guacamole and a plate of homemade brownies and placed them on a coffee table in front of us.
We sat in the living room for almost two hours, chatting, looking through photo albums, rereading old letters and telling stories about the past eighteen years.
We kept looking for physical resemblances between the two. Denise's hair was much darker and skin more olive, but we all agreed that Sarah had Denise's prominent cheekbones and square jaw. 
There was no shortage of laughter or tears.
After a few hours, we were all emotionally exhausted.
Before we arrived, I told Sarah I would make sure that she and Denise had time alone. She said she wasn't sure if she'd need it, but I wanted her to know it was fine, just in case.
After a half hour there, Denise asked Sarah if she wanted to go for a little walk together. Sarah looked at me before answering, and I, of course, nodded.
They came back shortly after a brief trip to a nearby Tim Hortons. They were delighted to have discovered they were both aficionados of Timmy's and the Toronto Maple Leafs.
Sarah had been noticeably careful about my feelings during the whole lead-up to the meeting.
"You don't have to worry, Mum, I know who my mother is," she said.
She was equally sensitive when we were with Denise. She often gave me glances, nudges or little touches, letting me know she wasn't forgetting about me.
I believed she was making sure I wasn't jealous or hurt. Of course, I could have been wrong.
Maybe those reassuring gestures had been for her, reaffirming my presence to help her feel more stable in a difficult situation. She had two mothers in the same room, after all.  I sensed a deep kindness in Sarah that day.
The end of the visit brought the unburdening of our so-called family secret! 
We told Denise what Sarah's full name was.
We could have told her before, of course, but at some point over the years we decided we wanted to be with Denise when she heard that the daughter she gave birth to on Christmas day was actually named "Sarah Christmas."
That's because both Sarah and Michael share my husband, Robin's last name – "Christmas."
"Come on! I can't believe it," Denise said, shrieking, shaking her head back and forth. "What were the chances? Talk about a Christmas miracle," she said, then added,  "Does Oprah know?"
We all had a good laugh, though our family had been laughing about Sarah's name and birth date for the last eighteen years. Denise was just catching up.
Yep, our Sarah Christmas, born on Christmas, and as she used to say when she was young… "and I'm Jewish." 
We left Denise's all agreeing that Sarah was our shared joy to the world.     
Linda Rosenbaum lives on Toronto Island where she raised her family. She is a writer, has worked in television and on documentary films, and advocates for children with special needs. Her story about her son, Wolf Howling At Moon, won the 2013 Canada Writes Readers Choice award for creative-non-fiction. The Day Our Daughter Met Her Birthmother is an abridged excerpt from her new book, Not Exactly As Planned: A Memoir of Adoption, Secrets and Abiding Love.   
Do you have an adoption story? We'd love to share it with your community. Email us any time or find details here.