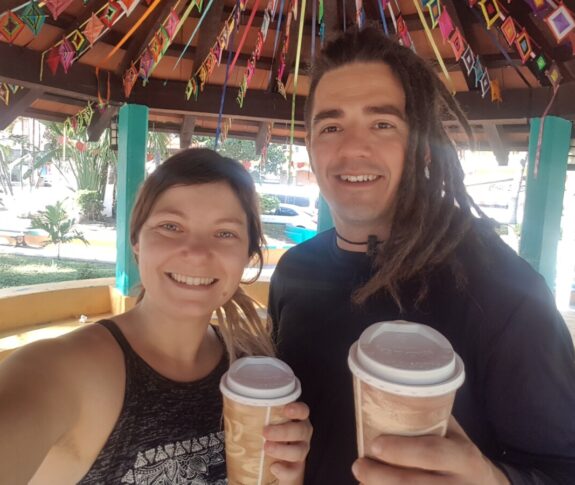 Hey there,
thanks for taking the time to learn a little bit more about us!
We are excited about the chance to be parents and are completely open about the entire adoption process! 🙂
Quick Facts
Jessica
Age: 30
Ethnicity: White
Religion: Other
Profession: Acupuncturist/ Franchise Owner
Education: College Diploma
Interests: kayaking, adventure and travel, dogs, crafting, puzzles and coffee
Mark
Age: 31
Ethnicity: White
Religion: Other
Profession: Plumber/ Franchise Owner
Education: College Diploma
Interests: camping, adrenaline activities, fixing things, home renovations, cars, video games and coffee
Our Community
Years Together: 9
Province: Ontario
City: East Garafraxa Region
Neighbourhood: Rural
Pets: Blue is our 4 year old, 10 pound shih tzu-yorkie-poodle mix
Child Preferences
Age: 0-6 Months
Gender: No Preference
Ethnicity: No Preference
Special Needs: No
Type of Adoption: No Preference
About Us
We met in high school, but didn't start dating until we reconnected in our early 20's at a local bar. We have been together for 9 years, married for 4. Over the years we have travelled, experiences and gone on many adventures. We are excited about the opportunity to share and create new experiences with a child. Both as individuals and as a couple we are constantly growing and learning about ourselves, each other, our families, and the world around us.  We would like to think ourselves as being lighthearted, quirky and a down to earth couple.
We have always wanted to adopt and have talked about it since we first started dating. We're looking forward to sharing our charisma, knowledge, experience, morals and values with a young one and are very eager about starting a family.
About Jessica
I enjoy natural healing methods and exploring the metaphysical realms. Being an Acupuncturist I love what I do and enjoy helping people feel better. Mark and I are proud owners of a Massage Franchise so we have the opportunity to be in and out of the business as we see fit- this allows to spend more time at home and sets us up for financial freedom in the future. I also enjoy travelling and experiencing new cultures and food. I have been lucky enough to backpack and travel quit a bit so far in my life and can't wait for more exciting adventures that lie ahead. I like playing word and puzzle games, as well as brain teasers and board games. I enjoy being active and playing and watching a variety of sports. I enjoy off the beaten paths hiking and camping and spending time with family and friends- often over delicious food. My favourite thing to do is cuddling our dog Blue with a good cup of coffee watching a comedy.
More About Jessica (Written by Mark)
Jessica had opened my eyes to a whole new world since I first met her. She is soo loving and caring and the best company I could ask for. She is brave, self-less, open0minded and respectful. Not only does Jessica follow right along side me while on a crazy adventure- half the time I'm trying to keep up with her! She is extremely organized, a hard worker and very attentive; however she is also just as easy going and laid back. She is always thinking of new things to try from activities to foods and traditions. Jessica has so much love and knowledge to five and I can't wait to watch her share it.
About Mark
I enjoy diagnosing mechanical issues and making things work or run more efficiently. Even though I am a plumber by trade I enjoy working on cars as a hobby and keep myself occupied with handyman jobs around our home. I also enjoy physical activities like canoeing and camping to extreme like cliff jumping and sky diving. I like to escape my comfort zone by actively trying and learning new things. Travel and adventure of the rawest form are my type of experience. At home I enjoy taking care of a few(20<) houseplants.  I like to play board games, card games, video games and recreational sports.  I love laughing and eating with family and friends. I do also enjoy relaxing with a good movie or even a bad comedy with my wife and dog Blue.
More About Mark (Written by Jessica)
Mark is easy-going, open-minded, practical, fearless, funny and a hard worker who would do anything for his family and friends. He has been my rock and the most supportive, loving partner I could ask for who always encourages me to chase my dreams. He is very handy and a jack-of-all trade. He is very active and always finding something to tinker with. He gets along with everyone and can make any situation less tense. He likes adventure, camping, bonfires and doing wild, extreme and high adrenaline things; but always enjoys more subdues activities as well. He is wise beyond his years and I can't wait to watch him be a father!
Meet Blue
Blue is our 4 year old 10 pound puppy. His favourite game is hide and seek and knows all of his toys by name, as well as his dog and human friends too. He loves sunbathing, kayaking, hiking, climbing big rocks, cuddling with mom and dad and going on car rides sticking his head out the window no matter the weather. He is extremely well behaved around children and other pets. He is not only adaptable, but enjoys exploring new things- He travelled with us to Mexico for 5 months last year while we lived out of our converted truck!
Our Home & Community
We live in a small community in East Garafraxa region, 15 min away from a few larger towns. We live in a 3 bedroom, 2 bath 18th century home with a large backyard. We back onto a park with a jungle gym, baseball diamond, community centre, community ice rice and a walking trail.  There and many children and young families in the area. The community hold many events like scavenger hunts, bbq's, sport tournaments, christmas caroling, zombie walks and activity days for the kids.
Our Friends
We have a really supportive close group of friends who we hang out with regularly and have annual traditions with. We have known some of them since we were both young and share common interests amongst us all. Many of them have growing families and we're excited to watch the children grow up together and have life long friends.
Our Families
We're both close with our families and see and talk to them regularly. Mark's sister recently had her second child in December of 2020! and they live about 15 minutes away from us.
Our Thoughts about Parenting & Adoption
We are extremely open to the entire adoption process and have taken additional courses on open adoption and can't wait to see what the future of adoption holds for us.
Closing Thoughts
Thanks for taking the time to give us a read, wishing you all the best!
Feel free to reach out to us if you feel we are a great fit or if you have any questions for us! 🙂
Looking forward to go on this journey with you