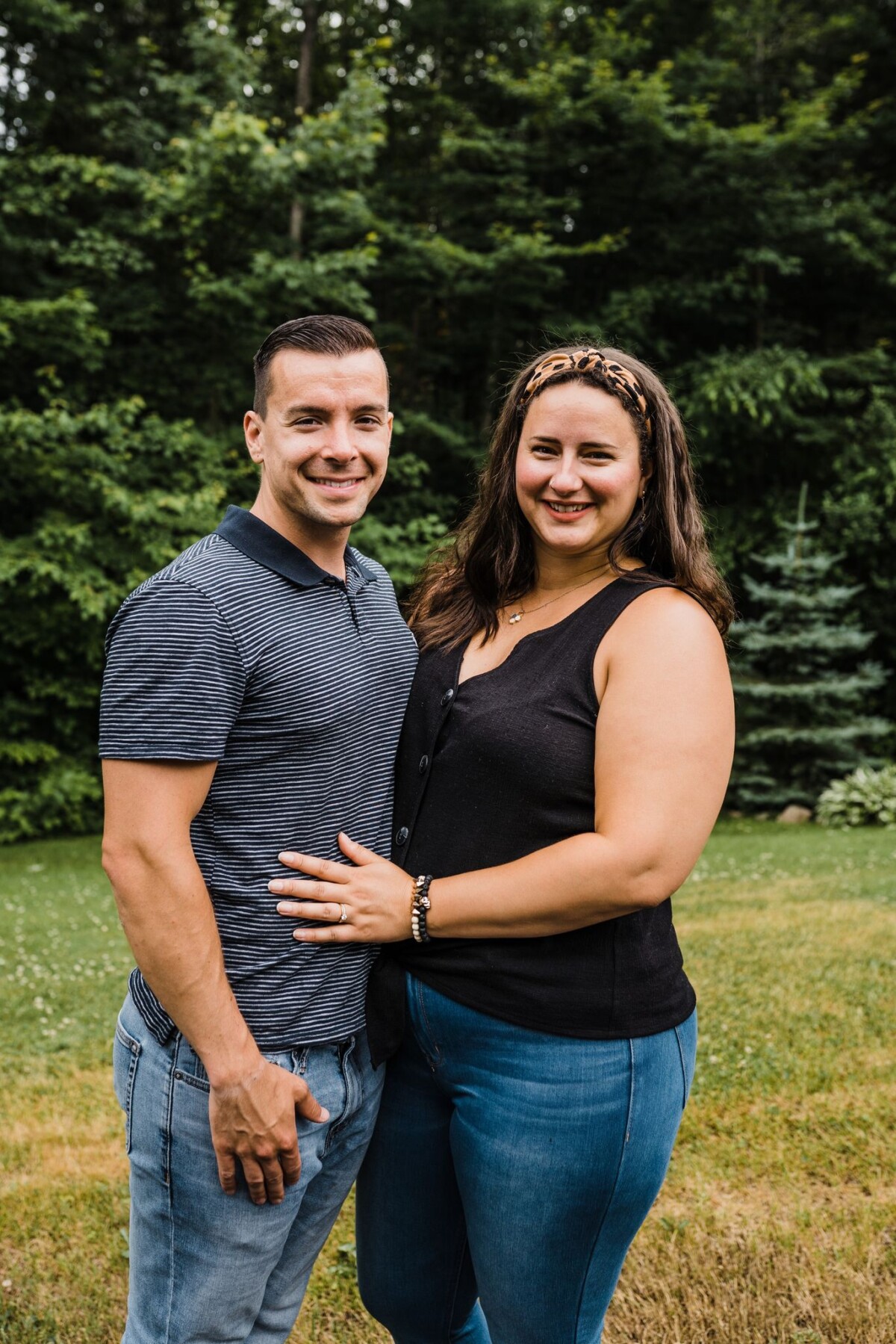 We are Erica and Stefan. We are a young couple living in the Ottawa area. We love to spend time together with our dogs and families. We love to travel, spend time with friends, and play Super Mario. We are aunt and uncle to two amazing boys. We have wanted a child for a long time and feel we are ready to welcome a child into our lives. We are eager to grow our family through adoption. We can't begin to understand the difficult decision you are going through, we promise to love and care for your child. We will provide your child a safe and loving environment surrounded by family and unconditional love. Thank you for taking the time to look at our profile.
Quick Facts
Erica
Age: 33
Ethnicity: White
Religion: Catholic
Profession: Project Manager
Education: College Diploma
Interests: Reading, Dogs, Swimming, Crafting, Home Decor, Traveling, Animal rescue, True Crime, Spending time with our family and friends
Stefan
Age: 33
Ethnicity: White
Religion: Christian
Profession: Accountant
Education: Bachelor Degree
Interests: Soccer, Tennis, Music, Fitness, Dogs, Traveling, News, Spending time with our family and friends
Our Community
Years Together: 9
Province: Ontario
City: Ottawa
Neighbourhood: Suburban
Other Children: No
Pets: Penelope and Maxwell mini golden doodles, Lyra and Lennon rescue mixes
Child Preferences
Age: Up to 2 years
Gender: No Preference
Ethnicity: Any
Special Needs: Open To Discussion
Type of Adoption: No Preference
About Us
We met nine years ago through mutual friends. Stefan went to a bar with some friends of Erica's, he saw her and was immediately interested. After one year of dating we bought our first home, a year after that we moved in together and got our first dog Penelope, four months later we got our second dog Maxwell. A couple years later we adopted our first rescue dog Lennon. After four years of dating, one day in December, Stefan dressed our three dogs up as a bride, groom, and ring bearer, got down on one knee and popped the question. Erica of course said yes. A year later we were wed at Erica family church where her parents, grandparents, and sister were married. Since then we have been married for four years, we bought our second home and adopted our second rescue dog Lyra. We spend a lot of time at home together watching movies, doing Lego, and playing Super Mario. We really enjoy traveling together, one of our favorite places to visit is Florida. Erica's family has a home in Florida, we visit a few times a year with family and friends or just ourselves. We also like exploring new places together, one of our favorites was Hawaii on our honeymoon. We love being outdoors walking our dogs, in the summers we love to spend time with our families by the pool. We are both involved in a local dog rescue where we work with dogs in need of new homes and were we foster failed our dog Lyra. We have fostered over a dozen dogs in need and one pregnant mom and her puppies. It was an amazing experience. Once we have children we will take a step back from fostering but we will always be involved in the rescue. It brings us together as a couple, gives us a sense of purpose, and it is something we love doing together. In the future we hope to buy a home in a more rural environment with more land for the dogs and future children.
Erica
I am 33 years old. I work for my family construction business. I am the fourth generation in my family to work in the business and the first woman. My dad is training me to one day take it over. I have one sister, she is one of my best friends. We were raised in a rural home with two parents. We were raised with family around us all the time and a very strong value in family. My sister and brother in law gave us two perfect nephews Matteo and Leo. We see them multiple times a week. Every Friday we go to their place to have dinner and spend time with them. We love to watch them grow. I am Matteo Godmother and Stefan will be Leo godfather. I am very passionate in animal rescue. I am a senior member in a local rescue where we save dogs and find them appropriate homes. During covid I began crafting more often, I started to knit, cross stitch, and macrame. The things I make I donate to the rescue to raise funds. I love to swim and am a very strong swimmer. I love to dance and competed in dance for multiple years. I am an avid reader, true crime and psychological thrillers are my favorite. I love to design and decorate our home. I am very close to my friends considering many of them family. We both have a very strong and supportive circle of people around us.
Stefan
I am 33 years old as well.  I work for the Government of Canada at the border services agency as an auditor.  I have been working in the field of accounting for a few years, I have been at my current position for a little over 2 years.  I love what I do and I foresee myself working here for a very long time. In the future I would like to start my own business providing accounting services for small business.  I have a great passion for health and fitness as well as music.  I love spending time with my family, I eagerly look forward to family dinners. My family immigrated to Canada from Romania when I was 7, I do not have extended family near me.  My past times include playing soccer, listening to music as well as DJing at parties, and doing my own renovations.  For our current home I built the fence, installed the patio stones, and completely finished the basement.  I would like us to find a future home that we can fix up and renovate ourselves.  I spend a lot of time looking after our dogs and foster dogs, it is always very rewarding.  I love to keep up to date with news, current events and learn new things. I also greatly enjoy learning about history.
Penelope, Maxwell, Lennon, and Lyra
Penelope and Maxwell we bought from the same breeder about 4 months apart. When we were ready to move into our home, we knew it would not be a home without a dog. We researched breeds and breeders and we thought a mini golden doodle would be the perfect first dog for us. Penelope is an angel. She is sweet and cuddly but also independent. She is the boss of the dogs, she keeps them all in line. Maxwell is our old man. He has always been a really relaxed, calm dog. He loves to sit and watch the world go by. Lennon was our first rescue. We adopted him through a breed specific rescue in the United States. He is a Chinese crested mini Schnauzer mix. He is so relaxed and calm as well. When looking for Lennon he is either in bed or on the couch. He is a worlds class cuddler and loves nothing more than to be with his people. Lyra came to us as a foster. She had a rough past and needed to heal. She fit in so well with our family we couldn't let her go. She is a boxer mix. She is so very loyal. She is always ready to have fun, after the fun she loves to nap on the couch. She is the best with children and loves to be around them. All our dogs have been around children their whole lives. They love children and will follow them throughout the house.
Our Home & Community
We live in a large suburb south of Ottawa. We live in an average size home with four bedrooms and four bathrooms. In 2020 Stefan finished our basement himself with them help of our generous friends. We have a fenced in yard and live on a very quiet street. We have many schools and parks within walking distance of our house. We have plenty of amenities around us including a great community facility with a pool, ice rink, and gym that we both use. We are within 20 minutes of both our parents and Erica sister's family. We are looking to buy a home in a more rural setting with a large yard for the kids to run around and learn to ride bikes.
Our Thoughts about Parenting & Adoption
`We were both brought up with strong family values and connection. We spend our Sunday's eating dinner with either side of the family. During holidays we spend the whole day with our aunts, uncles, cousins, and grandmothers as well as our immediate family. It is very busy but we love it. Our families are our biggest support systems and have been there with us through everything. We also have our friends who are family who are equally as supportive. We love to spend our free time with friends. We would like to provide the same sense of unity and community to a child. It takes a village to raise a child. Our village is strong and it is ready for more members. We both knew we always wanted to have children. When it wasn't happening for us naturally we knew adoption was in our future. We are excited to have the uniqueness that adoption brings to being parents. We would love to have an open relationship with the birth parents.  We will incorporate adoption into our everyday lives through age appropriate books. We will ensure your child will know where they came from and the sacrifice you made for your child. We will keep an open relationship with you as the birth parents so the child will know where they came from and their history.
Closing Thoughts
It is difficult to put into words how excited and ready we are to become parents through adoption. We have read multiple books and we have done so much research to prepare us for the gift that is a child through adoption. We will love your child immensely, we will be he or she's biggest supporters and love your child unconditionally. We will teach your child to be kind and compassionate and to have respect and confidence. We will instill the same family values we were taught. Your child will be our first priority in life and we will do everything we can to make sure your child knows it is loved and where he or she came from. Thank you for your consideration and for taking the time to look at our profile.