For months, Sandra Bullock was sitting on a secret.
But today, she finally revealed it to the rest of the world: She's a mom again. By adoption.
Seven months after being named Woman of the Year by People magazine (and, at 50 years old, she was the oldest woman ever to earn that honour),  Bullock tells the magazine that she has a new daughter, Laila.
For months, the Oscar-winning actress denied reports that she had expanded her famous family. That's because Laila, 3 1/2, was in the Louisiana foster care system and Bullock feared that going public could jeopardize her adoption plans.
"You feel it's very much like witness protection," Bullock told the magazine, which hits the newsstands Friday and includes photos by her boyfriend, photographer Bryan Randall.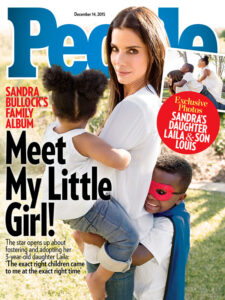 "Most foster children are in foster care because they were taken from their birth homes under tragic circumstances — and the last thing I wanted was to bring more harm to her because of the nature of my job."
Laila joins older brother  Louis, 5, who was adopted in 2010, also from Louisiana.
Bullock began the process three years ago and says the first stages called for plenty of patience.
"I knew she was scared, and all I wanted was for her to know Louis and I weren't going anywhere," she says.
But despite the wait and the pressure she was under to protect Laila's privacy and keep her plans under wraps, Bullock wouldn't change things for the world.
"When I look at Laila, there's no doubt in my mind that she was supposed to be here. I can tell you absolutely, the exact right children came to me at the exact right time."
According to the magazine, the two siblings have formed "an inseparable bond" and Laila has added her own unique personality to the the Bullock household, bringing "pink and glitter" to Louis' Legos and Batmans.
Bullock says she has a "very traditional family" even though she admits that she has "no idea what a 'traditional family' looks like anymore."
"If a traditional home is one that is filled with lots of love and poop jokes, no sleep, schedule books filled with more kids' social events than adults' and lots of yelling over who touched who first … then I have a very traditional family."
She goes on to describe her family as "blended and diverse, nutty, and loving and understanding."
She adds that she hopes her adoption experience will shine a light on children currently in foster care.
Bullock's first adoption made headlines and raised awareness about adoption. Do you think her new placement will do the same and encourage others to consider fostering and adoption?
Share your thoughts about Bullock's adoption and celebrity adoptions in general on our Facebook page.
Do you have an adoption story? Share it and inspire others.
Help us remove the stigma around adoption. Like us on Facebook.