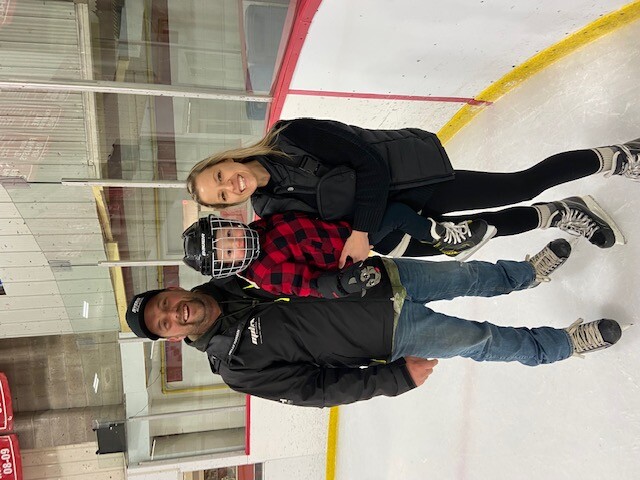 Dear Birth Parent(s):
Hi, we are Jesse, Sarah and Hudson, an active and energetic family who are excited and humbled at the possibility of welcoming another child into our lives. We cannot begin to imagine the difficult decision you are facing. We believe that a child is the greatest blessing and we deeply admire your strength and courage in considering adoption as a way to provide your child with a happy, two parent family. Please know that we share a truly important goal; we all want the best for your child. We are ready to embrace your child and accept this new miracle into our hearts. We can provide your child with a safe, secure and loving home and we will be forever grateful if you choose us as adoptive parents. Thank-you so much for your consideration.
Quick Facts
Sarah
Age: 35
Ethnicity: White
Religion: Christian
Profession: Grade 2 Teacher
Education: Bachelor Degree
Interests: I enjoy spending time with my family, travelling, being active, playing sports, such as hockey, reading, biking, swimming and boating.
Jesse
Age: 36
Ethnicity: White
Profession: Superintendent of Major Pipeline Projects
Education: College Diploma
Interests: I enjoy spending time with my family, travelling, working in my shop, snowmobiling, ice fishing, atv-ing, boating, cooking, and playing hockey.
Our Community
Years Together: 15
Province: Ontario
City: Brechin
Neighbourhood: Rural
Other Children: We have one son, Hudson, who is 2.
Pets: We have an Old English/Cain Corso mix named Bridget. She is gentle and calm
Child Preferences
Age: 0-6 Months
Gender: No Preference
Ethnicity: White
Special Needs: No
Type of Adoption: No Preference
About Us
We met over 15 years ago at Jesse's family home and have been happily married for 8 years. We were introduced to each other through a mutual friend. Jesse's version is that at first look, Sarah was hooked! I'm not sure who was smitten first, but soon after, we began to communicate on a regular basis and started dating.
Since then, we have built a very committed and loving relationship, which is founded in mutual respect, honesty, sincerity, and most importantly, love. We share so many of the same values and were raised in a similar family background. Due to medical reasons, we are unable to conceive a biological child. We feel truly blessed with the adoption of our son, Hudson, just over 2 years ago and are so in love with him. We absolutely love our life together. It has always been our dream to have two children and we are so excited to have the opportunity to grow our family through adoption again.
Meet Sarah: I am 35 years old and I teach grade 2 at a local elementary school. I have 2 sisters and we were raised by our parents in a happy home. My dad is a retired service technician for Bell Canada and a volunteer firefighter and my mom stayed home to raise my sisters and I. I am very close with my family. My older sister is married with three daughters and my younger sister and her common-law husband have one daughter. My husband and I adopted our son, Hudson, in September 2019. 
Meet Jesse: I am 36 years old and I am a Superintendent for a large pipeline company. I have one sister who lives in Australia with her husband and three children. We were raised by our parents and enjoyed a happy childhood, full of adventure, travelling and different athletic opportunities. My dad is an operating engineer for the company I work for and my mom is a retired teacher and financial consultant. 
Meet Hudson: Hudson was born in September 2019 and we feel so incredibly blessed that we were chosen to be his parents, just days after he was born. He is such a happy, outgoing, gentle and caring little boy who adores his dog, his cousins, his family and all his little friends. He melts peoples' hearts with his genuine smile and loving personality, and he never ceases to amaze us with his determination and independence. Hudson loves being outside and we spend a lot of time going for walks, bike rides, swimming and boating. We absolutely love watching Hudson learn and grow and we cherish every milestone and event with him. We are so thankful everyday for Hudson and we know he will be such a wonderful big brother!
Meet Bridget: Bridget is our 4-year old Old English Bulldog and Cain Corso Mix. She is a very loving and affectionate dog who enjoys playing and going for walks. Bridget is very well behaved and has a calm personality. 
Our Home & Community
Our Home: We live in the small town of Brechin on 5 acres of property. Our house is a fully renovated farmhouse with 4 bedrooms and 3 bathrooms. Our home is well maintained and very warm and inviting. Our property is surrounded by farmer's fields, mature trees and lots of space. We are a short walk to Lake Simcoe and we enjoy the view of the lake from our home. We absolutely love our home and can't wait to grow our family!
Our Community: We love our rural community and are within a quick 4-minute drive to amenities such as a grocery store, pharmacy, gas station and restaurants. The local school is also a 4-minute drive from our home as is our local library which holds many early learning programs and activities. Our nearest city is within a 20-minute drive from our home and has amenities such as rec centres, swimming pools, a hospital and emergency services. There are many opportunities for your child to partake in extra-curricular activities, such as sports teams, swimming lessons, music lessons and much more.
Our Thoughts about Parenting & Adoption
Our Parenting Beliefs: We feel very blessed to have both sets of parents as our example in marriage, with Jesse's parents married for 37 years and Sarah's parents married for 39 years. Our family is our first priority, always. Strong family values are vital to both of us. We know that our lives will be immeasurably enriched when we are given the opportunity to grow our family.
We believe in providing children with a safe, secure and loving home environment where they feel unconditional love, admiration and encouragement. Consistent parenting is important to us so that a child knows his or her boundaries and the consequences for their actions. We will handle discipline in a loving, but firm manner so that your child is able to learn from his or her mistakes. We do not believe in any form of physical discipline. As parents, we will teach your child the importance of respect, honesty, compassion, and diversity.
As your child grows, he or she will be encouraged to follow any dreams or interests that he or she may have. Your child will not be forced to follow our aspirations but will be given the opportunity to make choices and goals for him or herself. Your child will be provided with many opportunities and will be supported and encouraged regardless of what he or she chooses. We will always be on the sidelines cheering your child on. We will love and support your child, always. We can hardly wait to complete our family!
Our Adoption Views: Adoption has always been a part of Sarah's life, as her grandmother was adopted. Sarah has always hoped to adopt a child of her own and when becoming a mother did not happen for her naturally, the hope of adoption to grow her family seemed like it was meant to be. We both couldn't be any more excited than we are right now with the possibility of becoming adoptive parents to your child.
We both experienced immeasurable love, fulfillment and appreciation with the adoption of our son, Hudson. We have remained in close touch with Hudson's biological parents as we send pictures and emails regularly and visit a few times a year.
We would love to meet with you to learn about your hopes and dreams for your child. We are committed to a connected relationship; sending pictures, writing letters, sharing in a name, visits, communicating through e-mail and giving your child information about his or her birth family. We will never hesitate to tell your child about how his or her birth parents provided the gift of life, a healthy beginning and a hopeful future. We will openly discuss your child's adoption with them and will highlight the positive experience that it is. Please know that we are sensitive to your wishes and respect your desires for your child.
Closing Thoughts
It is impossible for us to express our feelings towards birth parent(s) that consider adoption plans for their child. How could we possibly thank someone for providing us with an opportunity to obtain a life that we cannot create on our own? What could we say to someone who could give us the chance to grow our family; to give our parents another grandchild, our siblings another niece or nephew and our son a sibling? How can we express our gratitude towards someone who can change our lives indefinitely; whose selfless decision may literally recreate our family and our future? If words are possible enough, we undoubtedly say… thank-you.
We wish you all the best,
Sarah, Jesse and Hudson