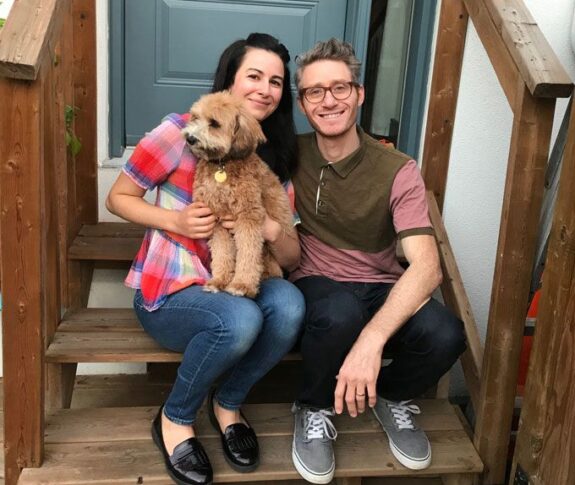 What are the chances that… we could be family.
Writing to you, it's hard to know what to say.
On the one hand, we want you to know that we are thinking of you. That we are picturing you reading this while having to make a BIG life decision: choosing a family for your child! On the other hand, we want you to know who we are. And why we find ourselves writing this letter to you. We want you to know that we are fun and caring people who love each other so much. And that our decision to start a family is simply because we want to share our love and help it grow into something bigger than us. We want you to know that we tried to start a family the biological way. But when it didn't feel right for us anymore, we remembered this isn't the only way.
We imagine there are a lot of things to consider when choosing a family for your child. But at the end of the day, it's just gotta feel right… What are the chances that we could be family?
Quick Facts
Robyn
Age: 36
Ethnicity: White
Religion: Jewish
Profession: Urban Planner, specializing in community engagement
Education: Masters Degree
Interests: Painting, gardening, dancing, reading
Geoff
Age: 41
Ethnicity: White
Religion: Jewish
Profession: Youth and Family Counsellor
Education: Masters Degree
Interests: songwriting, guitar, singing, biking, hockey, cooking, movies
Our Community
Years Together: 13
Province: Ontario
City: Toronto
Neighbourhood: Urban
Other Children: no
Pets: Mooshi the most adorable Whoodle
Child Preferences
Age: No Preference
Gender: No Preference
Ethnicity: No Preference
Special Needs: Mildly Correctable
Type of Adoption: No Preference
About Us
Us in a snapshot
We met in 2007 (it was love at first sight)
We own a house in a vibrant and friendly neighbourhood in the west end of downtown Toronto
Our dog is named Mooshi (we wanted to give her a name that sounded as cute as she is)
We have 3 nephews and 2 nieces in walking distance
We love to go on weekend hiking adventures, travel and take trips to Manitoulin Island and New Mexico
We love to create and see all kinds of art and music
We both work full-time (partially from home), and will share 12-15 months parental leave
We welcome openness in your child's relationship with you
Culturally Jewish (but not religious)
GEOFF
Birthday year: 1979
Astrological Sign: Pisces
Born and raised in Toronto
Family: 1 older brother, parents live in Toronto
Job: Youth and Family Counsellor in the non-profit sector
Hobbies: Songwriting, guitar, singing, biking, hockey, cooking, movies
Appearance: red/grey hair, slim, 5'9"
Education: Bachelor of Social Work, Masters in Social Work
ROBYN
Birthday year: 1984
Astrological Sign: Leo/Virgo (more of a Virgo)
Born and raised in Toronto
Family: 1 older sister, parents live in Toronto
Job: Municipal Urban Planner (specializing in community engagement)
Hobbies: Drawing and painting, gardening, dancing, reading
Appearance: brown hair, slim, 5'3"
Education: Bachelor of Design; Masters of Science in Urban Planning
Our Story
We were both born and raised in Toronto and have lived together in the city's downtown west end since 2008. We actually grew up ten minutes away from one another and went to the same summer camp but did not meet until many years later… As the story goes, in 2007, Robyn was working at the front desk of the Jewish Community Centre (JCC) where Geoff used to work out. It was early days of Facebook and Robyn sent a message through a mutual friend that she was interested in Geoff. On the day Geoff received this helpful tip, he was faced with a very important decision: ask Robyn out or stop working out at the JCC. Luckily, Geoff was also interested in Robyn and asked her out later that day.
Within 30 minutes of their first date, Robyn knew she was going to marry Geoff. It was love at first sight. According to Robyn, everything about Geoff, from his values, to his sense of humour, to his general way of being were a perfect match.
As a couple, we are very supportive of one another and also like to laugh a lot and cuddle with our dog, Mooshi. We love each other deeply and invest the time and energy needed to have a strong relationship. We both work hard at our jobs but when the day is done, so is our work, and we are very ready to be parents. We value our downtime and getting away to our favourite places. We often take hikes outside the city and spend a week each summer on Manitoulin Island. We have also made it a tradition that every five years we to take a road trip through magical New Mexico – the place we went on our honeymoon.
Our Home & Community
We consider ourselves lucky to have a house in downtown Toronto surrounded by neighbours from different cultures, as well as good schools, community centres, galleries, music venues, parks, and libraries. Home for us means having friends and family over for holidays and hang-outs. It means having our nieces and nephews over for sleep-overs, taking them skating, trick or treating, and doing random stop-by's too.
We also wanted to show you our house and some of the rooms in it. For the first 10 years living in our place, we lived on the second floor apartment and rented out the main floor and basement. About three years ago we re-designed and renovated the space, taking over the main floor as well. Our home is a bright, warm space with an extra bedroom ready to go.
Family, Friends & Mooshi
Basically all of our family lives in Toronto. This means we are able to come together for holidays and get togethers with our parents, siblings, nieces and nephews for random dinners and outings on the weekends. Geoff's family has a cottage in Muskoka where we spend time together swimming, playing games, making camp fires, and enjoying meals around the big dining room table. Geoff's parents go to Florida in the winter and we go there when we can too, and would love to bring your child along swimming at the pool and beach.
Both of us keep a small yet tight group of friends. We really value our friendships and put effort into them. For Geoff, this might mean going out for a few beers on a weekend or going on a annual summer canoe trip. For Robyn, this might mean going out for a walk or dinner with a couple girlfriends to catch up on the latest life updates or just connecting one-on-one for a phone chat.
And lastly we come to Mooshi, a.k.a the Burger Baby, Meesh, Mersh, and the Cuddle Queen. Mooshi is a Whoodle. She is a mix of a Wheaten Terrier and a Miniature Poodle (hypoallergenic) and she loves to play, cuddle, chase balls and just be cute in general. She is great with kids and super soft (you won't believe it!) and gets a lot of love from everyone in the family. If truth be told, it's hard to describe the depth of emotional richness that Mooshi has brought to our lives. If we were to adopt your child, we have no doubt that they would have a great friend in Mooshi too!
Our Thoughts about Parenting & Adoption
When we made the decision that we were going to adopt there was no hesitation or awkward questions from our families – everyone was supportive, happy for us and excited to welcome a new child to the family. Robyn has been open about the fact that she has wanted to adopt since she was a teenager. As well, Geoff's first cousins, John and Noel, were adopted, and despite being taller than everyone, they have always been part of the family.
If we adopt your child, we would talk to them about their adoption story and birth family to make sure they are confident and proud of who they are and where they come from.
We know that having a relationship with you will help foster your child's development, sense of self and identity and we welcome openess with you and your family/families through visits, emails, sharing photos, and seeing eachother on video calls throughout the year. We also understand that you may be unsure about openness and we respect your wishes either way.
Closing Thoughts
There is a picture of us on a boat in our profile that was taken on the top deck of the Chi-Cheemaun ferry that goes from Tobermory to Manitoulin Island on Lake Huron in Ontario. Several summers ago we boarded this ship and fell in love with the place.
The ritual of getting away from the city and spending time to reflect, connect, and explore says a lot about the kind life we have created together: when we find things we love we weave them into our lives. Facing the tough times along with the good is all part of the experience we believe. And this is the philosophy we would bring to parenting your child.
No matter what you decide, we want you to know that we wish the best for you.
We will love your child fiercely, and wish you safe and easy travels on your journey ahead.
With all our love,
Geoff & Robyn