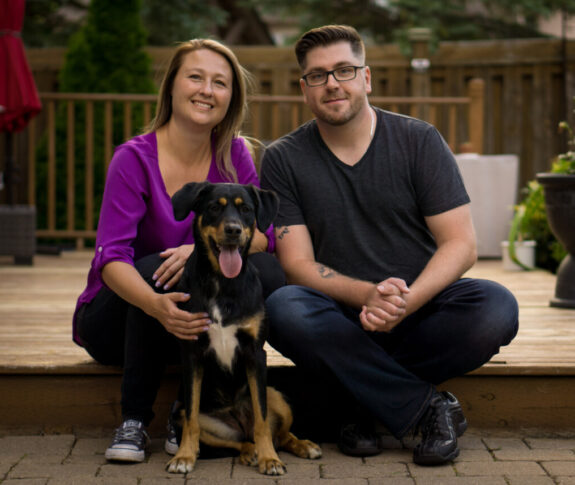 Hello and thank you for taking the time to look at our profile. We are Lindsay and Robert and we are very excited to be on this journey of adoption to grow our family. We hope that after reading our story and seeing our pictures that you will see we are a fun, compassionate, and loving couple with an amazing support network of family and friends. We look forward to connecting with you to see if we are the right people to help achieve your hopes and dreams for your child.
Quick Facts
Robert Baker
Age: 39
Ethnicity: White
Religion: Athiest
Profession: Executive Leader
Education: High School Diploma
Interests: Sports-golf, volleyball, basketballMotorcycles, cars and racingCottaging, boating and fishingTravelling and experiencing new culturesSpending time with family and friends
Lindsay
Age: 41
Ethnicity: White
Religion: Athiest
Profession: Teacher
Education: Bachelor Degree
Interests: Sports-golf and volleyballCottaging, boating and paddle boardingGardening and quiltingTravelling and experiencing new culturesSpending time with family and a friends
Our Community
Years Together: 5.5
Province: Ontario
City: Oakville
Neighbourhood: Suburban
Other Children: No
Pets: We have young dog and cat who are both loving, friendly and playful.
Child Preferences
Age: 0-6 Months
Gender: No Preference
Ethnicity: No preference
Special Needs: Open To Discussion
Type of Adoption: No Preference
About Us
Our Story…
It all began when Rob was playing volleyball with one of Lindsay's friends. After a season of getting to know Rob, she told Lindsay "I know this guy, you need to meet him." Lindsay joined the volleyball team, and it was love at first "spike." Okay maybe not, but we both knew we wanted to know more about the other. We met in 2016, at this point in our lives we had been places, started careers and each had become comfortable with who we were as individuals. We knew what we were looking for in a partner and found it in each other.
In our years together we have learned that we have many similar hobbies and interests. One of our passions is traveling and experiencing different cultures and parts of the world. Sometimes travel takes us across the world and other times only a few hours down the road to our favourite home away from home, our family cottage. Here we spend many hours relaxing on the dock, boating, playing games, golfing and spending quality time with friends and family. Despite our love of relaxation we are also very active, and we continue to play volleyball together. We enjoy going for walks with our dog Kahlua and getting fresh air in our local trails. We have spent many hours remodeling and renovating our house turning it into the home we've always wanted. Our relationship is filled with love, laughter, adventure and joy, the only thing missing is a child to share it with.
Rob through Lindsay's eyes
There is no doubt in my mind that Rob is ready to be a dad. He is a big kid at heart, which is why children are always drawn to him. Whenever a child is around, he is always willing to get down to their level to play. He is kind and always willing to help anyone who needs it, and he puts everyone's needs far before his own. He is the type of guy that makes everyone feel welcomed and included. Honestly, he is hard not to love.
Rob sings to any song that comes on the radio, dances enthusiastically in the kitchen and always finds humour in the everyday. Rob's integrity is something I admire and respect – he always makes sure that wrongs are righted. I think this will make him an excellent role model for our child as he ensures that everyone is treated with kindness and respect. He truly is the perfect man for me and I can't imagine my life without him.
 Lindsay from Rob's eyes
Lindsay is the guiding light in my life. I believe that she is my soulmate, even though I did not believe in such a thing before we met. Her love is something that I have never felt before and I often think that she has a heart that is too big for her body. The first time that we met I felt a spark, there was something about her and knew I needed to know more. Now, more than 5 years later, I am still amazed by her and my love grows stronger for her everyday. Lindsay inspires me to be a better person. Her overflowing love, kindness, generosity and compassion for others is something I adore and admire. Her dedication to her family and friends and her amazing strength in tough times are just a few of the reasons why I love her. She also has a goofy side that makes me laugh every day. She has "amazing" dance moves, a great sense of humour, and a laugh that is infectious which can brighten any day.
Lindsay has dedicated her career to being an elementary teacher. I admire the enthusiasm she has for her students and it is obvious how much she loves children and cares about their well being. Her eyes and spirit light up when she is with them, and children are always drawn to her energy. When I look at her, I see a mother that has yet to be blessed with a child to love.
Our Home & Community
Home Sweet Home
We live in a beautiful tree lined community, surrounded by amazing neighbours on a quiet cul-de-sac. Our home is within walking distance to highly reviewed elementary and secondary schools, as well as many parks, splash pads and playgrounds. We are centrally located to many public libraries, community centers, sports fields and a provincial park. Despite enjoying all the perks an urban lifestyle has to offer, we are located steps from a protected forest offering over 6 kilometres of peaceful walking trails.
Our Thoughts about Parenting & Adoption
Parenting Views
We were both blessed to have been raised by kind, caring and compassionate parents who will be strong role models as we raise your child. We will lead by example and be loving, respectful, empathetic and strong, the type of person we want your child to become. 
We will always tell your child and more importantly, show them every day how much they are loved.
We will treat your child with respect, praise them for their positive behaviour and we will teach them to learn from their mistakes, physical punishments will never be used.
We will be fully involved in your child's life, from their education to their extra-curriculars; cheering on the sidelines, reading books, playing games, and exploring new and wonderful things.
We recognize that learning comes from more than just the classroom, experiencing the real world is powerful. From travelling to new places, planting trees, learning about animals. We will help them to be successful, no matter the path they choose. We will never push them beyond their capabilities and understanding.
Thoughts about Adoption 
We view adoption as a wonderful opportunity to enrich our family with the love of a child. We know that growing our family through adoption will open our hearts to something wonderful. We respect and understand that your choice to make an adoption plan for your child was one made out of love, your child will always know how much you love them. We hope to meet with you to hear the hopes and dreams you have for your child. From birth, your child will know they are loved, cherished, respected and encouraged. We will create a Lifebook for your child and share with them their adoption story, if you would like we would love to include pictures and letters from you in this book. We will be open with them throughout their lives and let them know about the love you have for them. They will always know their story and about how they came to join our family. 
Closing Thoughts
Our Relationship with You
As we journey through the adoption process and speak with many adoptive parents and adoptees, we are gaining a deep understanding of the importance of maintaining an open relationship with you and your family. A child can never have too many people who love them, as such, we will welcome and nurture the relationship we make with you, and your relationship with your child through visits, phone calls, pictures and emails. We hope that we can come together and share in the naming of your baby, so that they will always have a connection with you. Although we very much would like an open adoption with you if the picture we have painted isn't what you feel you want, then we can certainly modify this to suit your circumstances.