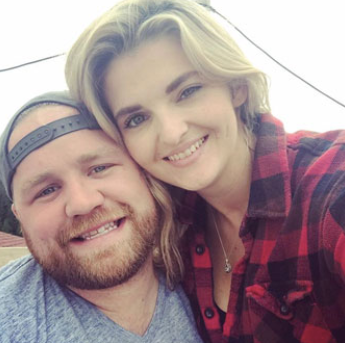 Thank you for taking the time to get to know us. We can't wait to meet you. We are thrilled at the idea of becoming parents. We want you to know that for us, growing our family by adoption isn't a last resort, it's a first choice. Nicole's brother was adopted at two years old, and we have always felt that adoption was right for us. When we learned that having biological children wasn't possible, our choice was reaffirmed. We know from experience that genes don't make a family – commitment and love does.
Our promise to you is to cherish and love your child, and to provide a happy and safe home with every opportunity possible. If you choose to make an adoption plan, we want to assure you that we promise to respect you and whatever level of openness and contact you want to have with your child. We are sending you and your sweet baby our love while you consider your options, and hope that you find peace throughout this process.
Quick Facts
Nicole
Age: 31
Ethnicity: White
Religion: Christian
Profession: Emergency Department Social Worker
Education: Masters Degree
Interests: Reading, podcasts, hiking, travel, gardening
Chris
Age: 31
Ethnicity: White
Religion: Christian
Profession: National Account Director (Marketing)
Education: Bachelor Degree
Interests: Cooking, golf, hockey, softball, bike riding, travel
Our Community
Years Together: 7
Province: Ontario
City: Toronto
Neighbourhood: Urban
Pets: 2 dogs (Ben and Jersey), 1 cat (Mittens)
Child Preferences
Age: 0-6 Months
Gender: No Preference
Ethnicity: No preference
Special Needs: Open To Discussion
Type of Adoption: Open
About Us
We met in 2014 through a mutual friend. Nicole has known this friend since the age of four, and Chris met this friend in university. She was a bridesmaid in our wedding! Looking back, we realized we were likely attending the same social events in university, but Chris didn't catch Nicole's eye until years later (or maybe it was the other way around)…
Nicole saw a picture of Chris cuddled up to his dog – and that was it, game over. Our friend introduced us and we've been together ever since.
Our favorite things to do together are hiking with our dogs Ben and Jersey, summer camping trips, watching live sporting events, travelling, and watching cooking shows on TV after work.  Our time spent together at home is usually filled with laughter, country music, and the smell of something delicious that Chris is cooking (he's a seriously awesome cook!). If there's no country music playing, you can bet there's a hockey, football, or soccer game on the television.
We've lived in Toronto for the past five years. It's a city full of opportunities, diversity, food, experiences, sights and smells that we can't wait to share with your child.  We visit our first home, Newfoundland, about three times a year and can't think of a better way to introduce your child to the smell of the ocean, salt-water wind, and the sight of colorful jellybean row houses.
ABOUT CHRIS (WRITTEN BY NICOLE):
Chris is the best friend you could ever hope to have. He's fun, outgoing, and would do anything to make his friends and family happy. Being a true Newfoundlander, he's often planning the next "kitchen party" for our friends.
Chris is the best cook I know. He makes a mean fish taco! Chris shows his love for others by cooking for them. On special occasions, our home is often full of friends. Chris loves nothing more than feeding people and making them feel at home.
If Chris could have his way, our home would be over flowing with cats and dogs. Chris falls in love with every dog he sees on the street and is visibly saddened if he doesn't get to pet one.
One of the biggest loves in Chris' life is sports. Chris plays hockey, softball, and soccer. Many week nights you can find me cheering him on during a soccer game. He's pretty good, too! The value of team sports is something we would both want to instill in your child. I'm also looking forward to watching Chris teach your child to speak French as he is fully bilingual.
Chris loves my little cousins, and they love seeing him! He's so good with them and seems to have endless amounts of energy when they're around.
Chris has a business degree and works in marketing for a major sports league. He also has a small catering business. He can't wait to be a father, and I know he'll be a great one.
ABOUT NICOLE (WRITTEN BY CHRIS):
Nicole is the most selfless person I've ever met. Her ability to put others first is what made me fall in love with her. Despite spending all day taking care of patients in the ER as a social worker she comes home full of love and always makes sure me and our pets are taken care, no matter how long of a day she's had.
Being more of a homebody than I am, Nicole loves to relax, watch movies, read books and spend time outside. She also especially loves traveling, whether around the world or camping two hours outside the city. As soon as one trip ends, she's ready to start planning the next! We would love to show your baby the world.
When she was 20, Nicole was diagnosed with a rare cancer. She takes a medication to ensure she doesn't get sick again. This is the reason we can't have biological children. Nicole's ability to put a positive spin on any situation inspires me to do better every day. When we told her doctors that we were adopting, they were happy to write us letters of recommendation attesting that Nicole's health has been stable for nearly ten years.
Nicole puts family first more than anyone I know. Her parents and siblings are the most important thing in the world to her, and watching her relationship with them has taught me a lot about the value of family. She also has a large extended family full of aunts, uncles and cousins who hold a very special place in her heart. From FaceTime calls every week, to family reunions and gatherings, Nicole never misses an opportunity to let her family know how important they are.
Our Home & Community
We live in a three-story townhouse near downtown Toronto. We're on a quiet street, still close enough to everything we need. Our community has many young families, and our closest friends live just minutes away. We are about a ten-minute walk from a large park, and we're dreaming of summers when we can visit there with your baby. Our home is close to a library (which Nicole visits often), several playgrounds, a soccer field, and a delicious family friendly breakfast place.
We try to fill our home with plants and art from local artists. One of our best friends makes beautiful pieces – three of which hang in our bedroom. Our walls and shelves display pictures of our family.
The main level of our home is open concept. Chris is looking forward to cooking while he watches Nicole and your baby in the living room. We're also looking forward to spending summer evenings on the rooftop patio where we can BBQ and listen to music.
Your baby will have their own bedroom with a large window that gets a sunset view. Nicole plans to take leave from work for at least the first year, and Chris has a space to work from home, so taking care of your little one on future sick days won't be a concern.
OUR FAMILY
Spending time with our friends and family is the incredibly important to us. Most of our family, including our parents and siblings, live in Newfoundland. We miss them terribly, but this gives us and them an excuse to visit each other often. We never spend a special occasion without our family.
Both sets of parents are still married- each over thirty years. We have a lot that we can learn from them. Nicole describes her parents as having an unconditional love for her and her siblings. Chris says his parents taught him the value of hard work. His mother taught him to cook.
They take turns visiting us two or three times a year, and they're planning on visiting even more once your baby arrives. Both our mothers have even generously offered to move in with us temporarily if we need or want their support.
Our siblings were thrilled when we told them they were going to have a niece or nephew. Nicole's sister is expecting her first baby (a boy) in January 2021 and she's so excited at the thought of her child having a cousin! Chris' father said "I can't wait to get back to the hockey rink!" and Nicole's mother has already started sewing baby quilts. Needless to say, our family is excited to welcome you and your baby.
Our Thoughts about Parenting & Adoption
We are committed to raising your child to be healthy, active, well-adjusted, confident and kind. We want your child to know that they are loved, unconditionally, by our family and yours. We believe in honesty, respecting and cherishing children, and embracing what makes each of us different. Above all, we feel our most important role as parents will be to support your child in their hopes, dreams, and aspirations.
Closing Thoughts
We have spent a lot of time thinking about our lives as parents and why we want to become parents through adoption. We feel we have so much love to give to both you and your baby. Our whole family and large group of friends is supporting us in our hope to become parents through adoption.
Because of this support we are able to promise to give your baby a safe home full of unconditional love. We will make a commitment to provide an opportunity for education, travel, physical activity, and above all an open relationship with you if this is something you desire.
Thank you for getting to know a little about us. There's so much more to share and we can't wait to share it with you. We wish you only the best throughout this process.