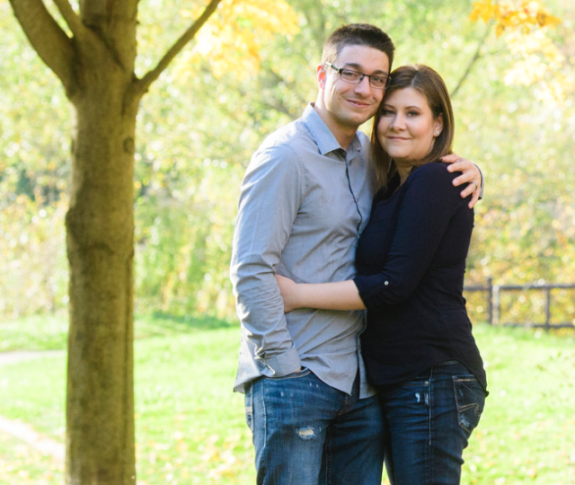 Hello!
We are Matthew and Janie, and we are sincerely grateful that you have taken the time to look at our profile. We are excited to give you a glimpse into our lives and we hope to get the chance to know you as well. We admire your courage and selflessness as you navigate this difficult decision and plan for your child's future.
Our journey to start a family has been a challenging one and we have grown closer and stronger because of it. We are very excited to become parents through the miracle of adoption and start this next chapter in our lives.
Quick Facts
Matthew
Age: 34
Ethnicity: White
Religion: Christian
Profession: Police Officer
Education: College Diploma
Interests: Spending time in nature, hiking, reading, playing board games
Janie
Age: 38
Ethnicity: White
Religion: Christian
Profession: Pharmacy Assistant
Education: College Diploma
Interests: Hiking, going to the beach, natural health & wellness, DIY projects/home improvement
Our Community
Years Together: 6
Province: Ontario
City: Exeter
Neighbourhood: Rural
Other Children: No
Pets: Sweet-natured Beagle named Ella
Child Preferences
Age: 0-6 Months
Gender: No Preference
Ethnicity: No Preference
Special Needs: Mildly Correctable
Type of Adoption: No Preference
About Us
We know that being parents will be our greatest joy and we consider it a very special calling. We are surrounded by wonderfully supportive family and friends who are excited for us to be adopting a child. Adoption is very near and dear to our hearts as we both have family members who were welcomed into our families through adoption.
How We Met – by Janie
We both worked for the same company when we met in 2013. One day Matthew brought in Timbits to share with our department and I sent him an email to thank him for the treats. That email was the first of many and we soon realized we had a lot in common. Our first date on a Friday turned into a second date on Saturday and a third date on Sunday. We filled the entire weekend playing board games with my friends, going for drives out in the countryside, and conversations that lasted into the wee hours of the morning. We knew we wanted to marry each other soon after we began dating. We are truly best friends and have a very special bond.
A Bit About Matthew
Matthew grew up in Kitchener, the oldest of two brothers. His parents separated when he was young but remained amicable so that the whole family could be together at holidays and family celebrations. He likes to be active and enjoys running and hiking. He is passionate about learning new things and loves to read National Geographic magazines (he has had a subscription since 2000!). He loves ethnic food, especially Indian food, and is a self-proclaimed chocoholic. Matthew went to college for Business Administration and earned his Certified Financial Planner designation a few years later. In 2019 he realized a life-long dream when he was hired as a Police Officer.
 A Bit About Janie
Janie is an only child but grew up with many cousins who were like siblings. Family has always been very important to her and she has fond memories of spending time with her parents, aunts, uncles and cousins during holidays and special occasions. Her favourite time of year is Autumn because of the beautiful colours of the leaves but also because it means Christmas is coming and she loves Christmas! Janie enjoys DIY projects, going to the beach and reading in her spare time. She went to college for health sciences but ended up working in Customer Service and loves to help and serve others. She currently works as a Pharmacy Assistant, but her dream job is to be a stay-at-home mom.
 How Matthew Thinks of Janie
From the moment I met Janie, I knew that there was something different about her. Getting to know her over the last 6 years has shown me her capacity for love, kindness, and affection. I have learned that she is not only an incredible wife, but also the most amazing best friend. Janie has helped me to rekindle my relationship with and grow closer to God, supported me through a truly transformative change in my physical health, and assisted me in achieving monumental goals in my personal life and my career.
She has overcome so many hurdles in her life and is one of the strongest, most resolute people I have ever met. I know that Janie will be a loving and nurturing mother and I can't wait to support her in that role in every way possible!
How Janie Thinks of Matthew
I first met Matthew at work and I could tell he was a friendly, genuine, down-to-earth person which is what attracted me to him. He has a great sense of humour and always tries to see the positive in any situation. He is a loving and supportive husband and I know he will make a wonderful father.
Just two years into our marriage I was diagnosed with ovarian cancer. Matthew was my rock during this frightening time in my life. He prayed for me every day, he took care of me after two surgeries, he spoke positively and helped me to believe I was going to be okay. Matthew encourages me to reach my goals and achieve my dreams. He is truly a gift from God and I am so blessed to be his wife.
Our Home & Community
We were both born and raised in Kitchener but currently live in Exeter. It's perfect for us because we like the slower pace that comes with living in a small town. We live in an old brick farmhouse with a big backyard with our adorable dog Ella. We also share our home with Matthew's mother and step-father – they have a separate unit attached to our house. Janie's mother visits frequently as well. We wanted our parents to be close, especially when we have children so that we can all spend a lot of time together. We are within walking distance to parks, trails, a community centre, and schools.
Our Interests
We love spending time with each other and doing everything together. We enjoy having little traditions in special places like going to Niagara Falls every year for our anniversary, having picnics on the beach in the summer, and experiencing the Yuletide Spectacular put on by the Kitchener-Waterloo Symphony each year. We love to go on road trips, gather with friends and family, and explore local trails. At the same time, we also appreciate simple things like rainy days, taking our dog for walks and movie nights at home.
Our Thoughts about Parenting & Adoption
Our desire to adopt was sparked several years ago after seeing a video about a young man whose life was forever changed when he was adopted. It touched our hearts, and we began to talk about the possibility of adopting. We have prayerfully considered this, and we believe that God is working everything together for good, that he answers prayers, and that he has a special child in mind for our family.
We've had a lot of time during our years of trying to become parents to talk about exactly what parenting means to us and what it would look like. Much like we were taught when we were growing up, we want to teach our children values such as: honesty, respect, kindness to others, generosity, and responsibility. We hope to teach our children these values by setting an example through the way that we conduct ourselves daily and the way that we treat others around us.
We believe that children remember and absorb the words we speak and the way we treat them. We do not believe in using harmful, frightening disciplinary tactics such as raising our voices or physical punishment. Discipline would include positive age-appropriate conversations in a respectful and calm tone about expectations and consequences. These consequences would always seek to understand and correct the underlying behaviour.
We often talk about how excited we are to make memories with our children. We want to encourage learning through things like visits to museums and historical sites, trips to the zoo, family road trips, and exploring nature on hikes together. We're fortunate to have the ability to have Janie stay home as a full-time mom, and Matthew plans to take parental leave before returning to work where he has half the days off every month. We know the value of spending time with a child, and we're looking forward to spending as much of ours as possible being active parents.
Closing Thoughts
We want you to know that we will love your child unconditionally and will nurture them to grow up to be the best person they can be. We promise to provide the best education possible and to encourage them in their hopes and dreams. Most importantly, we will make sure they know where they came from and the incredible love you have for them.
Sincerely,
Janie & Matthew