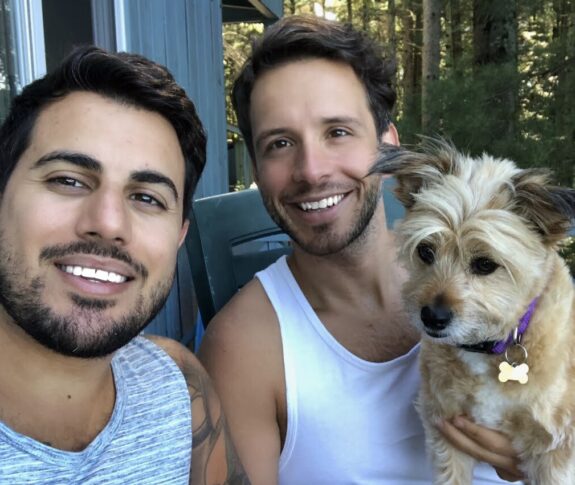 Thank you for taking the time to look through our profile. We are Domenic and Mark,  a loving, caring, supportive married couple who are looking to start our family through adoption. Raising a family has always been a dream for the both of us, and after 10 years of building our lives together we are confident we have a strong foundation and network of love and support to work with us through this life journey. We hope our profile will give you an idea of what your child's life with us would look like. In our home we are always up for an adventure and we look forward to the opportunity to embark on a new one as prospective adoptive parents.
Quick Facts
Mark
Age: 32
Ethnicity: White
Religion: Spiritual
Profession: Sr. Designer
Education: Bachelor Degree
Interests: Family, fitness, vacationing, interior design, movies
Domenic
Age: 35
Ethnicity: White
Religion: Spiritual
Profession: Sr. Manager, Marketing
Education: Bachelor Degree
Interests: Family, baking, podcasts, vacationing, fitness, movies
Our Community
Years Together: 10
Province: Ontario
City: Toronto
Neighbourhood: Urban
Other Children: No
Pets: Arleigh- Our 15lb terrier mix
Child Preferences
Age: Up to 2 years
Gender: No Preference
Ethnicity: No Preference
Special Needs: Open To Discussion
Type of Adoption: No Preference
About Us
We are a hard working but easy going couple. We love spending time together doing simple things like taking our dog on hikes, visiting our families, or hosting our friends for a dinner and games night. We have a lot in common but there is definitely some ying and yang to our relationship. We find our differences help us balance each other out. We have built our Marriage on openness, honesty and trust and these are the values we hope to bring to our relationship with you. One of our favourite things to do together is  travel. Over the last 10 years we have visited countries all over the world. From scuba diving in the great barrier reef of Australia to climbing Mount Etna an active volcano in Sicily Italy. We love travel and adventure and we look forward to sharing those experiences as a family. We have also often travelled with our extended family. Our nieces and nephews have always been a central part of our lives. We see them weekly and are an active part of their lives. Whether its changing diapers, running around in the yard with the smaller kids playing freeze tag or "make believe", to helping our older nieces and nephews by proof reading a University essay or preparing them for a job interview. We have had the joy and experience of being a part of their lives and are so thankful that they are a central part of ours. Being so close to our siblings, parents and extended family has given us a strong foundation and network of love and support. Everyone is incredibly excited for the opportunity of welcoming another child to the family and for us to become adoptive parents.
Our Home & Community
We live in a house in Toronto in a great neighbourhood with lots of other kids, schools, parks, community centres and libraries all within walking distance. Early on in our relationship we knew we wanted to have kids together. We were both raised in a large family with lots of kids around. Domenic had his first niece when we was 10 years old and now together, we have 14 nieces and nephews ranging from 1-25 years old. In addition to our nieces and nephews many of our first cousins have kids that also refer to us as Uncle (or Zio in Italian). We are incredibly close with our families and spend many weekends and holidays together. We were both raised Catholic however we would not consider ourselves practicing Catholics. What we do believe in is the notion of treating others the way you want to be treated. Focussing more on kindness, forgiveness and respecting others versus passing judgement. We are also fortunate to have many strong female role models in our life for your child. This includes a strong support system of our Moms, 5 sisters, 9 nieces, and many close friends who would be an active part of your Childs life. Family is important to us, and we look forward to growing ours through adoption. In our home there is always something you can rely on and that is family tradition. No matter what holiday we are at there are 20-30 people there surrounded by love, laughter, traditions and of course food, we are Italian after all!
Our Thoughts about Parenting & Adoption
Through this process we have talked a lot about the type of parents we want to be. We have built a plan to ensure we are able to be fully present in your child's life.   Starting a family has been a life long dream of ours and we plan to be present and active adoptive parents. What we can also say for sure is that we will strive to be the parents ours were to us. We grew up surrounded by love, openness and understanding. Our parents approach to discipline was centred around respect and treating others they way we wanted to be treated. We grew up seeing how a parents unconditional love and support enriched our lives and created a family bond that is so strong for the both of us. We want to be the parents ours were to us. Our hopes and dreams for your child would be to see them grow up knowing they were always loved and supported. For them to feel they can accomplish anything they dream of through hard work, and determination. We would love for them to see the world, understand and value different cultures and traditions through an open mind and respect.  Raising a child to be happy, healthy, and loved with a strong feeling of fulfillment is our dream. We have our parents and family to thank for the successes we have had in our life and for the joy and happiness we experience together as a couple and in life, we hope to do the same as adoptive parents. 
Closing Thoughts
We believe in and value honesty and respect. We plan to discuss adoption with your child from the beginning and believe they have a right to know their story. Our goal is to be open and honest with you through this process and throughout your Childs life. We would love to develop a level of openness that your are comfortable with that also offers your child a large network of people that love them. We view adoption as not only being about us and our dream of having a child. It is also about building a strong relationship with you and for your child to also have a strong relationship with their birth family. Offering them a foundation of love, support, and the knowledge that they are and will always be loved. We hope our profile gave you an idea of who we are and what you and your child's life would look like with us in it. We wish you nothing but the best as you embark on this journey.