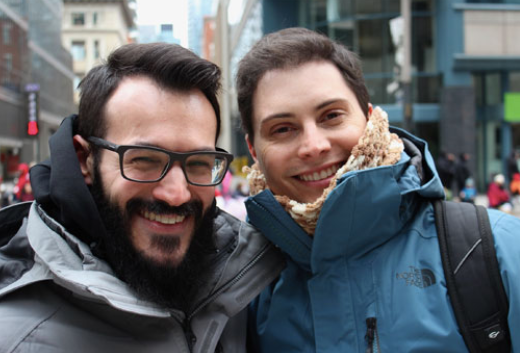 We admire your decision to make an adoption plan to your child and appreciate you taking the time to go thorough our profile. We've always wanted to have a child and are very happy with this moment of life. We hope after having read this book, you'll know a bit more about us and out family to be.
Quick Facts
Luiz
Age: 33
Ethnicity: Latin American
Religion: Spiritual
Profession: Project Manager
Education: MBA
Interests: Ice skating, Hockey, tennis, swimming, playing outdoors sports, cooking, going to the movies
Alejandro
Age: 39
Ethnicity: Latin American
Religion: Spiritual
Profession: Industrial Engineer
Interests: Ice skating, reading, playing tennis, going to the movies
Our Community
Years Together: 9
Province: Ontario
City: Toronto
Neighbourhood: Urban
Child Preferences
Age: 0-6 Months
Gender: No Preference
Ethnicity: No preference
Special Needs: Open To Discussion
Type of Adoption: No Preference
About Us
Our Story
We met at a gay bar totally by chance in São Paulo, Brazil in 2011. We talked all night and, at the end, exchanged e-mail addresses with little hope of a second rendezvous. Life, however, had something stored for us up its sleeve. We connected through MSN Messenger (an old version of FaceBook Messenger) and ended up exchanging phone numbers. Before we knew it, we're canceling everything else to be with each other. After 6 months going out and getting to know each other better, we did our first trip together (the first of many!). Nine months after we had first met, we had decided to live together. It was a big step and our parents were very supportive all the way through. After being together for a couple of years, we decided to get married. Breaking the news to our family was nerve-racking. After all, we were the only open gay couple, but our fears were proven wrong. Everybody was super supportive and very happy for us. They celebrated our union with us in an amazing wedding party. Currently, they are all very excited we're looking to expand our family through adoption, sending their best wishes and positive thoughts.
Luiz by Alejandro
Luiz loves to socialize and interact with people. He is outgoing and always ready to help others, as he is very curious of his surroundings. A Project Manager with a degree in Business, he is in his element at work.
A CrossFit lover and enthusiastic community participant. He loves spending time outside tracking, playing sports (he loves snorkelling!) or exploring nature and last, but not least having a relaxing picnic under the shadow of a lazy tree.
Luiz is the family planner, great considering everyone's tastes and preferences. He usually has great ideas of where to go and what to do. His head is always some steps ahead of everybody else.
Luiz is very applied to study and observant of common things in life. Always resourceful, from computers to culinary hacks.
Alejandro by Luiz
Alejandro is very caring and introspective. On a typical day in the house, you will easily find him reading a book or watching a video on YouTube on the couch. He loves non-fiction and technical reading.
He is a passionate Industrial Engineer with Masters Degree in Plant Management. Alejandro wakes up happily every  morning to work as a scheduler in a factory in a small town nearby.
A passionate runner and other sports as a hobby, he enjoys days on the outdoors, having a day trip to the park or the beach. Enjoying a good time and meal with his family and friends is in his top of mind activities.
Alejandro is very easy going and a good person to talk to. He enjoys a wide array of subjects, such as culture and business. When at home, he enjoys reading at our living room couch, enjoying the nice view from the balcony.
About Us
We both come from a diverse, multiethnic family. We meet whenever we can, generally around a table full of delicious food. Every time we meet, it's a happy loud feast, where we talk about everything and exchange experiences.
As Brazil has had a long history of immigration, our family members were born in Brazil, but they have different origins.
Luiz's family is a mix of Arab, Spanish, Italian, Portuguese, and Native origins, which is reflected in the language, food, and sense of fashion we have.
Diversity is also reflected in language. Luiz speaks five, while Alejandro speaks three.
Alejandro's family descends from Spanish and German immigrants. Having cultural diversity very present at their lives. His father is an Argentinian immigrant and his brother-in-law is Portuguese.
This puts both of us in a very unique situation regarding traditions, as they are formed and influenced by all these different origins. It's common to have a family dinner with sushi, roasted lamb, hummus and pita, spaghetti alla carbonara, baked cod, and Caesar salad.
Our Family
As a gay couple, We have developed our own traditions. The kitchen plays a central role in our lives, since both of us enjoy cooking somehow. We love to receive people over to sit around the table to enjoy a good meal accompanied by a good conversation. The coffee table in our family room honours its name, since it has witnessed several happy moments where us and our friends were enjoying life. On Christmas Eve. day, for instance, tradition is Luiz piloting the oven and stove while Alejandro assembles the gingerbread house. Later on, we enjoy a delicious feast with family and friends.
We also enjoy the outdoors in every season of the year! We usually celebrate important dates and accomplishments going out in activities such as trekking, snorkelling, and exploring the environment around us. Above, We're in the Bruce Peninsula celebrating Luiz's project management professional designation accomplishment. As we love ice skating as a couple, we visit outdoors rinks both throughout Toronto and in the surrounding areas. Peterborough and Ottawa are favorites.
Places We Have Been
We love to travel! We make time to get to know the country and culture we're in. Speaking the local language only adds to the experience. Both in Canada and in the world, places we've been to include a lot of different cities in Brazil, Argentina, Chile, Peru, England, the U.S., the Caribbean Islands. In Canada, we've been exploring Ontario by car, trekking in the Niagara Region, canoeing in Algonquin Park, snorkelling in the Bruce Peninsula, ice skating in Peterborough, walking around Ottawa, Windsor, London, Hamilton, and even Montréal!
Our Home & Community
Building our Home in Canada
Even though leaving our family was hard, we knew that Canada was the right place to create a life for ourselves where we could live openly as a married, gay, couple and become adoptive parents. We have settled in the community and feel much at home, surrounded by a wide array of people we trust and enjoy being close to.
Our House
We live in a beautiful high-rise building with a gorgeous view of downtown Toronto. On Victoria Day, we enjoy the fireworks from a privileged view from our balcony. The Family Room and the Balcony are the places we enjoy most of our time. We love watching Netflix, talking to each other, and having friends over for food & drinks. We enjoy our home so much because each item in it represents an important piece in our history.
Our Neighbourhood
Our neighbourhood is full of community life, green spaces and lots of fun. We enjoy going out for dinner at local restaurants, grocery shopping or going to CrossFit to get our daily dose or exercise. On weekends, we go for walks in the neighbourhood, enjoying the fresh air in the park, staking rink, or trail
Values & Beliefs
We are committed to always staying together as a family, with a strong and bold relationship of trustworthiness with each other.
We value mutual respect in an environment where we appreciate similarities, celebrate differences and lift each other to their best. At home, everybody feels safe and welcome.
We enjoy experiencing life together, facing the challenges that come our way and living a happy life, valuing the daily moments we live as a family, as well as the big accomplishments and life milestones.
Our Thoughts about Parenting & Adoption
Thoughts about Parenthood
As adoptive parents, we're committed to disciplining the child through consequences and removal of privileges. We have both been raised in non-violent homes, and we strongly believe this is the right path in creating a strong parent-child bond. We have been actively involved and engaged with our nephews and cousins, helping their parents in their education and raising. This made us more eager to expand our own family. Your child will be in good hands should you choose us as the adoptive family.
Thoughts About Openness
We would also like to have an ongoing relationship with you if you're comfortable. We envision a relationship where we keep in touch through emails, photo sharing apps, chat and video chat apps, and in person visits. Your child will always know who the birth parents are and keep a healthy relationship with you. As Alejandro's mother is an adoptee in a closed adoption, we had the opportunity to watch as she struggled throughout her entire life with her identity, not seeing herself in her parents and any other relative. We felt in our hearts her pain and were very happy for her when she was finally able to find out about her heritage, bringing her inner peace. It was a life-long lesson that spoke directly to us in our adoption plan and our view about openness. Therefore, we believe that having an open relationship with you will be the best for all.
Closing Thoughts
We'd like to thank you very much for taking the time to go through our profile. It was a great pleasure to share a little bit of our lives with you. We wish you and your child all the best and hope that whatever family you choose will be loving and caring, providing a nurturing forever home for them. We'll be happy to meet with you should you like to know more about us. Both our contact information and our Adoption Practitioner's contact information are on the back cover.
Looking forward to hearing from you,
Luiz & Alejandro