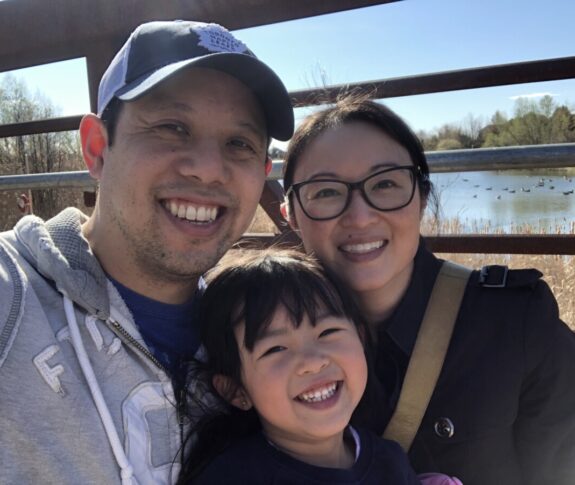 Hi!  We are Rich, Linda, and Layla.
We are a loving family who believes in showing kindness and compassion. 
Together we find ways to have fun whether we are traveling to a new country, exploring the city we live in, or relaxing in the comfort of our own home.  Family and close friends are central to our lives and have shaped us into who we are.
We have an abundance of love in our hearts, and would be excited to welcome another child into our family.
Quick Facts
Linda
Age: 43
Ethnicity: East Asian
Religion: Christian
Profession: Finance/Logistics
Education: Masters Degree
Interests: Baking, running, spending time outdoors, reading, travelling, watching baseball, gardening
Richard
Age: 43
Ethnicity: East Asian
Religion: Catholic
Profession: Information Technology
Education: College Diploma
Interests: Watching and playing sports, keeping in shape, technology, visiting family and friends, financial investing, small home renovations
Our Community
Years Together: 9
Province: Ontario
City: Vaughan
Neighbourhood: Suburban
Other Children: Yes, a 4-year old girl
Pets: None
Child Preferences
Age: 0-6 Months
Gender: No Preference
Ethnicity: Asian/Asian Mixed
Special Needs: No
Type of Adoption: Open
About Us
About Linda (Through Rich's Eyes)
Linda is what I have always wanted in a wife and as a mother to my children.  She is a great listener – attentive, warm, knows exactly the right thing to say in any given moment in a way that will make you feel special.  As someone who likes to talk, I knew instantly that she was the one.
With a Masters and Chartered Accountant designation, my wife is dedicated to academics. Hard work comes second nature to her and I know that the value she places on education will be passed onto our children as well.
Linda and I are very different which is what initially drew me to her.  She has a love for adventure and travel.  As a child, her family often took big family vacations together.  Early in her career, she moved to Hong Kong for work and for the chance to explore Asia.  After 5 years overseas, she left her finance career to pursue her passion, studying French pastry in Paris.  I don't know many people who would have had the courage to take that risk.  She has some great stories about her time in France and along with her memories, our house is always filled with the smell of freshly baked sweets.
Despite our differences, our relationship is strong because we share similar values and worldviews.  Like me, Linda will always devote time to our family and friends.  We have the same ideas when it comes to how we want to raise our children. She is my partner in every way.
About Rich (Through Linda's Eyes)
When I first met Rich, I had just moved back to Toronto and was figuring out what to do next.  I immediately found him to be funny, thoughtful, and super easy to talk to.  He had his own interests (sports, friends, movies) but would also indulge me with mine.  Rich was supportive and always showed an interest in the well-being of our family and friends.  When he proposed, there was no question he was the person I wanted to build a family with.
Not too long after, we welcomed our daughter Layla into our lives.  From day one, Rich has played an active role in raising her.  During the first year, he rushed home from the office every day to spend as much time as he could with her.  When I had to travel without them, he sent me daily videos and messages "from Layla" because he knew how much I would miss her.  Rich is a child at heart and you can see Layla's face instantly light up when they are together.
To add to his "super-dad" persona, Rich is also our family problem solver, finding solutions for things that need to be fixed whether it is around the house or in our lives.  He is truly the foundation of our family and what makes us strong.
About Layla
Layla is our warm, inquisitive, and playful 4 year-old.  She cherishes any time she can spend in the company of others, but is also strongly independent. And she always manages to find different possibilities to amuse herself.  Her current interests include biking, constructing Lego spaceships to battle with her Dad, playing Paw Patrol, learning math (surprisingly!), and reading.
Layla is an affectionate child that cares deeply for the people in her life.  We know that she will wholeheartedly embrace a new sibling into our family and be a wonderful Big Sister.
Our Home & Community
We live in a comfortable four-bedroom house in the northwest part of Toronto where families and children are often seen outside spending time together. Our community is surrounded by playgrounds, libraries, community centers, and elementary schools.  And almost anything we need is conveniently just a walk or short drive away.
Our Interests
Our priorities have certainly evolved since Layla arrived and we continue to find opportunities to integrate each of our personal interests into our family dynamic. Relationships are important to us – rarely a week goes by where we don't find a way to connect with loved ones. Rich grew up playing sports and Linda is an avid baker, so a lot of time is spent outside and in our kitchen.  We are an active family that loves being outdoors together, whether it be shoveling the driveway, bike riding around the neighborhood, or exploring new hiking trails.  When it is safe to travel again, we plan to share our love for globetrotting and adventure with Layla.
Our Family
We both come from close-knit families and will always prioritize time with them and our close friends. Rich's parents live just 10 minutes away.  Apart from a brother who lives on the East Coast, the rest of our siblings live in the GTA.  We have a much larger extended family here as well.
We see our families frequently to engage, laugh, and feast.  Between us, we have parents that grew up in Hong Kong, Malaysia, and Jamaica, so our meals are an eclectic mix of these amazing cuisines!  We never miss a chance to celebrate Canadian and Chinese holidays and of course, personal milestones as well.  Even with the current realities of the world, we still have made our family a priority, with virtual get-togethers becoming our new norm. 
Our Thoughts about Parenting & Adoption
As parents, we believe in being open, honest and involved in our children's lives and we strive to maintain a safe, nurturing, and fun environment for them to grow up in. We will always encourage our children to be independent thinkers, to have conviction in one's beliefs, and to be proud of who they are.  And we will give them as many opportunities as we can to help them grow, learn and succeed.
Our Relationship With You, The Birth Parent
Our hope is that your child will grow up knowing where he or she comes from and have a relationship with you, if that should be your wish.  We also respect that it is a personal choice and are open to discussing an arrangement that you would be most comfortable with.  Whatever it may be, please feel like you can be honest and upfront in discussing your needs with us.
Closing Thoughts
We are a small family with more than enough love to give and we hope to share that with another child. Our strength comes from our family and loved ones; our happiness comes from fulfilling our dreams; and our passion comes from knowing there is still so much for us to explore.
Upon learning a little about us in this profile, we hope that you will consider and envision us as the best family to raise your child. Please feel free to reach out to us directly or our practitioner if you have any questions.
If this is the life you see for your child, please connect with us.  Whatever you decide, we wish you the best on your journey.