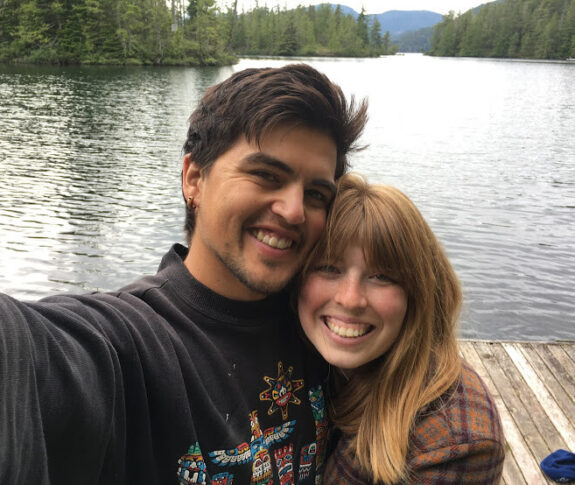 Hello
If you are reading this profile, you may be considering the possibility of adoption for your child. We are humbled and excited that you are taking the time to learn about our family. Please understand we do not take this lightly and we cannot imagine how impossibly hard this decision is for you.
We hope there is something about our profile that stands out to you and helps you feel like you "know us". As you scroll through our profile, we hope you get a sense of the authentic, imperfect, and fun-loving family we are.
We can't wait for you to get to know us, and we hope to have the opportunity to get to know you too.
Quick Facts
Lauren
Age: 29
Ethnicity: White
Religion: Spiritual
Profession: Registered Nurse
Education: Bachelor Degree
Interests: I love to create. This ranges from interior design, hosting an event for family and friends, gardening, cooking, to learning a new craft. I love good food and good company.
Josue
Age: 33
Ethnicity: Latin American
Religion: Spiritual
Profession: High School Teacher
Education: Bachelor Degree
Interests: Skateboarding is my all time favourite activity. Creating and playing music is a close second. I love snowboarding in the winter. I enjoy spending time with friends and family.
Our Community
Years Together: 9
Province: British Columbia
City: Abbotsford
Neighbourhood: Suburban
Other Children: 1
Pets: Our rescue pup, Ru, loves kids and is ready to welcome a new family member.
Child Preferences
Age: 0-6 Months
Gender: No Preference
Ethnicity: Any
Special Needs: Mildly Correctable
Type of Adoption: Open
About Us
Our Story
The first time I (Lauren) saw Josue, in 2012, I was struck by his ridiculous good looks (obviously) but also by how kind he was and his willingness to help others. The first thing he noticed about me was my big grin and how friendly I was. We had many similar interests and found lots of opportunities to get to know each other by going rock climbing, dancing, biking, cooking, and going to movies/concerts together. We were married in 2014, and are so grateful to be on this crazy, unexpected journey of life together.
The greatest moment we have shared, so far, has been the birth of our daughter in 2019. After experiencing a heartbreaking miscarriage a year prior, Alma's birth felt like a dream realized and we were so glad she was finally here. Two days after her birth, I had an aortic dissection that required an emergency, open-heart surgery to repair. This experience was scary and sad, but we are stronger for it. We were flooded with support from our family and friends and it felt like we were being held in a net of their love. Walking through this together, we feel confident in our ability to weather any storm and our commitment to each other has only grown deeper.
What do we do for work?
Josue is a high school teacher. I work as a Registered Nurse. We love the security and flexibility our jobs give us.
What do we do for fun?
Camping – Biking – Walks to local parks/playground – Swimming – Going out for food/coffee – Reading – Watching a movie – Spending time with friends – Day trips to the city – Road trips – Surf trips
We are excited for our family activities to evolve as Alma and any future kids grow up.
Whatever we find ourselves doing, we invest in each other and our relationships with friends and family.
Our Home & Community
We live in the Lower Mainland, BC. We are within walking distance to parks, schools, trails, local small businesses, and friends. We love our home and are delighted when people tell us how cozy and comfortable it is to be in. Josue and I both enjoy hosting friends and family and creating a relaxing environment to visit and connect. We both grew up in homes that had an open-door policy, where friends were always welcome for impromptu hang-outs and encouraged to stay for dinner. This value of generosity and hospitality has followed both of us into our marriage and the creation of our own home.
Our home is a reflection of us – creative, welcoming, and laid-back. It is designed with kids in mind, with toys, books and instruments easily accessible.
Our Thoughts about Parenting & Adoption
We have a strong feeling that our family has not all arrived yet and we have an overflow of love to give to a new member. We will not be having any more biological children. As it stands, my aorta is repaired and life can continue as normal, but I have been advised to not get pregnant again. As Josue and I have dreamed of having a family over the years, we have always talked about adoption being a part of that vision and are excited to expand our family in this way.
We want to adopt because we love being parents. We are passionate about providing Alma (and any future kids) with a childhood and life full of creativity, imagination, time in nature, and PLAY! We were both lucky enough to grow up in loving homes that provided us with just that. We are raising Alma to be bilingual (Josue speaks Spanish and I speak English to her) and hope to share our love of travel and being globally-minded.
Our motivation is for our children to grow secure, confident, and have every opportunity to embody their own beautiful, unique self.
Closing Thoughts
Before you go, we want you to know
If you choose us we commit to:
We commit to openness and are excited to talk about what this could look like.
We commit to love your child with every fibre of our being and to celebrate the amazing and unique person they are.
We commit to incorporating your child's history, culture, values, and identity into our family.
Thank you for taking the time to read our story and for considering us in your process.
With love,
LAUREN + JOSUE + ALMA (+ RU)