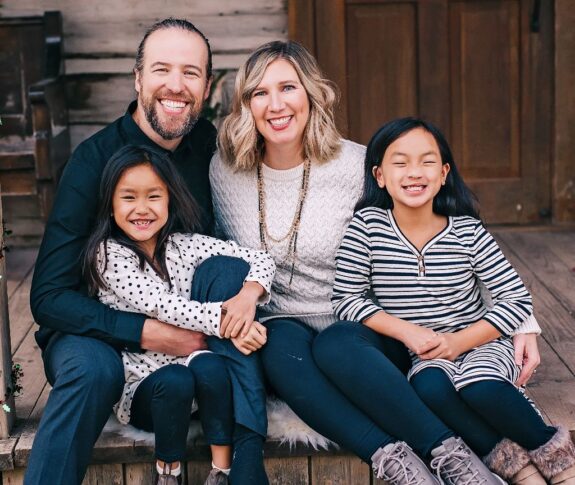 Hi! We are David and Kim
We are are in our late 30s and have two amazing daughters, Violet and Willamena through international adoption. They are the light of our lives. First, let us express our gratitude to you in looking at our letter. We are a practicing Christian family who loves Jesus. We hope and pray that as you read our family profile you will get a snapshot of the life we hope to share with several children. Our lives changed forever in the best way when we adopted our daughters from China after experiencing the pain of infertility. We are very excited to hopefully be chosen to parent your child and want you to know how much they will be loved and welcomed into our family. We admire the courage and strength you have as an expectant parent in choosing adoption for your child. We cannot wait to get to know you!
Quick Facts
Kim
Age: 38
Ethnicity: White
Religion: Christian
Profession: Accountant
Education: Bachelor Degree
Interests: Photography, traveling, hiking
David
Age: 38
Ethnicity: White
Religion: Christian
Profession: Accountant
Education: Bachelor Degree
Interests: Watersports, traveling, hiking
Our Community
Years Together: 17
Province: Ontario
City: Eastern Ontario
Neighbourhood: Suburban
Other Children: 2 girls adopted from China
Pets: 1 poodle/chihuahua mix
Child Preferences
Age: Up to 2 years
Gender: No Preference
Ethnicity: No preference
Special Needs: Open To Discussion
Type of Adoption: No Preference
About Us
HOW OUR STORY BEGAN!
We met in university. We bumped into each other while out with friends and quickly found out that we attended the same church and had some classes together – we had no idea until that night! We had so much fun dating for three years. David proposed on the beach, we got married the following summer and have been happily married ever since.
We have had some struggles along the way. Being diagnosed with infertility was a hard one. We dealt with it in different ways but came together through prayer to make the decision to adopt and are stronger than ever.
Willamena, our youngest daughter had to undergo some major surgery which was also very hard to go through as a family. She is now very healthy and we praise God for her healing and that we as a family can lean on each other through the hard bits of life.
MEET DAVID Through Kim's eyes
DAVID IS MY BEST FRIEND and we enjoy spending almost all of our free time together. I call him my rock since he is very laid back, and is a
perfect compliment to me. He is passionate about healthy living and makes sure our family eats delicious organic meals, including fresh produce he has grown himself in the summer.
He is a cool dad. He proudly styles his hair into a man-bun, he has a an awesome beard plus he rocks a wetsuit like no other. David works for the federal government doing financial analysis at an office close to home.
AND A BIT MORE…
David has unending patience with our girls. They will go biking and play Lego for hours. Since adopting our children, he has been an equal parent sharing all parenting responsibilities including being the one who gets up with the girls at night if they are scared. He is the best fun dad who flies them around the house like an airplane, goes jumping on the trampoline with them, and reads them extra bedtime stories. He plans to be a stay at home dad during the first 18 months after our next future adoption and is thrilled to become a daddy to another little one.
MEET KIM Through David's eyes
KIM HAS A GREAT SENSE OF HUMOUR, LOVES THE OUTDOORS AND PHOTOGRAPHY. One of her favorite pastimes is hanging out at the beach swimming and searching for seashells. She grew up with 2 sisters (both adopted) whom she loves very much. She is very determined and when she really wants something, she perseveres until she gets it done. She is very sensitive, especially to the needs of others and is always helping out family and friends.
I love sharing my life with her, she is my teammate and biggest supporter. I love her so much and can't wait to see her become a mom again. SHE IS VERY EAGER AND ENTHUSIASTIC ABOUT BEING CHOSEN TO BE A MOMMY TO YOUR BABY AND WOULD BE OVERJOYED.
She is really great at photography and used to have a photography business. However, now she uses her skills only for family and friends as she finds that to be more enjoyable. It's been very fun to see her and our girls do photo shoots around the city.
Kim is a wonderful mom to both Violet and Willamena. They have a very close bond and being a mother has been everything Kim hoped and dreamed. She strugged through our infertility but always kept her faith in God to have the family we dreamed of. Kim loves Christmas, especially decorated trees, I think we now have about 14 different Christmas
trees that go up every year.
She has a flexible accounting job within a family business close to home. She works part time now and will continue to work on-site and at home so she can be with David during the parental leave of 18 months as much as possible.
MEET big sis VIOLET
VIOLET IS OUR SOCIAL DAUGHTER WHO SINGS AND DANCES HER WAY THROUGH LIFE. Her favorite activities are hanging out with friends, listening to music, dancing and reading. She is a strong yet feminine girl who loves dresses, unicorns and the colour blue. She is very excited to become a big sister again and wants to be involved in caring for a new baby.
MEET lil sis WILLAMENA
WILLAMENA IS OUR LIVELY
AND SPIRITED DAUGHTER WHO IS A NATURE AND ANIMAL ENTHUSIAST. She loves to be outdoors on hikes and looking for bugs. Her pet hamster Cuddles is her favorite thing in the world. Her and our dog Prada are best buddies. She takes horse riding lessons and wishes that one day she could live on a farm.
LOVE MAKES A FAMILY – by David
I am the oldest child in a family of five. My parents are happily married and live about an hour from us on a beautiful country property. They garden and grow their own organic produce and have some chickens they call their "ladies" so we have farm fresh eggs when we visit. They are Oma and Pake and are amazing with their grandchildren, and spend lots of time together. My two sisters live close by. They are fun aunts and will sometimes babysit so Kim and I can have date nights. They cause loud giggling while they are visiting because they read the funniest stories and play the silliest games.
I have a large, close, supportive extended family, including some cousins who were adopted. I get together with my uncles to wakeboard and sail on the local river. Our holiday gatherings are super fun, like for example at Christmas we do funny gift exchanges. One year, everyone had to a bring a funny hat as a gift.
LOVE MAKES A FAMILY – by Kim
I have a close extended family who we see frequently. A family tradition we have is to vacation in Virginia Beach together for 2 weeks in August since I was young. Our family loves the ocean. We surf together, which is so much fun to see who can catch the biggest waves. I am the oldest child in a family of four. I was an only child until I was 17, when my mom adopted my two sisters from China. My mom is also a loving Oma and spoils our girls! My sisters are in university but still live at home with my mom so we see them a lot. They are wonderful aunties. I went to China with my mom to bring home my middle sister which started my love for adoption. My mom and I are very close and we see each other often during the week. She and my aunt own and operate three homes for people with different disabilities and I work alongside them at one of the locations. She taught me how to be a strong and confident woman and I very much look up to her.
WE LOVE our puppy PRADA
PRADA IS A CUTE POODLE-CHIHUAHUA MIX. She has curly white hair and is hypo-allergenic. She was born on the same day we got married. It was no coincidence and we are sure she was meant to be in our family.
She is very gentle and playful, and has been great with Violet and Willamena. She is their favorite sidekick.
Our Home & Community
HOME sweet HOME
WE LIVE IN A LARGE CITY IN EASTERN ONTARIO. Our home has 4 bedrooms and is close to Kim's mom, 1 block away. We love our neighbourhood for many
reasons, but mostly the proximity to close family and friends. It's also very multicultural which is important to us given that we are a transracial family. Our home is all white with fun bright accents. We have a bright and lovely bedroom set aside for a baby, and we are very excited to decorate and set it up in a beautiful style with your child in mind.
WORK & LIFE BALANCE
WE BOTH HAVE GREAT JOBS WITH MEDICAL AND DENTAL BENEFITS. Our jobs are flexible which allow us to work around our kids schedules and appointments. We both have 4+ weeks of paid vacation time. A healthy work/life balance is made a huge priority in our life as we believe that family time creates strong bonds and strong relationships.
ABOUT OUR FAITH it means so much to us!
We are practicing Christians and we put our trust in God. listening to His direction. We believe that God has planned for us to have more kids, and we can't wait to see how He orchestrates that. We know God has big plans for our kids lives and are so excited to be a part of it. We believe that prayer changes situations and we have prayed so much for our future children. We attend a wonderful vibrant church, and it has a wonderful kids program.
Our Thoughts about Parenting & Adoption
Our Adoptive Parenting Beliefs
We are a transracial family; we think of our children's birth parents often and try to incorporate Chinese culture into our home and lives and will do the same with your child with whatever cultural background you come from. Your child will always know their adoption story as we are passionate about ensuring they know the sacrifice you made out of love for them to choose adoption.
We have significant adoption experience, having also gone through the process to adopt Kim's sisters from China as babies who are now young adults. We understand and are sensitive to the needs of adopted children. This is incorporated in how we parent using connected parenting approaches. We use positive reinforcement with lots of praise and encouragement. We consider our parenting style relaxed but intentional. We absolutely do not use any physical discipline.
We hope to one day have another child join our family. We love Violet and Willamena and promise to love them and all our future children unconditionally. We promise to support them in their interests and passions. Our aim is to bring up our children to be kind, considerate, happy kids, who trust in God and who are secure in who they are.
OPENNESS
We are excited to maintain connection with you through photos and visits. We want to respect the amount of openness you wish to have with us. We would be honored to share in the naming of your baby and look forward to knowing more about you.
Closing Thoughts
ONE LAST THANK YOU
THANK YOU FROM THE BOTTOM OF OUR HEARTS for considering us to adopt your child. We are truly grateful. Please know that should you choose us to adopt your child that they will be given every opportunity in life to be loved, cherished, supported, and to be a son or daughter and sibling.
Reach out! kimdavidadopt@gmail.com