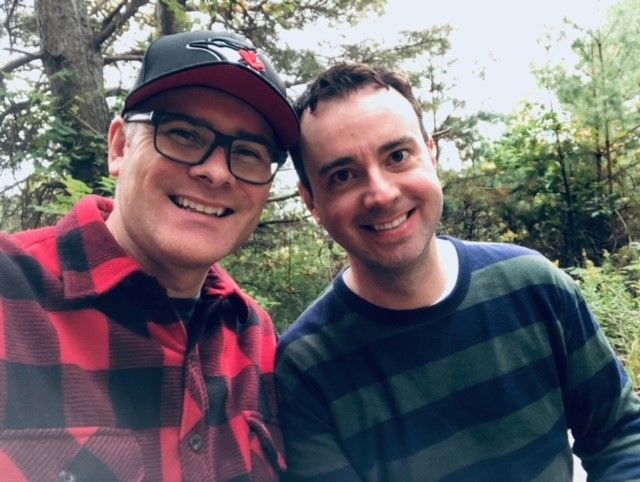 Hello, we are Kevin and Ken, a loving and compassionate couple, together for 14 years, living in Stouffville, Ontario. We thank you for taking the time to read our profile and for considering us as adoptive parents for your child.
Quick Facts
Kevin
Age: 44
Ethnicity: White
Religion: Anglican
Profession: University Administration
Education: Masters Degree
Interests: Yoga, Reading, Photography, Film, Theatre, Music
Ken
Age: 44
Ethnicity: White
Religion: Anglican
Profession: High School Teacher
Education: Bachelor Degree
Interests: Fishing, Reading, Photography, Film, Puzzles and Escape Games
Our Community
Years Together: 15
Province: Ontario
City: Stouffville
Neighbourhood: Suburban
Other Children: No
Pets: Lola, Boston Terrier (loving, gentle and child friendly)
Child Preferences
Age: No Preference
Gender: No Preference
Ethnicity: No Preference
Special Needs: Open To Discussion
Type of Adoption: Open
About Us
About Kevin, by Ken
On our first date, twelve years ago, Kevin displayed to me his sense of character and compassion through a simple, yet very telling gesture. Without even thinking, he leapt to his feet to assist an elderly man open a door. What I came to learn, as our relationship progressed, was that this is exactly how Kevin lives his life. Without question, he always does the "right thing" and approaches everyone with a high degree of integrity, care and kindness. Also, important to Kevin is his attachment to family. It is his strong sense of loyalty and love that lights the way for his strong connection to his nieces and nephews. Our relationship is strong and devoted, two things which are easy to obtain with Kevin by your side. Together we laugh our way through life. Humour is integral to everything Kevin experiences. His boldness and drive has served his professional and academic achievements well. In his work, he oversees a large department and always treats his employees with sensitivity and concern for their well-being. It is not uncommon for Kevin to encourage his workers to take a day off for themselves – something that is rare in today's workplace. It is also his sense of global citizenship and connection to community that he will instill in our child. I know Kevin will make an amazing daddy.
About Ken, by Kevin
Ken is one of the most caring and patient individuals I have met. He has an extremely kind heart and can always make me laugh. Ken grew up in Burlington, Ontario. One of five siblings, he has always been super close to his brothers and sisters and to this day, still makes family time a priority. In addition to our time at the family cottage every year, he tries to get away with his dad and siblings for additional time. While away he enjoys time in nature and fishing. Ken is a very talented photographer and when I met him, he loved going to indie rock music shows and photograph artists in their natural habitat. He generously gave the photos to the artists to help them promote their careers. Early on in our relationship Ken shared with me that he had a desire to become a secondary school teacher. I encouraged him to pursue his dream and I have admired his unwavering love of supporting underserved youth. He has sought out opportunities to work with students experiencing a wide array of challenges to ensure their social, emotional and academic well-being. His passion for teaching and mentoring is also seen every summer when Ken volunteers his time at a leadership camp for students in grades seven and eight. Our relationship has been loving and stable and I have taken great comfort in having someone as loving and supportive as Ken in my life. I know that Ken will make an amazing dad!
Our Home & Community
We began dating in 2006 and started living together a year later. Over the following years we rented apartments in various areas of the city so that we could explore different neighbourhoods before purchasing our first home in the north end of Toronto. We lived there for 7 years before recently deciding to move out of the city in hopes of starting a family in a larger home with a backyard. We decided on Stouffville for that bit of country feeling, but still close to the city, having the best of both worlds. We live on a quiet street located in a vibrant, child-friendly neighbourhood. We live near parks with splash pads, walking trails, schools, a community centre and a public library. We enjoy decorating our home for both Christmas and Halloween. We heard from multiple families that our previous home became a must see on Halloween night! We had hundreds of kids stop by to see our decorations and get candy of course! We enjoy dressing up and providing a great experience for families. We look forward to creating special memories like this in our new home. We have a Boston Terrier, named Lola. She loves to cuddle up next to everyone, give lots of kisses and is very child friendly. We have wanted to start a family for a long time and are proud of the home that we have created, one that is filled with lots of love, laughter and support.
Our Thoughts about Parenting & Adoption
Family means a great deal to us both and we have always been closely connected to our families. We are lucky to have a large, diverse family and as such family has shaped our understanding of what parenting is and can be. Ken is one of five siblings and Kevin has one older brother. Between us, we have three nieces and four nephews. It is a tremendous honour to be a positive influence in their social, emotional and cognitive development. We love spending time together whether it is for birthdays, holidays or gathering for no reason at all! When we cannot see each other in person we use Facetime to stay connected between visits. We know that when we start a family we will be fortunate to count on our extended family for support, love and guidance.
Becoming parents is something we have planned for and dreamed of for a very long time. Given our careers are in education, we place tremendous value and importance on education. We will raise your child to love learning. We see our parenting style as being a continuum instead of one distinct way all the time. We will take a child-centered approach to parenting, considering both their strengths and areas of need at specific points in their development. We are strong believers in open adoption and we look forward to speaking to you about what that means for you. Our promise and commitment is to do our best for your child every day and raise them to be a kind, caring and loving individual.
Closing Thoughts
We sincerely thank you for taking the time to read our profile and for considering us to be the adoptive parents of your child.  We would be happy to answer any questions you may have of us and we invite you to read and see more about us by visiting our site: https://sites.google.com/view/kenandkevin
Thank you,
Kevin & Ken