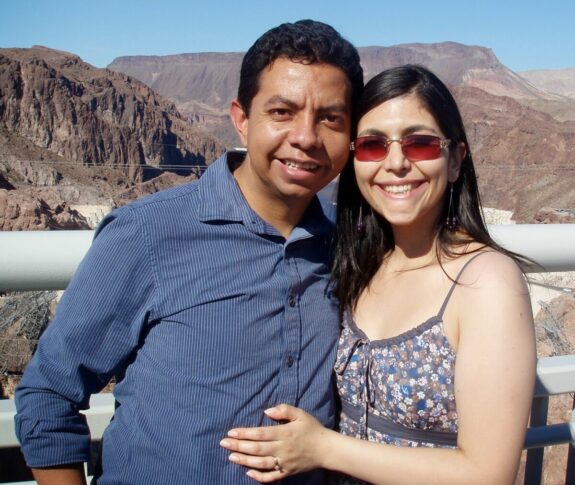 Hello, we are Jorge & Cristina. We want to thank you for taking the time to read our profile. We live in the beautiful city of Ottawa in Ontario, with our puppy Rocco.
We hope these photos and captions will let you catch a glimpse of our life and what it might be like to grow up as part of our family.
Should our paths cross, we promise to always be kind and respectful. Wishing you a courageous heart and the loving support you deserve on your adoption journey.
Quick Facts
Jorge
Ethnicity: Latin American
Religion: Christian
Profession: B.A. Languages
Education: Masters Degree
Interests: Video editing, hiking, cooking, sharing with friends and family, teaching languages, playing with our friends' kids, fostering children, dog-sitting, traveling.
Cristina
Ethnicity: Latin American
Religion: Christian
Profession: B.A Business Administration
Education: Bachelor Degree
Interests: Hiking, cooking, sharing with friends and family, playing and teaching values to our friends' kids, fostering children, dog-sitting, traveling.
Our Community
Years Together: 12
Province: Ontario
City: Ottawa
Neighbourhood: Suburban
Pets: Rocco, Boxer Mix
Child Preferences
Age: Up to 2 years
Gender: No Preference
Ethnicity: No Preference
Special Needs: Open To Discussion
Type of Adoption: No Preference
About Us
We are both Latin-Americans, born and raised in Colombia, a country located in South America.
We are both fluent in English, Spanish and French. We both love languages and cherish the richness of the different cultures, their people, their food, the magic places around the world, etc.
We were both raised as Christians by loving families and faith has always been a very important part of our lives.
Jorge has a bachelor degree in Languages and a Master's Degree from the University of Ottawa. Cristina has a bachelor's degree in Business Administration.
We met 12 years ago and after dating for 8 months, Jorge proposed during a flight in front of all the passengers and crew members. Then we got married and we have been happily married for 10 years from which 8 have been in Canada. We have had a very blessed marriage and although we have not been able to conceive, we believe that adoption was meant for us.
Our Home & Community
We live in Ottawa, Ontario in a suburban community surrounded by nature and nice parks with our four-year-old rescued "fur baby" Rocco, a Boxer mix who loves children (and adults) of all ages. We both work from home and we enjoy very much being together and sharing many activities like: video-editing, hiking, gathering with friends and families, hosting friends and family and becoming their touristic guides, fostering and hosting children, dog-siting, cooking delicious and nutritious meals for all, teaching skills and values to our friends' children in a fun way!
We are surrounded by a very nice community of friends who have children from all ages and we meet in a regular basis to walk through life together, learn from each other and support one another in the best way we can. We have been blessed with friends from numerous nationalities and we have a deep respect for diversity.
Our Thoughts about Parenting & Adoption
Adoption plays a very important role in our minds and hearts from long time ago, so we are thrilled to become parents through adoption in this moment where we have a great support system in place to do so through other adoptive families with whom we have became friends.
We both had wonderful childhoods with warm, caring and supporting parents. Our desire is to provide the same type of home for your child. We want to have fun with your child and raise him/her with values, teach him/her great life-skills, about other cultures, languages and to love one another.
As your child grows, he or she will be encouraged to explore their purpose, dreams and interests. We will encourage your child to try new activities, sports, arts, culture, languages, to find their gifts and talents. Whatever they choose, we will be on the sidelines cheering and encouraging and will be ready to lift them up through life's ups and downs.
Closing Thoughts
We can only imagine how difficult this is for you, to make a decision on who will parent your child/children. We would love to be chosen as your child's forever family and we want you to make a decision that suits your interests best. We feel very grateful to be considered. If chosen, we will love your children unconditionally and will forever be grateful. We will be open and honest with your child on who you are and tell them your decision was one made out of love for them. We will help them develop roots and encourage them to be the best they can be. You will be a very important part of their life and we will be honored to have an open relationship with you where you feel comfortable.
It's hard to believe we have been together for almost 10 years! These have been the greatest years of our lives, we make each other smile, laugh and feel loved and respected always. Please know that our desire to adopt comes from hearts blessed with abundance, happiness and love.
With love and gratitude,
Jorge & Cristina