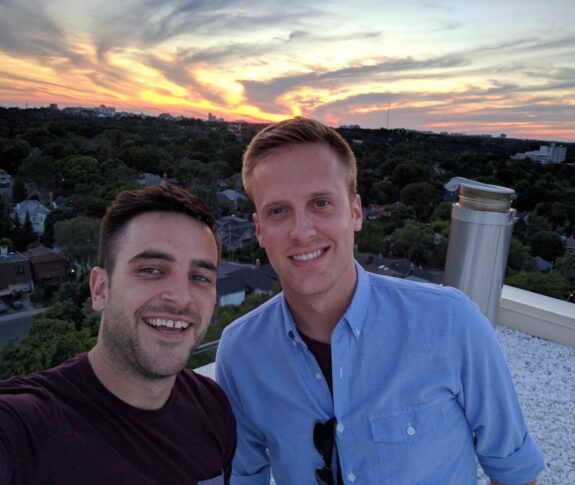 We have both known from very early on in our relationship that we were meant to be dads together. Us, our families, and our friends have so much love and support to offer that we are sure of our ability to raise a kind-hearted, strong, and confident child. We are avid readers and are excited about the idea of raising a child who loves to learn as much as we do. Together, we are committed to the idea of open adoption and look forward to building a healthy and respectful relationship with the child's birth parents. We are very excited about the challenges and rewards that will undoubtedly come from this experience. We would love to hear from you.
Quick Facts
Jordan
Age: 31
Ethnicity: White
Religion: Christian
Profession: Child Behaviour Therapist
Education: Masters Degree
Interests: Bike riding, rollerblading, picnics, reading
Eric
Age: 31
Ethnicity: White
Religion: Christian
Profession: Executive Insurance Underwriter
Education: Bachelor Degree
Interests: Bike riding, rollerblading, picnics, reading
Our Community
Years Together: 5
Province: Ontario
City: Toronto
Neighbourhood: Urban
Pets: Piper (our cat)
Child Preferences
Age: 0-6 Months
Gender: No Preference
Ethnicity: No preference
Special Needs: Open To Discussion
Type of Adoption: Open
About Us
Hi there,
We are Jordan and Eric. We have been together for five years now and recently got married 🙂 We love where we live and enjoy getting out for walks, bike rides, and rollerblades to explore our city by ourselves or with some of our close friends. We also love getting to spend time with each of our families, especially now that we have an amazingly cute niece to visit nearby. We are both very close with our families and try to spend as much quality time with them as possible. Our vacation time from work is usually spent at cottages with our families or camping up north with just the two of us. We also have a cat named Piper! She is a very cuddly and loving girl who greets us both at the door at the end of each of our days at work.
Jordan
Hi! I'm Jordan 🙂 I am 31 years old and I work as a behaviour therapist for children who have autism. I grew up in Newmarket with my mom and my dad, my older sister Julie, and my younger sister Megan. I have always been, and continue to be, very close to my family. I left Newmarket when I went to Guelph to do my undergrad. I just finished up my Master's degree in applied disability studies with a specialization in applied behaviour analysis.
I am a true extravert in that I get my energy from being around other people. I love spending time with Eric, our families, and our friends whenever I get the chance. I also enjoy exploring our city. I love going for picnics in its parks, riding my bike, and discovering new restaurants. With that being said, I do also enjoy spending time around our townhouse watching movies and TV series. In the summer I love to sit on the back deck with a book and just relax. I also love to babysit my niece, Emery, any chance I get!
If you asked me when I was 5 years old what I wanted to do when I grow up I would have told you I wanted to be a teacher. I have always enjoyed hanging out with kids and helping them to grow to be their best while in a safe and supportive environment. I worked in High School and University as a camp counsellor and for the past 8 years as a therapist for children with autism. Now that I have Eric by my side I know that we are ready to raise a child as two fun, playful, confident, and loving dads. I hope that this book gives you an idea of who we are and the love that we have to share.
– Jordan
Eric
Hello, I'm Eric. I'm 32 years old and work as a commercial insurance underwriter. I was born and raised in St. Catharines, ON and moved to Toronto when I was 18 to attend University of Toronto, where I graduated with a Bachelor of Commerce.
While I am career-focused and enjoy my work, I definitely value my personal time and work to live, not the other way around. I strive to leave the office by 5pm every day so I have time to do the things I enjoy, like cooking with Jordan, jogging through the city, spending time with our (cat) baby Piper or just relaxing at home with Jordan and catching up on our days.
Jordan and I bought our first home together in 2018 – a 3 bedroom townhouse, and I have thoroughly enjoyed decorating and making it the perfect home where we will spend many years to come. While I love everything living in an urban setting offers (trying new restaurants, summer festivals, sports etc), I am also somewhat of a homebody and fully enjoy nights at home and entertaining for friends and family.
I can't wait for the next chapter of our lives to begin with a child. I hope we are able to give you a glimpse into our lifestyle with this photo book and hope you are interested in choosing us to begin this journey alongside you.
– Eric
Our Home & Community
We live in the mature treed area of an urban community in Southern Ontario. Our home gives us a perfect balance of urban life, with nature interwoven into its platform. Our home is located on a quiet street, with lovely neighbours whom we appreciate. We are close to child-focused parks and are within walking distance of a lake where there is a sandy beach and a playground. There are two good schools in the area and a community centre close to us.
Our Thoughts about Parenting & Adoption
Our beliefs about parenting very much come from the examples that our parents have set for us throughout our lives. As dads we see ourselves spending as much quality time as possible with our children, showing them that we love them and being clear examples of the respectful, calm, humorous, and open-hearted people that we hope they will grow up to become. Our goal as dads will be to put the time into teaching and rewarding our children's positive behaviours through play and quality time. We believe that our role will be to use our experience to guide and encourage passions that naturally develop and to be fully present for the inevitable bumps that occur on the roads that explore those passions. We know that our calm, caring, and adaptable demeanours will help us to not only take on all the challenges ahead but also to properly celebrate all of the triumphs.
On Openness
We see open adoption as a mindset more than an arrangement. We want you to know that we are fully open in our mindset. Our belief is that your child will grow up to be their strongest and happiest if you are not only around to help them understand where they come from, but also present to shape who they become as they grow. We pride ourselves on our ability to forge strong and caring relationships with the people who enter our lives and can assure you that we have plenty of room in our lives and in our hearts for all of the relationships that would come with open adoption. We recognize that you may see openness differently and we are respectful of that. In being open in our mindset we are committed to following your lead whether that means speaking highly of you and sharing some of the reasons why you have decided to keep distance, sharing photographs and updates with you, or having visits three to four times a year.
Closing Thoughts
This would be a very new relationship for everyone involved, but we are ready and willing to grow and learn with you and would love to hear from you. If you choose not to contact us we want to sincerely wish you all the best in your journey wherever it may take you.