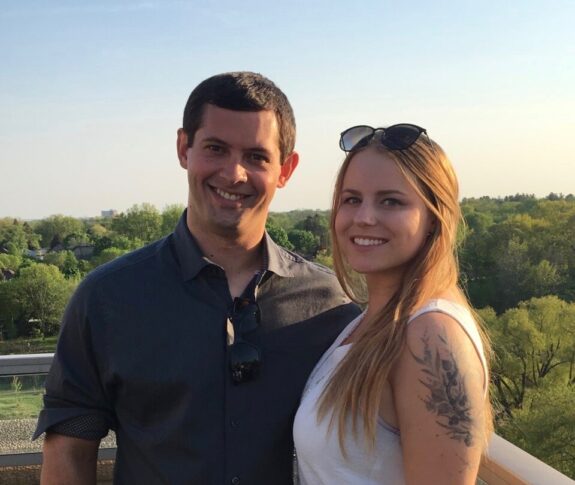 Thank you for taking the time to get to know us. Our names are Sable & Jason. We're excited for you to learn more about us and are thrilled to become adoptive parents. We admire your compassion for your child and your courage to consider adoption. We cannot begin to imagine the emotions you are feeling during this time and hope you have the support you need as you plan the future for you and your child.
We have been together for six years and were married in May of 2018. We both have an incredibly strong desire to build a family and to raise children and agreed early on in our relationship that adoption would be a part of that family picture. For Sable, adoption has always been a huge part of who she is as she herself was adopted as an infant from Russia. Her experience with adoption is therefore very personal and positive. The unconditional love, support, and opportunities given to Sable by her parents is something that we so strongly want to provide to an adopted child (or children) of our own one day.
Hope to meet you,
Sable & Jason
Quick Facts
Jason
Age: 32
Ethnicity: White
Religion: Agnostic
Profession: Director, Account Management
Education: Bachelor Degree
Interests: Golfing, Reading, Hosting Friends/Family, Astronomy, Cooking, Exercising, Hiking, Kayaking, Volleyball
Sable
Age: 28
Ethnicity: White
Religion: Agnostic
Profession: Real Estate Student
Education: Bachelor Degree
Interests: Cooking, Photography, Decorating, Snowboarding, Skating, Kayaking, Hiking, Biking
Our Community
Years Together: 6
Province: Ontario
City: Oakville
Neighbourhood: Suburban
Other Children: No
Pets: We have a wonderful dog named Austin, an Australian Shepherd.
Child Preferences
Age: 0-6 Months
Gender: No Preference
Ethnicity: Caucasian
Special Needs: Mildly Correctable
Type of Adoption: No Preference
About Us
As we mentioned, we've been together for six years and married for almost three. Jason is 32 and Sable is 28. We are both proud Canadians and Sable is also a proud Russian, having been born there before being adopted as an infant. Neither of us practice any form of religion but do have some spirituality. We are both very close with our families. Sable's parents absolutely love Jay, especially Sable's dad Gary, who claims Jay is his best friend. Jay's family have also warmly accepted Sable into their family ever since Sable was in high school as she was always friends with Jay's youngest brother. Jay's parents are very funny and always go out of their way to make everyone feel welcome. We are very fortunate to have both sides of our family live nearby. We spend at least two or three nights a week with either Jay or Sable's family. We wouldn't change that for the world.
We have a beautiful dog together named Austin. He is an Australian Shepherd and just turned 6 this past November. We enjoy taking him to parks around our neighbourhood and there is a forest with trails just down the street from us where we love to go for walks. Together we have fun cooking while listening to music, watching movies (usually scary) and having backyard BBQs with friends. We also go kayaking by Sable's dad's house whenever we get the chance. Another favorite past time of ours is mini-put. We spend most of our time around our home town with our friends and family.
From the start we talked about our hopes and dreams of having a family of our own. Adoption has always been close to our hearts. With Sable being adopted it was always part of her plan to adopt a child and Jason has always been 100% onboard from the very beginning. We have also tried to conceive naturally but with some uncertainty regarding our ability to do so we're now ready to start our family via adoption.
Our Home & Community
We live in a beautiful detached two-story home in a quiet and peaceful neighbourhood. We are fortunate to have many playgrounds and parks within walking distance of our home including some beautiful and mature forested trails.
We are fortunate to have a very pretty home with plenty of space including warm and cozy furniture and living spaces. We have 4 bedrooms upstairs and intend to use the bedroom across from the master as the nursery for your child as it is bright and cozy with a large window to let in lots of light.
We also have a lovely fully fenced backyard with grass and lots of trees & privacy and we can't wait to play in the backyard with your baby and enjoy the outdoor space together. Our neighbourhood is full of young families with children. There will be lots of friends for your child to play with.
Our Thoughts about Parenting & Adoption
Although we aren't experts in this area we have watched our friends' parent and have learned a lot from them. We were raised in loving and caring homes and we plan to do the same for your child. We believe we share the love, stability and energy to provide a warm, supportive, fun filled environment for your child. We believe that consistent routines and steady guidance help a child feel secure. It's important to us to be available as the primary care givers to our child. Sable
would stay at home for at least the first few years of your child's life, if not longer. Jason plans to be able to take time off work during the first few months
when we become parents through adoption. We don't want to miss any of your child's milestones. We also feel a stay at home mother gives a child a very strong base from which to grow from. Both Sable & Jason's moms stayed home with them when they were young and it made for a very positive childhood which we want to replicate with your child.
Our fundamental thoughts around parenting center around trying to identify teachable moments and working to always explain the "why" behind an act. We both believe that physical discipline is not an appropriate disciplinary tool, particularly when we want to teach your child to love and respect others. We will also discipline in a fair and honest manner. We will always use a calm and respectful tone. We hope to set positive examples and encourage good behaviour through praise and encouragement. We hope to raise your child to be confident and be able to make decisions wisely.
We also want to expose your child to as many different experiences & activities as possible to help them identify areas of interest and then foster that interest over time. This would include introducing them to organized sports and other athletics as a way of fostering a healthy lifestyle and to build important social skills, but we would also want to expose them to various forms of creativity such as music, visual arts, and dance. We would also encourage them to do their very best with their schooling and to pursue post secondary education but ultimately would want the child to pursue as much education as they are interested and capable of and support them in whatever decision they make.
At the end of the day, we will love your child with all our hearts and will support them in good times and in bad.
Closing Thoughts
We are really excited about the possibility of meeting you to find out your hopes and dreams for your baby. We will never forget the loving and selfless decision you are considering.
We have learned a lot about the varying degrees of openness in adoption and would like to support and encourage a relationship between you and your child as well as with us, however, should you prefer a more closed adoption we will respect that also. Should you prefer open, we are more than happy to have in-person visits 3-4 times per year as well as to take many pictures and videos and make them available to you in a secure online platform which you can view at your convenience. We also intend to make a Lifebook as a treasured memento for your child. It will include information and pictures of all of us to help ensure that as your child grows up that they have the answers to all of their questions. If you have anything you would like to put in the Lifebook we would welcome receiving things from you like letters and pictures.
We would also be honored to share in the naming of your child. We plan to tell your child their story as they are growing up. They will always know how much you loved them and that you always loved getting letters and pictures about them. We will always be honest with your child about their adoption. We will always recognize the gift you have given us and ensure your child is proud of who he/she is, and that this decision was made out of profound love for them.
Thank you very much for taking the time to get to know us. We really hope to meet and get to know you. Best wishes on wherever your journey takes you. No matter what we know you will make the right choice for you and your child.
With love,
Sable & Jason