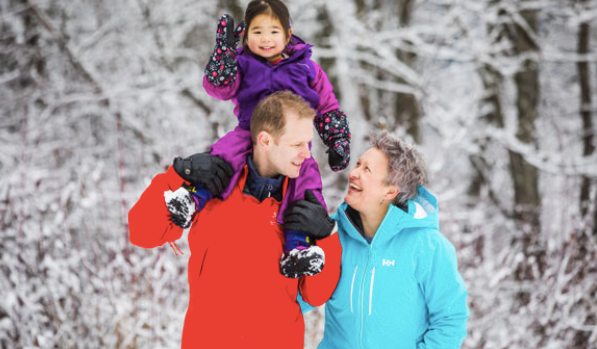 "We see ourselves as guardians of your child's hopes and dreams becoming a reality, while loving unconditionally."
Thank you for taking the time to read our letter and your consideration to make an adoption plan for your child.
Quick Facts
Jaroslava
Age: 42
Ethnicity: White
Religion: Christian
Profession: Registered Nurse
Education: Bachelor Degree
Interests: cooking with Saika, gardening, reading, and dreaming about doing a scrapbook and learning to quilt :)
Miro
Age: 43
Ethnicity: White
Religion: Christian
Profession: Doctor
Education: MD
Interests: music playing and listening, cycling, watching hockey, hiking, hanging out at home
Our Community
Years Together: 12
Province: British Columbia
City: Vancouver
Neighbourhood: Urban
Other Children: Saika (almost 3)
Pets: Bibo-cat; who thinks is a dog
Child Preferences
Age: Up to 2 years
Gender: No Preference
Ethnicity: No preference
Special Needs: Open To Discussion
Type of Adoption: Open
About Us
We are Jaroslava and Miro and have been married for over a decade. Both of us are from a small central European town, and we have moved to Canada as a couple in 2012. We decided to make British Columbia our forever home after travelling, living and working abroad for many years. We always knew we would like to expand our family of two, and an adoption felt like just the right decision for both of us. Our dream of becoming parents for the first time came true in 2017 when we met Saika, and it was love at first sight! The same year we have also adopted a cat – Bibo, and he loves all the attention Saika and her friends give him in their toddler ways (meaning he has lots of patience to be "moved"). There is more love to share as we would like to welcome you and your child into our lives.
We both work in health care, Jaroslava as a nurse in the community setting and Miro as a doctor in a regional hospital. We enjoy our working lives and to make this possible, we have a nanny to help when our schedules collide.
Lifestyle
We live in a bright condo in the city and enjoy being able to walk everywhere. We see children walking to school in the mornings, and people say hello to each other in the elevator. Since having Saika, we have been discovering different sides of our neighborhood and have become members of the local community centre. There are plenty of activities and playgroups, and we managed to find our favourites. Being an urban baby, Saika loves going out for "babycinnos" (a.k.a. steamed milk) and meeting her friends in playgroups, at the science museum or the local playgrounds.
Our Home & Community
We like to spend time together and have fun and continue to learn how to combine our love for the outdoors and indoors with the children. In our house Jaroslava likes to cook, and explore vegetarian recipes, with us being a vegetarian family. She will include anyone in the preparations should they chose to join. Saika is an amazing sous-chef, although she prefers to cook her favourite classic – pasta. Luckily, she is flexible and open minded enough about trying other recipes. We cannot wait for a new helper in the kitchen, but please do not worry; we already have a dishwasher.
Our Thoughts about Parenting & Adoption
We have now settled down and are established in our professions which affords us to do many things. Nevertheless, we aim for modesty, integrity and work ethics. We have spent years working in humanitarian sector, and as we continue to be involved with volunteer organizations, we promote values of tolerance, empathy, and respect. We live in a very diverse neighbourhood and discuss at home openly that people come from different places and have different life experiences. We are talking about accepting people as being unique rather than being different.
Both of us continue to learn new things all the time, and we agree that education is an essential aspect of a person's life. Any form of training is welcome. We are ready to support a child's full potential, whether that is a formal education or a more informal one.
We believe in exploring within safe boundaries and promote independence. Jumping into puddles and touching worms are among a few musts. We aim for experiences to be highlights of special days, and thus presents can be in a form of a birthday party guest and raising funds for a good cause rather than material ones.
When we took Saika on our recent volunteer work trip to Ethiopia, besides the fact that she fell in love with injera (local sour bread) she also enjoyed playing and interacting with local children. Differences such as language were definitely no barrier and she came home with an ability to count to five in Amharic, official language of Ethiopia.
We believe in establishing nurturing, inquisitive environment and we are open to questions. We discuss all topics, and this includes our and Saika's adoption stories. Although after the gazillionth "why?" we usually admit a defeat that we are not all knowing.
Family matters
We understand the importance of external support and families, and we were fortunate to create an extended family of friends in Canada and back in Europe. We enjoy being Auntie and Uncle to our nephews. We also took on a role of becoming Godparents to Marko, who was born very prematurely and is now an impressive five-year-old dinosaur aficionado. We would like to include you and your child in this amazingly diverse family. Our families and especially our nephews are very excited to meet their future cousin(s) and look forward to teaching them all the 'boy stuff', for example: going mountain biking and cross-country skiing. Indeed, they adore Saika and have showed extreme patience to her demands for attention.
There is a team of Grandparents, Aunts, Uncles and cousins on standby to welcome you and your child(ren). We will respect any level of openness, and please be assured that you will always be present in your child's story.
Closing Thoughts
We cannot possibly imagine or understand what you must be going through, and we are thankful for your consideration of an adoption plan for your baby. We are honoured that you have read our letter and please know that we would be forever grateful should you choose us to join you and your child on this journey. We are ready to welcome you all into our family. Thank you.