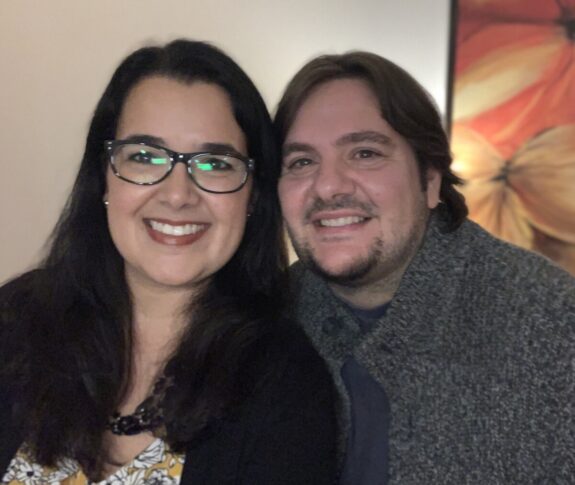 Ciao! Hola! Hello!
We are Karyeling and Gaetano, and we are excited you decided to see our profile! We are a multicultural home filled with love and care. I (Karyeling) was born and raised in Venezuela, in 2014 at the age of 35, immigrated to Canada in pursuit of a better quality of life and to be reunited with my family who have been living in Canada for the past 10 years. Gaetano was born and raised in Toronto, his parents are of Italian descent and he has been living here his entire life
Quick Facts
Gaetano
Age: 42
Ethnicity: White
Religion: Catholic
Profession: Sales Representative
Education: High School Diploma
Interests: Movies of all genres, active in sports, enjoy puzzles/games. Reading, outdoor adventures, road trips
Karyeling
Age: 42
Ethnicity: Latin American
Religion: Catholic
Profession: Customer Service Representative
Education: Bachelor Degree
Interests: Cooking, reading, enjoys exploring different cultures, outdoor activities, movies, puzzles and games as well.
Our Community
Years Together: 6
Province: Ontario
City: Mississauga
Neighbourhood: Urban
Other Children: No
Pets: Domestic, short-haired, friendly cat
Child Preferences
Age: Up to 2 years
Gender: No Preference
Ethnicity: Caucasian, Caucasian Mix
Special Needs: Mildly Correctable
Type of Adoption: Open
About Us
Our story, like a good 21st century love story, started online. We met on EHarmony on May of 2015 after a month of texting and talking over the phone we went on our first date and then we knew it was time to closed down those profiles.  About a year and a half into our relationship, December of 2016 Gaetano along with the help of my sister, he learned Spanish to asked for my hand in marriage to my parents and on Christmas Eve 2016 he proposed to me just before going to celebrate the holiday with my family.  We got married 11 months after, on November 2017. At our age we understood the challenges of starting a biological family, that is when we decided to explore the possibilities of adoption, as I have seen first-hand how wonderful and exciting this journey can be.
We love being around each other and doing everything together, we enjoy having our little traditions, like going for ice cream to the same place where we went on our first date. Being at home and working on projects together, building puzzles, and playing games. We both enjoy nature and the beauty it provides, we often take photographs as it presents a certain serenity and calmness within them. My wife is a wonderful cook, she is often finding new recipes to enjoy together. I often lend a helping hand but when it comes to the kitchen she takes the lead! We enjoy reading novels and going to the movies on weekends, overall we balance our time by combining what we love to do.
Karyeling at a glance (By Gaetano)
From the moment I met my wife I knew that she had a heart of gold, she is loyal, passionate and dedicated to every aspect of her life, especially her family. My wife's family is small, and it's just her and her older sister, but her extended family is large. Growing up on her grandfather's farm, it made me see her in a different light, one that is playful and energetic. She has shown me through her interactions with her nieces what a great mother she would be, always listening to them when needed, giving advice when asked and showing them that the most important thing in life will always be family. Having no nephews or nieces of my own when we first started dating, my wife brought me into her life and her family circle and showed me how dedicated she was to her family and those two little girls.
Gaetano at a glance (By Karyeling)
Gaetano is the kindest man I have ever known, he is always there when you need him, reliable and trustworthy no matter the time or the day, he always puts family first. He is loyal and protective of all of us and those among many other qualities made me fall in love with him. Growing up as the oldest of the family he had some time to find his passions and during this time he discovered his love for Legos and puzzles. He also has this really funny goofy side, he always cracks jokes and he makes people around him have a fun time, our nieces love spending time with him because they will never get bored. If there is one thing I could portray to you about Gaetano is that he is a devoted and loving husband and he will make an incredible hands-on father too, he loves to get involve and never shys away from help.
Our Home & Community
We are currently living in Mississauga, in a really centric neighbourhood, our apartment is comfortable and we have a lot of room for kids. There are several beautiful parks within walking distance, great facilities including schools, parks, hospital and multiple stores. Our neighbourhood is very active, there is always people walking dogs, jogging or walking with strollers.
Our Thoughts about Parenting & Adoption
We had a lot of time to talk about what kind of parents we want to be, as we both grew up in immigrant families, we understand how crucial it is to know where you come from to know where you will be in life. Therefore, we embrace our cultures and we want our future child to be proud of their own heritage as we will celebrate where he/she might come from. We are a multicultural home and we are proud of it.
When it comes to disciplining, we believe in having a united front and avoiding at all costs physical punishments. Actions can show more than words; thus, we will lead by example so they can model core behaviors such as respect, fairness and loyalty.
We will deeply encourage them to have an opinion and speak their mind because we always want to listen to what they have to share; communication is the leading component of our home followed by respect, trust and love. Although we have fun and playful times, we also value education and knowledge of anything that will spark their minds. We promise to give our future child every opportunity to prepare themselves for adulthood. To grow up safe and loved while building self-assurance, self-respect and independence within themselves.
Closing Thoughts
If you choose to, we want you to be part of your child's life so they can have an appreciation for the tremendous demonstration of love you have made. Your child will always know where they came from and how much you love them.
More than anything we want you to know that we will love them unconditionally, we promise to provide an upbringing in which generosity, kindness and respect for others are taught every day. We promise to expose your child to different forms of art, sports, education and nature. Through this they will learn to love and appreciate the world and the different people and places that comprise it, most importantly, we also promise to encourage their dreams and provide them with tools and opportunities to be whatever they dream to be.
We are humbled and appreciate the time you've taken to read these words. Whether we are part of your journey or not, we wish you the best of luck.