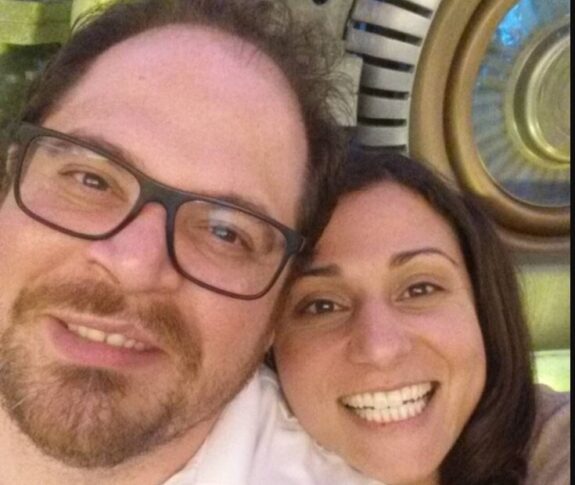 Thank you…for taking the time to get to know us.
We can't imagine what you are facing right now but know that you are brave, loving, and compassionate. We are truly appreciative and grateful for giving us this opportunity.  We are excited to introduce ourselves to you and looking forward to getting to know you better as well.
We know that this is quite a journey for you and know that we are supportive of whatever choices you make. We hope that you take the time to get to know us better and find a connection with us.  We have been together for 10 years and adoption has always been on our minds. We'd love to be on this journey together.
Please contact us with any questions or concerns and we'd be happy to respond!
Diana & Francesco
Quick Facts
Francesco
Age: 41
Ethnicity: White
Religion: Catholic
Profession: Bakery Owner
Education: High School Diploma
Interests: Cooking, entertaining friends & family, Canning, Rocky Movies, Sports, Marvel & DC series, Wrestling, Comedy
Diana
Age: 42
Ethnicity: White
Religion: Catholic
Profession: Elementary Teacher
Education: Masters Degree
Interests: Cooking, Baking, Netflix, Sports(Volleyball & Basketball), Walking, Gardening, entertaining friends and family
Our Community
Years Together: 10
Province: Ontario
City: Mississauga
Neighbourhood: Suburban
Other Children: No
Pets: Baci, our 8 month old Chocolate lab is friendly, affectionate & kissable.
Child Preferences
Age: 0-6 Months
Gender: No Preference
Ethnicity: none
Special Needs: Open To Discussion
Type of Adoption: Open
About Us
We met in 2012 online. We had a lot in common. Right from the first date we both knew something special was happening. We soon became best friends and we engaged after 9 months! We've been by each other's side ever since. We live in Mississauga near the lake and we recently got a puppy to love and look after.
We both wanted children and were faced with some difficulties along the way. After a few failed IVF/fertility treatments and a pregnancy loss we realized not only was our relationship stronger but our desire to be parents became more evident too. We had always talked about adoption, and we knew it was the right time to start down this path. We both know people in our lives who have adopted. Without knowing it, we were both interested in the idea of adoption before even knowing each other. We would love to share our home and our love with a child. We would love to start a family. We hope to fulfill our dream of becoming parents.
About Francesco – according to Diana
Francesco is sincere, caring, emotional, and has a huge heart of gold. He will always put others first before he worries about himself. Francesco is someone you can rely on for everything. He will never say no and he will always give it his all. He loves children and children love him! He is silly, comical, and always looks for a good time. He also has a huge sense of humor. We are always laughing! He is very hardworking, owning a family bakery. He also has a very creative side. He is a dreamer and he always finds ways to reach his goals. He has a positive outlook on life and knows how to balance me out when I need it.
About Diana – according to Francesco
Diana is my wife, my best friend, my wonder woman. Since the day I met her I knew we were going to be husband and wife. We have a bond that can never be broken. Her smile melts my heart. Her love for children, being an elementary teacher, and her patience are never ending. Her strength, her wisdom, and her loves makes her a threat to be reckoned with. She is funny and I guarantee she'll have you in stiches. She is very loving and is always helping someone out. She is very family orientated and the youngest in her family. She has close relationships with many of her relatives, and is always offering an ear, advice, or a laugh. She is definitely my other half!
Baci – our puppy
We got our chocolate lab in August 2020. We had just gone through a lot of family illness, death, and other obstacles in our life. She has brought a lot of joy and comfort to our home. We love her more and more each day. It has been a lot of fun watching her grow and getting to know her little personality! She is a very loving affectionate dog. Baci means kiss in Italian and her name is perfectly suited for her. She loves to cuddle and kiss everyone. She is very calm and gets along with everyone.
Traditions
We were both raised Italian Catholic. To both our families holidays like Christmas, Easter & birthdays are most important. Big family dinners, home baked goods, and a lot of loud conversations. We have both created a lot of memories around these holidays and wouldn't change it for the world. Another tradition that plays a major role in our lives is Sunday dinner. Everyone gathers for a nice relaxing meal. Nonna's dinners are always the best and we will travel to Niagara to get it! Our moms make great meals too. In the summer time BBQ's and picnics outside give the whole family a chance to gather and share some laughs.
We are both dedicated to keep our family traditions alive. Making tomato sauce, canning vegetables, and homemade salami are just to name a few. It is something we truly value. We hope to continue these family secrets and to pass them on the the next generations of our family.
Our Home & Community
We live in Clarkson Mississauga long the Lakeshore. We have a cozy, cottage like raised bungalow with lots of windows showing off the forests and scenery surrounding us. We are close to many trails, the marsh, and the beach shore of Lake Ontario. Clarkson is small, quiet, quaint town. It is a mature neighborhood with a lot of trees, forests, trails, and secret paths.  Everyone is very friendly and there is always someone to talk to outside. There are many schools, children playing outside, parks, and libraries within walking distance. Port Credit is down the road with many shops and restaurants to explore, Our next door neighbors are both wonderful families and our street has become a small family with dinners and parties in our various yards. Our neighborhood is very supportive of one another, everyone is always helping each other out, whether it be babysitting, cutting the lawn, picking up mail, or snow blowing each others driveways.
We were both raised in big Italian families. Francesco grew up in Toronto with his 2 older brothers, and Diana grew up in Niagara with her 1 older brother. Both our parents come from big families so there was always lots of aunts, uncles, and cousins around. We both have some of the same friends as we did in elementary school. We hold strong bonds with our friends and they too have become a part of our families. We have nieces and nephews and we love to be with them. We have been babysitting, hosting sleepovers, and taking them to different events through out their lives. We both love being around children and many people say that we act like children too!
Our Thoughts about Parenting & Adoption
Since we first met, we've always talked about the idea of adopting. Before we even got married, the idea of adopting a child was something we knew we both wanted to do. As we faced obstacles with infertility the idea of adopting became stronger. We both wanted to share our love with children and knew this was the perfect time to do so. Our relationship had grown stronger and we knew in our hearts that we were meant to be parents.
We both believe that a safe, honest, loving home is important. We hope to teach our children values and respect as they grow and travel through life. We want to be supportive and caring but also have some rules in place to allow structure and routine. We are very close and loving and we would love to share that with our children. We have both always dreamed of being parents and would love for that dream to come true. We want our children to know and understand their roots and help guide them as they learn about themselves. We would love to teach them our culture and learn and celebrate their culture too. We would love the opportunity to share all of our values, experiences, traditions, and our strong loving bond with our children. We will love our child unconditionally and will nurture them to grow up to be the best person they can be.
Closing Thoughts
We appreciate you taking the time to get to know us and checking out our profile. We know this is a lot for you to consider and we acknowledge that. We want you to know that we are interested in an open adoption and we are willing to work with you to make that look however you feel comfortable.
Our goal is to celebrate you, recognize you for who you are, and make you part of our future life.
We wish you nothing but the best and respect all the decisions that you will make. If you have any questions please ask. We are an open book and are looking forward to getting to know you.
All the best,
Diana & Francesco