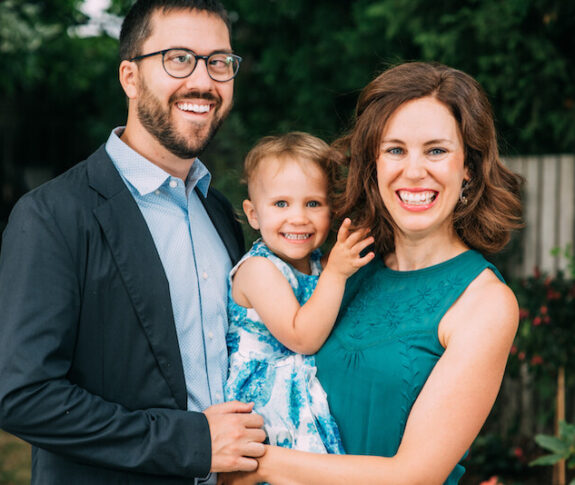 Dancing to the Phantom of the Opera soundtrack, eating chocolate peanut butter ice-cream by the campfire, and shamelessly riding a tandem bike around our neighbourhood… that's how our family likes to roll! We hope that this page gives you a glimpse into our family and the life that we would love to share with you and your child.
Quick Facts
Erika
Age: 37
Ethnicity: White
Religion: Christian
Profession: Student Spiritual Director
Education: Masters Degree
Interests: Basketball, swimming, biking, gardening, reading, an evening out to enjoy musical theatre, eating chocolate and all things French.
Graham
Age: 31
Ethnicity: White
Religion: Christian
Profession: Young Adults Pastor
Education: Masters Degree
Interests: Hosting dinner parties, playing the bagpipes, swimming, skiing, reading, and an evening out at the symphony.
Our Community
Years Together: 7
Province: Ontario
City: Toronto
Neighbourhood: Suburban
Other Children: Daughter (Morgan), 3.5 year old
Child Preferences
Age: 0-6 Months
Gender: No Preference
Ethnicity: No Preference
Special Needs: Open To Discussion
Type of Adoption: No Preference
About Us
We met while both working on staff with a Christian organization. One day Graham called me and I thought he had a work question but instead to my surprise he invited me to go kayaking for a first date. He kept thinking up such fun dates: horseback riding, a sleigh ride, dining in the dark at Au Noir restaurant and so on. We were married the following summer. Graham and his groomsmen wore kilts to the wedding and were the hit of the dance party. 
Morgan (Momo) was born two years after we were married. It is our privilege and joy to be her parents. After trying unsuccessfully for two years to grow our family we have concluded that adoption could be God's special way of building our family.
What Erika Thinks About Graham: Graham is the life of the party- he brings fun and laughter wherever he goes. It's why he's often invited to emcee weddings and other events. He grew up in a close knit family of four children and his siblings and parents are a big part of our life today. He works as the Young Adults Director at our church where he mentors university aged men and women in their faith journey. Graham is very involved in raising and nurturing Morgan. He's the kind of dad who gets down on the floor to wrestle or play dollies, snuggles on the couch for story time and sings Morgan to sleep. Graham lost vision in his right eye as a child and has limited vision in his left eye. Some people might let that limit them, but with Graham it is the opposite. He throws himself wholeheartedly into life: doing a Tough Mudder run, bagpiping in parades and weddings, camping and portaging in Algonquin Park and playfully tossing our daughter Morgan into the air at the lake. Graham doesn't let life's challenges hold him back.
What Graham Thinks About Erika: I love Erika's sunny disposition, even in tough situations. Whereas my dream morning involves sleeping in, Erika has already conquered the world by 8:00am and still had time to slip in a yoga session. Her adventurous personality is a blessing to her family and friends as she motivates us to go on fun adventures like exploring a new bike trail or a waterpark trip. This adventurous spirit led her first to France and then Quebec for 10 years where she lived and worked in French. Her love for people led her to work for an organization helping students grow in their faith for the past 14 years. She chooses to work 1.5 days per week and then spends the rest of her time as a stay at home mom with Morgan. Erika is an amazing mother. She loves children and children love her- whenever she takes Morgan to the park she ends up with a small cluster of kids who want to join in on whatever fun activity she's doing. I admire Erika's faith and how she looks for God's fingerprints in each day.
What We Think about Morgan: Momo is a social butterfly. She wants to be wherever the people are – whether it's the kids' program at church, singing circle at the library, or calling her aunties (Erika's girlfriends) on the phone. She loves to have fun, and she loves to include others in whatever she's doing. Momo enjoys dogs, reading, cookies, swimming, and babies. She has two baby cousins, and nothing brings her more delight than holding them.
Our Home & Community
We live in a family-friendly neighbourhood on the east end of Toronto which is a short subway ride from the cultural events and shops of the downtown core. Our neighbourhood has a homey feel with quiet tree-lined streets and neighbours who talk to one another and share gardening tools. We are a short walk from three parks ,two libraries, two farmers' markets and a community centre which offers sports and arts programming for children. We often bike to a forest valley where we like to play hide and seek in the woods and make gigantic leaf piles in the fall. It's a diverse community where one wouldn't think twice when hearing French, Portuguese or Mandarin at the playground.
Our Home Away From Home
Every summer we spend our vacation time at a special place in Northern Ontario near Haliburton. Graham's family has a trailer there in the middle of a forest overlooking a lake. We spend our days swimming, building sand castles, playing friendly games of croquet, boating, roasting marshmallows over the campfire, and eating ice-cream Sundays at the 1950s diner. It's our summer paradise! Graham is actually the third generation of his family to summer at this campground and knows all the other people there by name.
Our Thoughts about Parenting & Adoption
Why Adopt?
We started trying for a second child when Morgan was 10 months old. After two years of trying and fertility treatments we decided to pursue adoption. We have so much love and a home to share; we want to invest the rest of our lives pouring into the children that God gives us. Your child would be an absolute gift to our family and we would tell him or her that truth for the rest of their life. Morgan adores babies; we know she would be a wonderful big sister.
Parenting Values
Relationships –  We love hosting dinners, games nights, barbecues, and playoff viewing parties. Rarely does a week go by where we don't have a friend or family member over for food. We want our home to be the place where all of Morgan's friends want to come and play. Both sets of grandparents are very involved in Morgan's life: Graham's mom babysits while Erika is at work, and we regularly drive out to the country to visit Erika's parents at the farm.
Nature – Erika's non-negotiable when choosing our home was access to lots of green space. We love nature and fresh air, listening to birds and watching plants grow in our garden. We want Morgan to grow up swimming in lakes, climbing trees, and exploring God's creation.
Music  – Our home is always filled with music. After supper we often turn up the volume and have Spotify dance parties which always end in laughter. Morgan likes blowing Graham's Irish penny whistle and plucking his ukulele strings. For date nights we like to dress up nicely and go out for an evening of musical theatre or classical music.
Listening: We are quick to praise good behaviour. We want to help your child learn about all their emotions – whether positive or negative – so that they can mature into emotionally healthy adulthood. We believe that listening is the foundation of a healthy relationship, even with very young children.
Fun fact: there are many adoptive families at our church. We're glad to be part of a community where adoption is valued.
Closing Thoughts
We admire your courage and love as you seek to find the right family for your child. And we are cheering you on in the process! Thank you for taking the time to read our profile as part of your journey.
If you were to choose us as your adoptive family, you might not be sure about the kind of interaction that you would like moving forward – and that's okay! We value open adoption and promise to listen to you to determine together what is best for your child and for you. A birth parent and child bond is a lifelong connection. No matter what you decide about future contact, you will always be spoken of positively in our home. Emails, photos, and visits would be our delight. 
We've been told that some birth parents worry that we wouldn't love your child as much as we love Morgan. We wouldn't be pursuing adoption if we felt that way! We have longed and prayed for a second child. To be chosen to be an adoptive parent would be a dream come true.