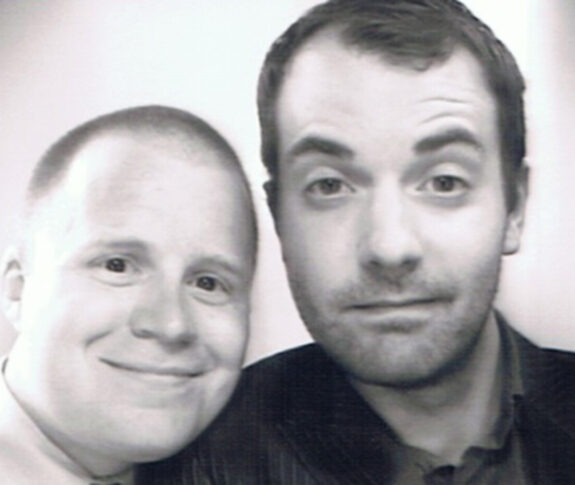 Thank you for your consideration and taking the time to learn more about us!
We are Christopher and Michael, a dynamic duo that (believe it or not) originally first met in Senior Kindergarten! We are now 12 years married and have been based in Toronto for the past 6 years. Michael currently works in Wealth Management Operations and has been employed by one of the leading financial institutions in Canada for 9 years. Christopher is self-employed and has been working within the advertising/marketing industry for the past 10 years.
Adoption has always been our plan for when we felt ready to start a family. Not just for the obvious biological reasons, but both of our families have extensive adoption history throughout.
We know this may be a difficult decision to be faced with, but we want to give you every bit of reassurance that should you choose to take this step, we are an option that should not be missed! If you think we may be the best fit, please don't hesitate to contact us.
Quick Facts
Christopher
Age: 35
Ethnicity: White
Religion: Agnostic
Profession: Marketing and Talent Acquisition
Education: College Diploma
Interests: Swimming, gardening, reading, cinema, music, stair climbing, comic books, visual arts, cooking, video games and travel.
Michael
Age: 35
Ethnicity: White
Religion: Agnostic
Profession: Subject Matter Expert - Wealth Management Operations
Education: High School Diploma
Interests: Building projects, wood working, puzzles, board games, cycling, hiking/outdoors, reading, cinema, martial arts, cooking, finance and travel.
Our Community
Years Together: 15
Province: Ontario
City: Toronto
Neighbourhood: Urban
Other Children: No
Pets: We have a beautiful 18 year old cat, Mackenzie.
Child Preferences
Age: Up to 2 years
Gender: No Preference
Ethnicity: no preference
Special Needs: Open To Discussion
Type of Adoption: No Preference
About Us
As mentioned, we had met at the early age of 5 years old while both attending the same SK class in small town Ontario. Christopher's mother still has some pictures of Michael attending Christopher's 5th birthday party. We were friends on and off through our childhood and teen years. As we matured, we realized how much more there was to our relationship and that this wasn't just a long standing friendship after all.
While Christopher was attending college in Eastern Ontario, Michael would visit every weekend. After Christopher's first year of studies, we took the next step and moved into our first apartment together. A couple of years later, in fall 2009, we were married.
In 2015, we made the move to downtown Toronto to pursue bigger and better opportunities both personally and professionally. We have remained in the core ever since, where we continue to work towards our ultimate goal of growing our family. Not only were we fortunate enough to find success and grow in our careers, but we also gained an appreciation for the many conveniences and opportunities associated with downtown living.
Over the past few years the topic of starting a family has become a lot more serious. In early 2021 we officially started our journey to becoming adopt ready.
A little more about Michael: Michael has always had an affinity towards math and is one of the few people you may encounter that enjoys a good problem involving numbers. Besides numbers, Michael enjoys hands on projects – welcoming any opportunity to construct and build – from electronics, automotive and basic home repair to jigsaw puzzles, LEGO and beyond! Martial Arts have also played an important role with Michael's life as he participated and competed in Judo for 11 years, eventually earning his brown belt. When he is not in the kitchen cooking up new and exciting vegetarian recipes, Michael enjoys just about any board, card, strategy or video game, urban hikes, cycling and trying to keep up with Christopher's energy level!
A little more about Christopher: Christopher is typically drawn more towards the arts, literature and just about anything creative. During Christopher's childhood and teen years he participated in many types of visual arts, creative writing and drama classes. He was rather fond of the library and movie theater. With that said, being a very energetic person, Christopher never shied away from sports and physical activity – taking swimming lessons throughout his childhood and obtaining badges for all 12 levels, skateboarding all through high school, soccer, Frisbee, gardening and more. Many of these passions Christopher still partakes in to this day. Gardening, swimming, stair-climbing (CN tower climb), comic books (and just about anything "nerd" related and he's there!).
Our Home & Community
OUR FAMILY
We are fortunate in that we have a large support network of family and friends within Ontario. Our Family is mostly within or just outside of the GTA with some of Christopher's family located in Ottawa. Most major holidays include multiple family functions and events. In the Summer Christopher's father's side often spends time at their Grandfather's country home where there is vast property, a large pool, ponds and a green house.
OUR HOME/COMMUNITY
We currently live right on the waterfront in the heart of downtown Toronto, overlooking the city with a large balcony space. Christopher is a member of the community garden committee for the building and we both utilize as many of the building amenities as possible including the tennis court, gym and outdoor gardens. There are many more indoor amenities within the building such as a private movie theater, arts and crafts studio and games room opening soon. We presently share our home with our 18 year old cat, Mackenzie. Christopher adopted Mackenzie while he was in high school, and she has lived with us exclusively since our first apartment back in 2007.
Our home is close to many parks, schools, libraries, beaches, and community/arts centers. We ourselves have participated in various art/library classes close by for glass blowing, wood working, photography, 3D printing, and more within walking distance from our door.
Our Thoughts about Parenting & Adoption
Parenting is something we have both aspired for and dreamed of for many years now. Being as ready as we feel we could be was the most important thing to us and we're now at a point where we feel not only comfortable, but extremely excited for what is ahead.
As mentioned, both of our lives were touched by adoption from the beginning. While both of our mothers were adopted, so too was Michael's aunt (paternal) and uncle (maternal). In addition to his mother, several of Christopher's aunts, uncles and even a cousin joined their respective families through adoption (also a mix of maternal and paternal). Over the past few years, both of our mothers went through the process of connecting with some of their biological siblings in the area. It has been a great joy to see our mothers connect with their birth families and learn about their pasts in ways they never knew.
Both family and adoption are important to us, so we are tremendously excited to grow our family this way.
Closing Thoughts
Thank you for taking the time to read more about us. It was a pleasure to be able to give you a small glimpse into our lives and family. We are more than happy to meet with you if you wish to get to know us more. Our contact information is below. Wishing you all the best in your adoption journey.