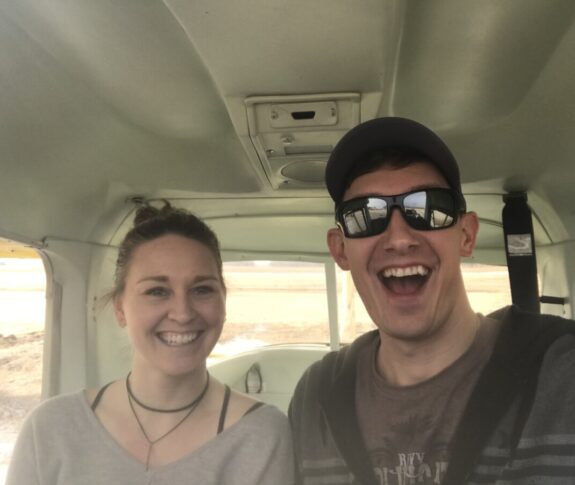 Hello,
Thank you for taking the time to get to know us. We can not begin to imagine the decision you are trying to make but we have the utmost respect for you and your child. We admire you for choosing life for your child and considering an adoption plan for him or her.
We are Maureen and Chase and have been married since 2008. We both grew up in rural towns, but had no idea it would take going to Mexico on a mission trip to meet. We knew right away we wanted to add children to our family, and never considered the fact that it wouldn't happen quickly or easily for us. After a few years we decided to change directions and started with the adventure of adoption.
Quick Facts
Chase
Age: 33
Ethnicity: White
Religion: Christian
Profession: Pilot
Education: College Diploma
Interests: Hunting, fishing, swimming, cooking, spending time with friends and family
Maureen
Age: 33
Ethnicity: White
Religion: Christian
Profession: Administrative Assistant
Education: College Diploma
Interests: Painting, crocheting, baking, swimming, spending time with friends and family
Our Community
Years Together: 13
Province: Ontario
City: Sioux Lookout
Neighbourhood: Rural
Other Children: No Children
Pets: We have a little brown miniature poodle named Radar!
Child Preferences
Age: Up to 2 years
Gender: No Preference
Ethnicity: Any
Special Needs: Open To Discussion
Type of Adoption: No Preference
About Us
Chase is a pilot for an air ambulance service, and Maureen works for the Municipality as an administrative assistant. We enjoy lots of outdoor activities including hikes along a beautiful lake, fishing, water sports, bonfires and our long standing pizza Fridays.
Our faith and family, especially our nieces and nephews are a central part of our lives. We both come from loving and supportive homes, and look forward to the day we can give that same loving environment to our child with the opportunities we had. Our nieces and nephews are thrilled for the day they get to welcome another member to their pack! another person to wear matching pyjamas at Christmas!
Our Home & Community
We live in a small but busy northern Ontario community with about 5500 people. It provides all the essentials for day to day, but close enough to a larger centre for other extended amenities. We enjoy the vast nature that surrounds us including many lakes, hiking trails and campgrounds.
Our Thoughts about Parenting & Adoption
Watching our nieces and nephews grow, we look forward to watching our own kids discover the world and themselves in a safe environment where respect, honesty and hard work are at the for-front of our values. We feel that even though we live a simple life, we have love, respect and encouragement to offer a child. We believe a child isn't entitled to everything but every child is entitled to a good, loving home where they are comfortable learning, growing, making mistakes and discovering who they are. Being auntie and uncle to 5 beautiful nieces and a handsome nephew has made the desire to parent even stronger. We know how much we love those kids so we can only imagine how much love we could have for our own. 
Closing Thoughts
Thank you and we appreciate you taking the time to get to know us, even just a little bit. If you choose an adoption plan for your child, know that we will consider you at every step and are open to whatever level of contact you want as they grow. We pray for wisdom as you make this decision and would love the opportunity to partner with you and your child in this experience.