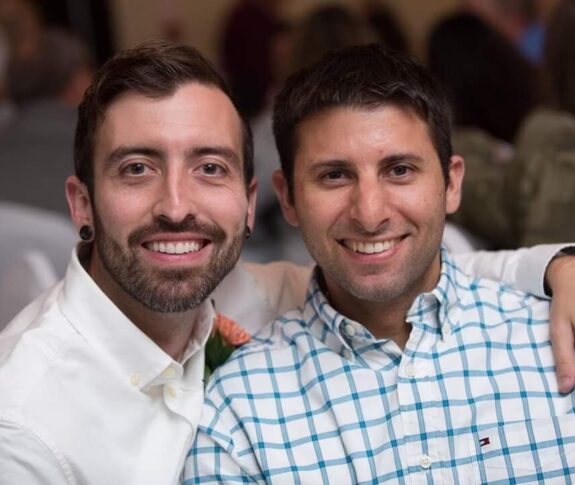 We are Brandon and Steven! We are so excited to hear from you. We are a fun loving couple who enjoy the little things in life. We love to travel and enjoy our date nights out or spending time at home with our dog Sasha.
We have a passion for fun and adventure and love to be out exploring what Canada and the world has to offer.
We believe starting a family is one of the most important decisions a family can make. We also know that this is one of the toughest decisions you as a mother will have to make, and we are here to support you in your decision.
We are at the point in our lives that we want to welcome a child into our family. We want to offer a home to a child, where they can grow and develop with our love and support.
We feel blessed that there are mothers out there who are providing us the ability to have a child, completing our family. Without you, this would not be possible.
Quick Facts
Brandon
Age: 33
Ethnicity: White
Religion: Christian
Profession: Manufacturing Technology Technician
Education: High School Diploma
Interests: Family, friends, travelling, skiing, outdoors and escape rooms
Steven
Age: 33
Ethnicity: White
Religion: Jewish
Profession: Family Lawyer
Education: LLB
Interests: Family, friends, reading, sports, travelling, escape rooms
Our Community
Years Together: 4+
Province: Ontario
City: Belleville
Neighbourhood: Urban
Other Children: No other children
Pets: Sasha (Siberian Husky - 3 years)
Child Preferences
Age: 0-6 Months
Gender: No Preference
Ethnicity: Caucasian
Special Needs: Open To Discussion
Type of Adoption: Open
About Us
We met back in May of 2017 and quickly fell in love. We moved in with each other soon after and haven't looked back ever since. In 2018 we introduced our dog Sasha into the family and he's played an integral part in both our lives and taught us a lot about love and responsibility.
We have spent the last 4 plus years building a strong foundation of love, honesty and respect, and do so in a fun loving manner with each other, our family, and friends.
We spent the first couple of years of dating travelling and exploring our interests together and always knew early on we wanted to introduce a little one into our lives and share our joys of seeing the world as a family.
Both of us enjoy our time with each other's families and friends, and sharing stories of one day being parents and spending our lives raising a child of our own with the love and care we have always wanted to provide.
About Brandon (Written by Steven)
Brandon is the most sweet, funny, loving individual you will ever meet. But don't take my word, just look at his Facebook page and you will see all his friends! Everyone knows Brandon is a good hearted person, and people are drawn to him. He is funny, down to earth and usually the life of the party. He pretty much can do it all, he can sing, he can dance, he can draw, and he can act! Brandon actually performed in off Broadway.
Brandon is handy, and loves to tackle home renovations. He is always open to trying new things. He is also a great cook and loves to cook for us, which I enjoy eating.
Brandon has been with his manufacturing company for over 5 years now. He has taken on various roles and positions there, and is given these opportunities due to his strong work ethic. He is also part of the workplace diversity and inclusive group, ensuring the workplace is a safe environment for all workers.
Brandon has lots of other passions and interests. He loves spending time with our dog, Sasha, whether that be playing, walks, road trips or just fooling around at home. Brandon enjoys seeing new places, meeting new people, and playing games and activities. Traveling, escape rooms, seeing friends and family are the highlights.
Brandon would be the best parent and father out there. He loves children and on trips, family visits and special events, you can find him with the children supervising, swimming, playing games and doing art and crafts. Brandon is the best with babies, soothing them, changing and cleaning them, feeding them. You name it he can do it. He learned all this living with his nieces when they were babies.
About Steven (Written by Brandon)
Steven is a super fun loving and caring person with a huge heart! He enjoys time spent with myself, Sasha our husky and our families and friends. When we are not busy making memories at home we are often sharing time with our large circle of close friends and family, travelling to the United States to visit our extended family or doing escape rooms as its one of our favourite past times. We both share the same love for our parents and brothers, Steven has an older brother and a fraternal twin!
As a dedicated family lawyer he is extremely hard working and driven with a very broad understanding of children and families and takes his job very seriously, this part of him is very admirable as we both strive to be there to support each other both physically and financially. I'm very proud of all the work he puts into every day.
In the summer you'll find Steven wanting to be out on the water paddle boarding or taking Sasha for walks. In the winter he's often planning our next vacation south or a ski trip to the hills we have near our home!
Steven is a very grounded and calm individual with the ability and strength to be there for a baby unconditionally, and to support them as they grow. He'd make a great father!
The love I have for Steven outshines anything I've ever had to explain, he's amazing and wouldn't want him any other way.
Our Home & Community
We moved in late 2019 to our newly built, 3 bedroom 2-storey home in Eastern Ontario. We made the move as we wanted to be in a subdivision with other families and children. as we knew we wanted children. We wanted to ensure we were living in a child-family orientated area close to a great school. In our subdivision you can find a pond with ducks, ice rink in the winter, and 2 open greenspaces. Also close by is a fairly new playground and a dog park being built.
Our home's main floor is open concept, with the living room, kitchen and dining room all open to one another. Perfect for watching children play or do homework, while cooking a meal. Off the dining room is the patio door that lead to the backyard deck. The backyard is fully fenced, perfect for play time. There will be lots of outdoor toys to play with for hours. Upstairs you will find three bedrooms and two full bathrooms. We do have a basement which can also provide another space for children to play.
We have become very close with some neighbours, spending time with them and their children for outings, dinners and hangouts. Everyone is friendly, even those we do not know personally. The neighbourhood children all play together outside all the time.
We truly enjoy our home and area, and cannot wait to welcome a child in our lives.
Our Thoughts about Parenting & Adoption
We knew open adoption was the only way to go, creating a bond with you is one of our main priorities and in the end we want you to be comfortable with our shared decisions, we promise to include you in our family and friends lives and to share your life with the baby. You will always be the child's birth mom and we want to create a level of openness that works for you and us. Always!
We will never know the difficult choices that you will encounter but we are grateful that you would consider us as potential parents to your baby. We wish you all the best while you make this important decision and hope to hear from you soon!
If you chose us we would commit to…
Creating an openness that work for you! (Pictures, emails, texts and visits!)
Always letting the baby know who YOU are throughout their life.
To keep them safe, happy and loved.
Teach them about you and where they came from.
Allow them to make mistakes and to learn and grow from them.
Let them experience life to the fullest and be who they want to be.
Understand, address and learn from them and care for their every need.
Immersing them in creativity, education and inclusion throughout their life.
Closing Thoughts
Our home is always filled with laughter and respect for one another. We are committed to loving your child unconditionally, keeping them nurtured and safe. We promise to provide a stable and understanding environment that fosters independent thoughts and emotions. Determination and a healthy work ethic have helped us achieve a solid foundation for family life. We believe in instilling those values in our children so they too can accomplish whatever dreams they choose to follow. Our goal is to inspire individuality, helping our future child find their own version of happiness and to be themselves.
Family bonding and love is an essential ingredient for us. We make the effort to stay connected, focus on family goals, and enjoy the special moments together. We understand the importance of routine and involvement in our future child's life. Each night, we both make it a priority to have dinner together, followed by walks with our dog Sasha and end the night knowing we accomplished everything we needed to.
We want to be able to have an ongoing relationship with you, in any way you feel comfortable, while always respecting your level of openness.
We both truly believe everything happens for a reason and we embrace the journey that led us to adoption and potentially matching with you.
Sending our love…