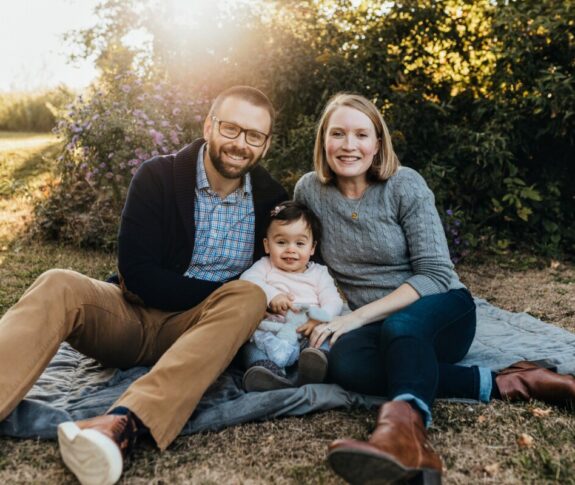 Hello! We are Brad and Kristie, a fun-loving, active, and family-oriented couple from Ottawa, Ontario. We were absolutely overjoyed to grow our family through adoption in August 2019. Welcoming our daughter into our family was unquestionably the greatest moment in our lives. We have always hoped to raise two children and would love nothing more than to welcome a second child into our family. We hope our profile gives you a sense of who we are and the love that we hope to share with your child. Our home is filled with happiness, love, respect, and support. We look forward to getting to know you and growing our relationship in a way that works for everyone. We are excited about this next chapter in our lives and feel honoured that you are considering us. Thank you
3 Things That Are Important To Us
Spending time together with family and friends

Keeping a healthy home and lifestyle

Getting out in our community and appreciating all it has to offer
Quick Facts
Brad
Age: 40
Ethnicity: White
Religion: Catholic
Profession: Teacher
Education: Masters Degree
Interests: Fitness, playing with our daughter, board games, movies, fantasy hockey, listening to music
Kristie
Age: 36
Ethnicity: White
Religion: Agnostic
Profession: Marketing Advisor
Education: Masters Degree
Interests: Reading, cooking, yoga, hiking, singing and crafting with our daughter, hosting friends and family
Our Community
Years Together: 11
Province: Ontario
City: Ottawa
Neighbourhood: Urban
Other Children: 1 daughter (1.5 years old)
Pets: No pets now, but maybe a family dog in the future!
Child Preferences
Age: 0-6 Months
Gender: No Preference
Ethnicity: No Preference
Special Needs: Mildly Correctable
Type of Adoption: Open
About Us
We first connected on a dating website in early 2010. We met for our first date at a Starbucks and had such a great time that we chatted until closing time. After dating for two years, Brad asked Kristie to marry him. We were married in January 2013 surrounded by friends and family.
We spent the next 6 years growing stronger as a couple; working, travelling, and enjoying lots of time with family and friends. Our lives were forever changed in the summer of 2019 when we were contacted by a woman through Canada Adopts who had an unplanned pregnancy. Within 3 weeks we exchanged emails and phone conversations and got to know each other, were chosen as parents, bought every baby item imaginable, and met our newborn daughter! It was an unbelievably exciting time for us filled with tremendous emotion. And it was amazing. We believe this was the way our family was always meant to come together and that things happen for a reason. But we also recognize this was a very challenging time for the birth mother filled with many emotions. We are forever thankful to her and continue to have an open relationship. We've enjoyed growing our relationship with her and intend to continue at her comfort level moving forward. For now, this means sharing photos and occasional video chats.
As a family of three, we enjoy spending time together and have found renewed joy in everyday moments and family traditions! We eat dinner together every night and go for long walks in our community every day with frequent stops at the park and local duck hangout. Christmas, Easter, Thanksgiving, birthdays and family vacations have always been important to us and it is so magical to see our child's growing understanding and excitement for these as well.
We have always wanted two children. We each have siblings and they have played important parts in our lives, both as children and now as adults. We would love for our daughter and her younger sibling to be able to share this same support and bond.
More About Kristie (written by Brad)
First and foremost, Kristie is an amazing Mom; she has a great relationship with our daughter, filled with cozy cuddles, adventures to the park, dynamic reading sessions, fantastic sing-alongs, and so many fun crafts and activities. Kristie is often reading parenting books and blogs and frequently scours Amazon for the latest fun and engaging toys for our daughter. She is a patient and caring parent whose love continues to grow.
Kristie is a warm, loving, confident, and smart woman. She is very close to her friends and family and is a loving aunt to our two nieces. She is adventurous and motivated; she likes planning activities for our family and get-togethers with friends. She is strong, dependable, trustworthy, and fun. She is a great listener and my best friend.
Kristie grew up in a small town in a large, close family including her Mom, Dad, older sister and younger brother. She works as a marketing advisor for the federal government and while she is very driven at work, she enjoys that it is flexible and allows her lots of time to be with our family.
Kristie enjoys:
Curling up with a cup of tea and a great book
Cooking healthy meals
Practicing yoga
Going for family hikes and finding a great view
Singing and crafting with our daughter
Hosting our family and friends at our home (we're always planning a get-together!)
More About Brad (written by Kristie)
Brad is a fantastic father. He has such a great relationship with our daughter. They play lots of games, read books, and share many hours of quality time together. He is the first one up when she cries at night and races home after work to spend time with her. He shows us time and again that family is his #1 priority.
Brad is a responsible, smart, energetic, and fun-loving person. He is always willing to lend a helping hand. I fell in love with Brad for how trustworthy, responsible and funny he is and that has helped make him an amazing Dad. He is ever patient and loving with our daughter and we are both so fortunate to have such a great man in our lives.
Brad's Dad was in the military so his family moved around a lot when he was a kid. He's lived in many places including England for 3 years! He has a very tight-knit family including his Mom, Dad, and two younger sisters. Brad always liked school and athletics and is now a Phys Ed and History teacher. He is passionate about teaching and a great role model for his students.
Brad enjoys:
Sports, fitness, and exercise
Playing and reading with our daughter
Playing board games
Watching movies
Managing his fantasy hockey team
Listening to music, especially 90s/00s Rock alternative
Meet our Daughter
Our daughter is fun, playful, and curious. She is kind, smart, and has a smile that brightens any room. She loves waving at every one on our walks, especially the dogs! We think she will be an amazing big sister and we look forward to nurturing a loving relationship and seeing it grow.
She Enjoys:
Reading
Eating hummus and cheese
Running laps around our main floor
Watching school buses out the window
Playing at the park (especially on the swings)
Our Home & Community
Family and friends are very important to us! Both of our parents live within 30 minutes of our home in Ottawa. They love being grandparents and we see them often! We have very close friends and we enjoy getting together with them and their children as often as possible. Our family and friends are very excited by the thought of us growing our family and are keen to welcome them!
We live in a family-oriented community quite close to downtown Ottawa with access to bike paths, parks, schools, and a library within minutes of our front door. We also have restaurants, shops, and movie theatres right around the corner. We live in a two-story, three-bedroom, semi-detached house and have spent lots of time making it a comfortable and inviting home. We have a lovely nursery and a dynamic playroom including a slide, trampoline, swing, and many toys and books!   Our weekends might include walks around the neighbourhood (pumpkin spotting and Christmas light hunts have been seasonal favourites), checking out a new park with friends, a yummy dinner together, and a cozy movie night at home with some buttery popcorn! We can't wait to share our home and community with your child!
Our Thoughts about Parenting & Adoption
Since we were young, we both dreamed of having and raising children. Pregnancy didn't happen for us and over time, we thought more and more about growing our family through adoption. We were so fortunate to adopt our daughter in August 2019 and we were so thrilled to become parents. We would absolutely love to welcome your baby into our happy home!
We were both raised in loving and happy families – and we will provide that loving, supportive and happy home for your child. We want to raise happy, healthy, and well-balanced children in a family full of laughter and love. We model healthy and positive behaviour and will use positive encouragement to help your child grow; we would use reasonable, age-appropriate rules to keep them safe. We would like to provide your child with many opportunities (like music lessons, swimming lessons, sports teams, clubs and summer camps) and the chance to pursue their interests. We would encourage your child to have goals and would do everything to help them achieve their potential.
Brad is Catholic and Abby has been baptized; they try to go to church on Sundays and sometimes Kristie goes with them. We attend mass with Brad's family on Easter and Christmas and celebrate the holidays at home with both of our families. We would like to expose your child to the Catholic faith but would also be supportive of your child's own exploration of religion. 
Our families and friends love our daughter and know that we hope to grow our family through adoption again. They are all very positive and supportive. Kristie's extended family also has a history of adoption – her grandfather was adopted and her cousin adopted a baby 5 years ago. We believe this experience, love, and support will help us to create a great life for your child. In addition, we think having two children who joined our family through adoption would be a wonderful source of support, comfort, and companionship for each of them. We know that adoption will be a part of your baby's life story and we plan to make an adoption book so they will always know where they came from.
We look forward to an open adoption and will respect the level of openness that you are comfortable with. We would like to share your story with your child to help them develop a stronger sense of who they are. We are open to sending updates (by letter or email) and photos as your child grows up and would incorporate virtual and in-person visits if you wish. 
Closing Thoughts
We promise to love your child unconditionally and to help them grow into a confident, resilient and kind adult. We want to give them the opportunity to discover their own path with our constant and unwavering support.
We absolutely love being parents and truly hope to grow our family again. We recognize this must be a very hard and emotional decision that you are making and we admire your courage and strength. We are truly honoured to be considered for this beautiful gift.
Thank you.