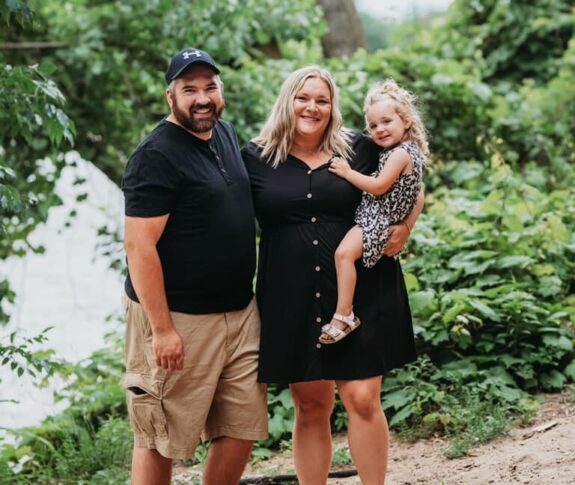 We are a young couple with a 3 year old daughter and we are looking to expand our family through adoption. We hope this gives you a glimpse into our lives and the love we have for our family. After marrying in 2013, and struggling with infertility, we were blessed with the opportunity to adopt our wonderful daughter Aria in June of 2018. Together we have built a beautiful family life, full of fun, adventure, connection, friendship, family and love. We can't wait to welcome another child into our happy and thriving home. Building our family through adoption is a responsibility we take very seriously. We are dedicated to loving and respecting everyone in an adoption plan; you included! We have so much to give to another child who would enter our home and promise to love them with our entire being every single day of their lives. We promise to do everything in our power to help you along this life journey of adoption so that your decision to place your child with us is one you feel strongly was the best choice for you and your child.
Quick Facts
Ashley
Age: 33
Ethnicity: White
Religion: Other
Profession: Early Childhood Educator / Child and Youth Worker
Education: College Diploma
Interests: Spending time with family and friends, reading, going to the beach, nature walks, fishing, golfing, travelling, baseball, and boating
Marshall
Age: 31
Ethnicity: White
Religion: Anglican
Profession: Contractor
Education: High School Diploma
Interests: Fishing, boating, golfing, outdoors, baseball, hockey, spending time with family and friends, Daddy daughter dates, and travelling
Our Community
Years Together: 10
Province: Ontario
City: Woodstock
Neighbourhood: Suburban
Other Children: We have one three year old daughter, whom we adopted at birth in 2018
Pets: 2 dogs Lola is a laberneese (9), and Lucy is a border collie cross (8)
Child Preferences
Age: 0-6 Months
Gender: No Preference
Ethnicity: caucasion
Special Needs: Open To Discussion
Type of Adoption: No Preference
About Us
We are so fortunate to both come from great, close knit families, with parents who have been together 30+ years. We owe a lot of who we are to our parents, and siblings. We have always felt supported, and loved through every stage of our lives, both separate and together. During our adoption in 2018, we witnessed our families and friends fall in love with our daughter, and come together to support and be part of our journey as new parents. 
About Ashley: by Marshall
Ashley is a hardworking, reliable, outgoing, and honest person. Watching her become a mother has been one of the most natural and beautiful processes that I have witnessed. During the early stages of having Aria home, Ashley completed her Early Childhood Education with honours, cared for a newborn, and ran her home daycare. I gained a new-found love and appreciation watching her in those early days, accomplishing so much with such grace. Ashley also has her Child and Youth Worker degree, ran a home daycare for 10 years, taught a babysitting course for 8 years, and was a nanny for a family that is still very present in our lives. After having Aria home for six months, Ashley decided to close her daycare and put her sole focus on being a mother.
About Marshall: by Ashley
When we started dating, Marshall's family described him as a teddy bear with a heart of gold and I quickly found this to be true. He finds gratification in doing things for others and is a true family man. Marshall plays an important role in our daughter's life, as well as our nephew's and god-daughters' lives. He is always ready to jump right in, be silly, and play with them. I never doubted that Marshall would be an amazing, hands-on father. He is the dad who gets up in the night if he is needed, no matter how tired he is; the dad that is down to join us on any adventure, takes Aria on Daddy-daughter dates, and always has time to play. Marshall is very proud of the renovation company he founded, and he enjoys the work he does everyday.
We had our first date in 2011, and in 2012 Marshall proposed to me at a waterfall in Northbay, and we had our dream wedding in October of 2013. Following that we learned we would never be able to have children biologically. So we decided to learn about adoption and follow that path. Which led us to our beautiful daughter. The love we felt for her, and the bond we established was instant. Aria is a beautiful, independent, smart, empathetic little girl and her memory, sense of humour, and attention to detail are evident in most things she does. Aria thrives in our home, enjoying the creative and educational activities that her Mom and Dad plan for her and bonding with her extended family and friends. There is no doubt in our minds that Aria will be a great, big sister to your child. Aria has a very gentle approach with the younger children at her preschool, with our foster babies and with her younger friends. She goes out of her way to comfort them when needed, help them where she can, and always makes sure to engage with them during play time. We can't wait to see Aria bond with her sibling, and watch their lifelong connection grow.
Our Home & Community
Our happy home means so much to us. Our home is not just a place where we sleep and eat; our home is a place where we love to entertain our friends
and families, share conversations, create family traditions, and feel a sense of joy. We live on a quiet street in a fabulous neighbourhood; great schools, nature
trails, and child-friendly parks surround us. We love going for walks and hikes in our community and spend time outside everyday. Ashley loves to decorate our home, and Marshall loves to renovate, so we make a good team building this happy environment. We have made our house a place that reflects our personalities and a place we have worked on projects together. We have created a very special space for Aria to play, explore, and create: a bright, safe playroom that allows for child-led play. For Aria's third birthday we had her design her bedroom, she chose her paint colour, wallpaper, and
some accessories. It is a space she is proud of, and loves to spend time in.
Our Thoughts about Parenting & Adoption
Parenting has been one of the toughest, most rewarding and long-awaited journeys of our lives. Our parenting style is something we talked about before becoming
parents and is informed by our values, and our experiences being raised with respect and compassion.We will encourage boundaries and provide natural consequences, while always considering the feelings and view of your child. We have clear expectations and always explain the reason behind our rules. We believe in connection before correction, and will aim to ensure every single day that your child feels valued and loved. We believe the best way for a child to learn is through child-lead play, experiences, and exposure to new things. We will help your child to learn the value of honesty, compassion, and trust. We feel that it's important as a parent to be open and honest and create the strongest possible bond with your child. Your child will be raised in a home wherethey are treated with kindness, respect and love every day of our lives.  We can demonstrate our commitment to these values in the way we parent Aria. We are completely open with her about her adoption. We tell her things like she "grew in our hearts, not in my belly." We tell her that her birth mom was a strong, and selfless person who knew she had to make a hard decision for her child to give her the best life possible. We will always make sure our children know where they came from, their story, and that no question is ever off limits.
Closing Thoughts
Thank you for taking the time to read about us. We know you are faced with the most important decision in front of you right now, finding the right parents for your child. We hope that this gives you a little bit of insight into and comfort with the type of people we are and what we can offer you and your baby. We know this is the most complicated decision you have ever been faced with, but we know we will be wonderful and loving parents for any child we are blessed to adopt. Please feel free to ask us more questions if you have them and know we are here for you. Whatever your decision is, we wish you all the best.