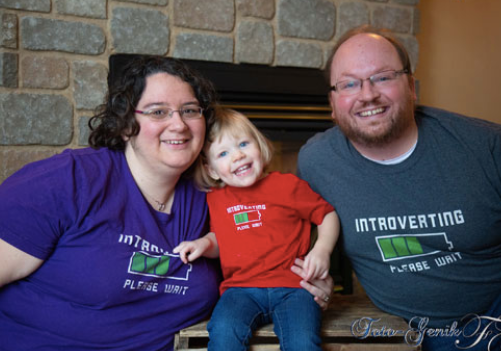 We are honoured to be worthy of your consideration as you plan the future of your child.  We know it's impossible to really get to know someone in just a few pages but we will try our best to sincerely convey who we are.
Quick Facts
Angela
Age: 34
Ethnicity: White
Religion: Agnostic
Profession: Child Therapist
Education: Masters Degree
Interests: Nerding, being outside
Andrew
Age: 35
Ethnicity: White
Religion: Agnostic
Profession: Accountant
Education: Masters Degree
Interests: Nerding, being outside
Our Community
Years Together: 6
Province: Ontario
City: Ottawa
Neighbourhood: Rural
Other Children: 1
Child Preferences
Age: Up to 2 years
Gender: No Preference
Ethnicity: Open to discussion
Special Needs: Open To Discussion
Type of Adoption: Open
About Us
We have been together for 6 years and were married in 2017.  We adopted our daughter Abigail in May 2018 when she was 13 months old.   We firmly believe we are all the same kind of "weird".  We are goofy and weird (in a good way) and always appreciate a good pun!
We consider ourselves to be responsible and organized.   We are both in good health and neither of us has ever smoked and we don't consume alcohol. 
Angela
Angela is a friendly and outgoing, 34 year old woman of French-Canadian/Italian/Yugoslavian descent.  She is a very fun loving and caring person.  She is very approachable and easy to talk to.  She is very good with children and easily gains their trust as she has a playful and silly side that not all adults have.
Angela has a close-knit family that spends a lot of time together .  She has 2 older brothers, both are married with kids.  Both her parents had large families so she was always surrounded by lots of extended family.   She enjoys spending quality family time with Andrew and Abigail, as well frequent visits with her niece and nephews. 
Angela has completed a BA in psychology and a Masters in counselling at a Francophone university.  While in university, she worked part time as a piano teacher and spent her summers working in her mother's daycare.  After completing her studies, Angela achieved her career goal by becoming a Child Therapist at an indigenous organization, and later also the counselling team manager.
Andrew
Andrew is a very kind and generous 35 year old man of Scottish/British descent.  Andrew is dependable and caring; he is always willing to lend a hand to those he cares about.  Andrew is very punny and has a great sense of humour; He routinely allows Abigail to dress him up as a princess, and enjoys dancing the ballet with Emma Wiggle.
Andrew has always been interested in learning.  He also had a keen interest in music and golf.  After completing his Bachelor of Commerce, Andrew started his work experience with an accounting firm and obtained his Chartered Professional Accountant designation. He currently works as a controller for a private company in Ottawa.  He likes numbers…. And banks. 
Andrew is very close to his family, who all live in the area.  He has a younger sister, who is also one of his closest friends.
Abigail
Abigail is a very happy and chill three year old.  She is learning to speak both English and French.  She is happiest when she can hang out with Mama, Dada and her doggies.  She is introverted and good at keeping herself entertained; she enjoys talking to herself and her stuffies, singing, trying on all her clothes and looking at books.  She loves music: she likes to watch the Wiggles and play instruments.  She likes the piano and will drum on anything she can.  She also got an accordion last Christmas!  She also really loves bagpipes and the didgeridoo.
She loves the outdoors and going to the park, walking anywhere in nature, and bugs.  She is also an excellent swimmer and loves going to her grandmother's pool and swimming in the lake at the cottage!
She likes going on outings, whether it's a museum, the library, the store, or visiting friends and family.  Her favorite store is IKEA since she gets to sit on all the chairs and have meatballs.
You know Abigail loves something when she gives it a hug – be it Mama and Dada, our dogs, her stuffies, a flower, a bug, or the giant block of ice at the Museum of Nature.  But if you stink, she'll affectionately tell you.
Our furry friends
We have 3 dogs with distinct goofy personalities.  Our dogs are all in good health and are used to having kids around. Pavlov is our oldest dog.  He is a 10 year old Beagle Dalmatian mix.  He's a big suck and loves to be pet, and loves anyone willing to pet him. 
Darwin is a 6 year old female terrier mix who can run like a greyhound and jump like a cat.  She is the momma dog; if someone is sad or sick, she cuddles next to them and keeps them company. 
Alonzo is our "littlest" goofball.  He is a 4 year old black lab and is the friendliest dog you'll ever meet.  He enjoys food, snoring and licking Pavlov's eyeballs.  Alonzo is Abigail's favorite dog to cuddle due to his willingness to stay put when she dresses him up. 
Our Home & Community
We live in a large four-bedroom house in a rural area.  We really enjoy cottage living so we tried to incorporate aspects of that into our home.  We live in a large 4 bedroom home on a 1 acre property.  It offers a nice mix of country and suburban living as we have lots of land and trees but also have neighbours close by and are only a 10 minute drive from town. 
We purchased this house with kids in mind as it has allocated playrooms, a large finished basement, and plenty of space for everyone's hobbies.  We have a large open space directly behind our porch surrounded by a wooded area.  We often play on the front wrap-around porch and have a trampoline set up in the yard. 
Cottage fun!
In the summer, we like to spend time at our family cottage in the Laurentians.  The cottage is on the lake and only accessible by boat, which creates a sense of calmness and allows us spend time in nature. 
While at the cottage, we like boating/canoeing, swimming, watching the dogs run and play outside, bbqing, walking around the property 50,000 times while pointing out all the bugs, and hanging out in the hammock.
Our hobbies
We think "nerding" is an essential part of every day life.  To us, nerding means taking the time to do something you are really passionate about.  We enjoy reading, playing board games with friends, video games and various arts and crafts such as painting. We enjoy watching fantasy and sci-fi like Doctor Who, Harry Potter and Stranger Things or comedy like QI.
We come from very musical backgrounds and music is an important part of our family.  We have been known to form impromptu musical ensembles and play Christmas carols over the holidays or to invent random songs about our lives or a word that Abigail likes, such as the Exclamation Point Song, No No I'm Not Sleepy, or It's Time to Take a Bath.
Every summer we spend the long weekend at a family friendly music festival where we can camp onsite.  We usually attend this with several of our close friends and their families.  Abigail has already been twice and loves i.  She loves to people watch and dance to the live music, participate in the kids' parade, and sleep in the tent.  The atmosphere really brings out her social side.
Our Thoughts about Parenting & Adoption
Given Angela's career, we have learned and often discussed healthy parenting techniques that help develop a strong attachment with a child, which in turn builds more confidence and self esteem.  We strongly believe in communication and healthy boundaries.  While raising your child, we would encourage them to talk about any issues they are having and help them come up with solutions together.  We do not believe in corporal punishment and would never hit or intimidate a child.  Rather, we believe in setting clear boundaries and natural consequences to any misbehaviour, so the child can learn from their mistake and not feel like their attachment to us is threatened.
We also highly value spending time together as a family.  We would want to really get to know your child and bond with them over shared interests and some special silly time. 
Our views on adoption
Given the opportunity, we would prefer an open adoption.  We know that maintaining a connection to the birth family and knowing your family history helps to create a better sense of self and more self-confidence.    We currently have a relationship with Abigail's birth family and believe that this is beneficial for everyone.  We communicate with them regularly and have special visits to let them know how she is growing; they are included in her birthday parties and we make sure to see them around the holidays.  We feel that it is important that she knows where she comes from.  You can never have enough people who love you.
Closing Thoughts
We sincerely thank you for considering us and taking the time to read our profile.  We know this is a difficult decision for you and respect your decision as we know you will make the best choice for your child.