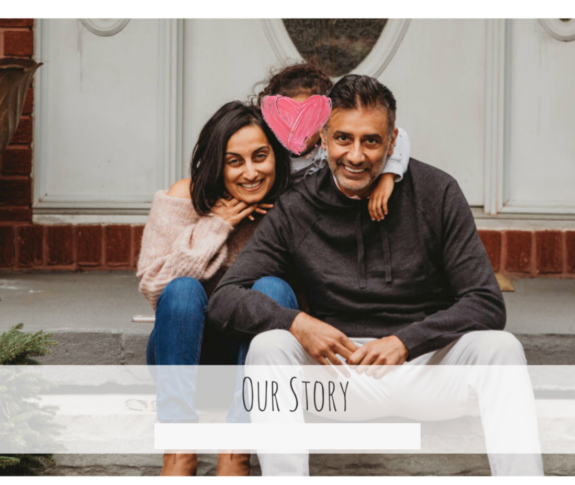 Thank you so much for taking the time to learn about us and for considering us as you make the difficult decision of who will parent your child.
We are humbled by the selfless attitude you have and the sacrifice you are making on behalf of your child.
Wherever your journey leads you, we hope you find comfort in knowing that your sacrifice means more than words could ever convey.
We hope that through our profile you will be able to see the love we have for each other, our daughter, friends, families and future child.
We know you are incredibly courageous and hope we will meet one day. May you find the perfect family you seek.
Quick Facts
Amrit
Age: 41
Ethnicity: South Asian
Religion: Other
Profession: International Lawyer and Marketing Communications Coordinator
Education: Other
Interests: Reading, Writing, Cooking, Travelling, rowing
Sundeep
Age: 51
Ethnicity: South Asian
Religion: Other
Profession: Managing Director in Finance
Education: Other
Interests: Football, travelling, working out
Our Community
Years Together: 10
Province: Ontario
City: S Lake
Neighbourhood: Urban
Other Children: Yes, a five year old daughter.
Child Preferences
Age: Up to 2 years
Gender: No Preference
Ethnicity: South Asian, Asian, South East Asian, Latin, First Nations, Mixed ethnicities
Special Needs: Mildly Correctable
Type of Adoption: Open
About Us
Our adventure began ten years ago when we met at a wedding. Sunny was working in England at the time and Amrit had moved back to Canada. Long story short….we got hitched within a year!
Right after the wedding we moved abroad to Europe and Asia for several years. During our time away Amrit underwent multiple IVF treatments and fell pregnant in England.
After an incredibly long wait and tough pregnancy we had our daughter. She was a happy baby. At six months old she was diagnosed with staubismus. We took her to specialists in England and Canada so that she could receive the best treatment. After multiple surgeries she is doing well.
We spent three years living in our home in Toronto before moving to Delhi, India. This stint was an eye opener for us. Our daughter is asthmatic and had a tough time dealing with the pollution. After two months, Sunny resigned from an incredible job and we returned home.
What we realized is clean air, safety, community and being close to family is more important for children and that's why we moved back to Canada. There is nothing more important to us than our families wellbeing and health. Now, we reside in a beautiful country home in a town where Amrit grew up.
We chose the country side to get away from the fast paced life in the city so that we could enjoy the more important things in life.
Our Home & Community
We're grateful to live in a home that sits on a large estate (70 acres) that backs onto a lake. Two acres are landscaped, with a fenced pool, forest, pond, play set and tree kids house.
The bungalow has 5 Bedrooms, 4 Bathrooms, Living room, Front room, meditation room, Kitchen, laundry room AND A Finished basement with play room, gym and office.
Our Thoughts about Parenting & Adoption
We believe imagination is the source of every form of human achievement. we spend a lot of time playing pretend!! A LOT !!! she can tell the wildest stories and we believe in part it's because we encourage her to learn through play.
TV time is limited in our home. we believe the best learning happens when you're experiencing life. we encourage Friday family grocery shopping, going to museums, pizza dinner nights, gardening, baking, horse riding, music and much more.
We live with the motto work hard but treat ourselves harder. this can be anything from binging on cake, WATCHING TV ALL DAY, and travelling well.
We re a go to bed early and wake up early type of family. our little one goes to bed by 7 pm, but once a week we go wild and stay up late to watch a family movie. we find an early routine makes for a happier and funner us.
We've enrolled our daughter into a private school close to home. We chose this school because it's mission statement resonated with us the most. While academics is important we believe in the development of a well rounded person. This school is committed to providing that in a small friendly family environment. It is our hope that through a private education our little one will be well positioned to pursue and fulfill all of her dreams,
More than anything we want you to know that we will love your child unconditionally and will nurture him or her to grow up to be the best person that they can be. We promise to provide an upbringing which embraces their cultural background. We promise to an upbringing where values such as gerosity, kindness and respect for others are taught ever day. We also promise to encourage your child's hopes and dreams and provide them with the best education, access to health and opportunities to see the World. Most importantly, we promise that you will be honoured in our home.
Closing Thoughts
It's hard to summarize our whole lives in an online profile, but we hope we have given you a glimpse of us, our family, friends, home, community and things we value the most.
We have an abundance of love to share. Your child will be loved not just by the three of us, but also our family and friends!
Although we do not know what the future holds, we look forward to having a relationship with you in whatever ways feel most comfortable for you – from sharing photos, exchanging texts, emails and visits. We welcome open and warm communication because we believe a child can never have too much love.
We hope that no matter who you choose, you feel supported, encouraged and loved. We know that your one desire is to place your child into the arms of parents who will give him or her the future you imagine. With us, you can rest knowing that they will be loved, well provided for, pushed to follow their dreams and supported along the way.
You will continue to be in our thoughts and prayer