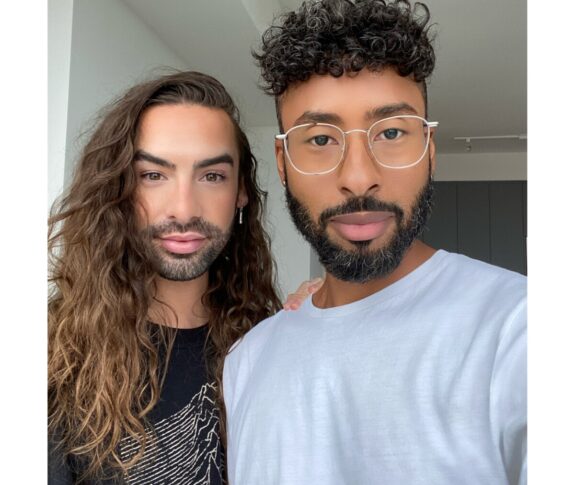 Our names are Alexandre and Guy. We would like to thank you for taking the time to read our profile. We hope our profile helps you get to know us a little better and to connect with one another.
Hopefully you will be able to get a sense of who we are as a couple and the unconditional love we would provide your child. Your child will have two extended diverse families that will love, nurture, and support your child throughout their lifetime.
Quick Facts
Alexandre
Age: 32
Ethnicity: White
Religion: Catholic
Profession: Business Development Manager
Education: Other
Interests: Cooking, nature, music, DIY projects, nature, fitness, languages, culture
Guy
Age: 41
Ethnicity: Multiracial
Religion: Catholic
Profession: Logistics Manager
Interests: Drawing, basketball, fitness, nature, music, culture
Our Community
Years Together: 11
Province: Ontario
City: Toronto
Neighbourhood: Urban
Child Preferences
Age: Up to 2 years
Gender: No Preference
Ethnicity: No Preference
Special Needs: Open To Discussion
Type of Adoption: No Preference
About Us
Friend Request Accepted ​…the beginning
We met in 2010 from a Facebook friend request. We connected right away and within a few days we could not stop talking to each other. Our relationship blossomed ​getting to know each other via countless phone calls and FaceTime video calls. Our relationship grew on a spiritual level and by the time we met in person it was love at first sight. ​Although we lived in different cities at the time, we grew closer each day despite the physical distance between us. We loved organizing creative FaceTime date nights and watching movies together. This has created a special bond between us.
About us​ ​…best friends & soul mates
We're both loving and easy-going people who have been together for over 10 years. We are each other's best friends and share the same values. Our relationship is full of love, honesty, laughter and respect. Culture, food, nature, music, spending time with family, going for long walks with our dog Pepper and most of all making each other laugh is our ​collective favourite pastimes​.
Both of us have strong work ethic and are very fortunate to have stable and rewarding careers that allow us to be able to do all of the things we love, from travelling around and exploring new places and cultures, to attending art exhibits and theaters. We are both passionate about music and art. Alex comes from a musical background as a child and Guy developed a passion for art from watching his father paint as a child.
The simplest things in our lives connect us together, like cuddling up on the sofa with our dog Pepper and binge watching our favorite shows on Netflix. We are both foodies and love all types of food from Indian, Asian, Middle Eastern to Caribbean food. When we are not adventuring out to explore new cuisine, we love cooking and baking new recipes together at home.
From the very start of our relationship, we quickly established that we had many of the same interests, views and values and truly felt a life long partner within each other. One of those core values is how important family is to us and that we both wanted children to be part of the picture.
Alex ​(written by Guy)
Alex is a French Canadian, who is fluent in French and English and is currently learning Mandarin. Being the oldest of three siblings he has always been protective and nurturing from an early age. He is very passionate, kind and loving and would make a wonderful father and role model to your child. Being a father has always been a lifelong dream of his.
Alex is a creative open minded individual who enjoys discovering new cultures, music, food and learning from people of different backgrounds. He is extremely close to his family. Although his family lives in Quebec he speaks to them on a daily basis. He plays an important role to his sister's new born daughter. It brings him so much joy seeing his niece everyday via Facetime and watching her grow. He is also the godfather to his brother's son, with whom he has a very close bond to. He enjoys spending time with family especially during the holidays. Christmas is a family tradition, where everyones gets together to cook, reminisce and laugh. Alex enjoys spending time at the cottage, cooking, baking and DIY projects. I have no doubt that Alex will make an exceptional father. He is the most affectionate and loving person that I know.
Guy ​(written by Alex)
Guy is mixed with Black, Portuguese and Chinese background. He was born in Toronto but lived in Trinidad and Tobago as a child for a few years before returning to Canada. He has a giant heart, he is playful, hard working, caring, loving and compassionate.
Being raised in an open minded family of different racial backgrounds helped shape him to be the individual he is today. It has taught him to embrace and respect cultural diversity and differences.
As a child Guy learned the importance of giving back and the importance of unconditional love. Guy has a personal connection to foster care as his dad was a foster father. Some of his fondest memories were playing video games and bike riding with the boys. Guy also learned the importance of giving back to the community. As a child his father would organize summer sports camps for kids and bbq's in the community.
Guy loves basketball, outdoor activities, music and always makes me laugh. His incredible calmness and patience will make him an excellent father. With his constant love and support he is the ideal partner to raise a family with.
Our Home & Community
We live in a beautiful  house in a charming neighbourhood in Down Town Toronto. Our home has a spacious family room and a fenced-in backyard, which has lots of room to play and run around. The area is a safe diverse family friendly-oriented neighbourhood, with plenty of great schools, playgrounds, bike trails and green spaces nearby. There are also an amphitheater, wading pool and a outdoor skating rink near by for families to enjoy. A description of our home would not be complete without our amazing friendly and loving four year old little dog named Pepper.
Our Thoughts about Parenting & Adoption
Our Parenting Beliefs ​…Unconditional Love
We have always known that we wanted to be dads and have a family of our own. As adoptive parents, we would give the same unconditional love for your child as we got from our parents. Your child will be encouraged to be loving, kind, accepting, open-hearted and open-minded.
We will empower your child to unlock the world through fun and great education and instill in them the importance of learning and self-discovery. As adoptive parents we will provide your child with the tools and resources to become a loving and successful person.
We will teach your child about diversity, how to understand the issues around them and how to make the world a better place. As adoptive parents we strongly oppose physical punishment of any kind. Instead we will instill positive reinforcement and treat their mistakes as opportunities to learn. We also believe in setting clear boundaries, consistency and open communication.
Being adoptive parents will be our first priority and we look forward to your child's first step, first word, their first day of school, to reading their favourite bedtime stories and tucking them into bed at night. We look forward to starting new family traditions as our family grows, like decorating the Christmas tree, baking cookies and watching Christmas movies, such as 'Home Alone' during the holidays since it's our favourite time of the year. Most importantly, have lots of fun together and always take on life as a family.
Openness …Our relationship with you
We are open to openness and we intend to raise your child with a clear understanding of their adoption story. We strongly believe that for your child to create their own identity it is important for them to have the knowledge and positive racial heritage of their birth families. We have a flexible vision of open adoption. Most importantly, we hope to create a plan that you are most comfortable with, whether that involves sharing regular photos and updates, planning visits together a few times a year and/or having regular email contact so you can see your child growing and thriving in our care. We hope that in building our open relationship together, you will always feel like family and will continue to play an important role in our lives.
Closing Thoughts
Thank you very much for taking the time to learn a little bit about what makes us who we are. We would love to continue the conversation and learn about you. We are so ready to be dads and have so much love to give and can't wait to welcome a little one into our loving family. We want to thank you from the bottom of our hearts for considering helping us expand our family.
Thank You!
Alexandre and Guy