This post is by adoptive parents Brandie and Doug.
When we were waiting to adopt, we remember reading people's success stories and how much they were a lifeline for us. So we wanted to write something that may help somebody who needs a little hope.
In 2013 we had finally completed the year-long paperwork, education seminars and home visits and had our names officially on the list to adopt domestically.
We waited for six months with next to no bites on our adoption profile.  We remembered hearing that our profile would be seen more if we signed up for more than one agency. So even though it was expensive that's what we decided to do.
We wanted a family so much, but we didn't think a birthmother would choose us for a few reasons.
We were a bit older (late 30s, early 40s). We didn't own our own home. We didn't have fancy jobs or much money.
And we were worried that we had been too honest in our profile about our extended family dynamics and dysfunction.
After another six months of waiting we were about to consider starting the foster-to-adopt program when we got the call that changed our lives forever.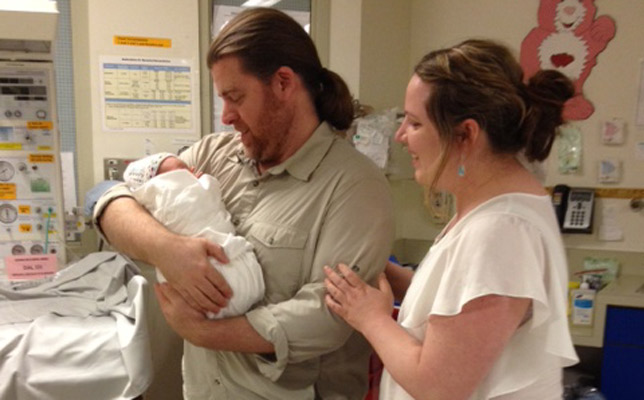 It turned out that none of the things we were worried about worked against us.
One day in May 2014 Brandie saw that one of our agencies had left us a voice message. She didn't really get her hopes up because she assumed it was something to do with our yearly update we were working on.
But the voice said "please call us back today." It was a Saturday so she knew something was up.
The social worker excitedly explained that a healthy, full-term baby girl had been born in a nearby city and the birthmother had chosen us as her adoptive parents.
Brandie was in shock and rushed home to read the e-mails giving details of the birthparents genetics/history/self reflections etc. and to figure out with Doug what we wanted to do.
It was a no brainer, but we still had some reservations.
We wouldn't get to meet the birthmom who had already left the hospital, and the birthdad was not named.
We had very limited information to go on about the health or well-being of the birthparents so we just had to decide are we going to go for it or not?
The social worker also explained that there was always a chance that the birthmother could change her mind. The hardest part was definitely waiting that entire month just hoping that our hearts wouldn't be broken.
We didn't have anything to take care of a newborn so after stopping at Toys "R" Us and buying every newborn baby thing in sight we took two ferries and six hours of travel to a hospital on Vancouver Island.
With infant car seat in hand we walked in to meet our baby.
We spent less than an hour signing paperwork, holding, changing, bathing, feeding our new daughter and then we were allowed to leave.
It was a blur, a shock, a blessing and so terrifying all at once.  "How could this be happening?  They're just going to let us take her?  That's it?  What do we do now?  Is this real?".
Apparently the birthmother had chosen us for all the reasons we thought nobody would.
She liked that Doug was adopted and she liked that we were honest and real.
She told the social worker that she appreciated that we were just a typical couple and that she felt she could relate to us.
We still have never met or talked or e-mailed, but we send photos through the agency every 8 weeks.  Maybe we will have more communication one day.
But even if we don't, we will never ever forget how lucky we are to have been chosen by our daughter's birthmother and to be adoptive parents.
Brandie and Doug are adoptive parents from a small island off the coast of Vancouver, B.C.  
Do you have an adoption story? Email us or find out more about how to share it with our community. 
Help us raise awareness about adoption. Like us on Facebook.