This guest post is by Tanya, an adoptee and hopeful adoptive mother.
As an adoptee, I always thought that adoption didn't define me, that I was just like everyone else.
But ever since my husband and I started our own journey as hopeful adoptive parents of a teenager or two, I have realized that my adoption has shaped my life in many ways.
I was adopted as an infant, and grew up in a family and community where adoption was commonplace.
My brother was adopted, other family members were adopted, some of my best friends were adopted, and people in my church were adopted.
Growing up, my favourite bedtime story was my adoption story—I knew that I was adopted before I even understood what "being adopted" meant.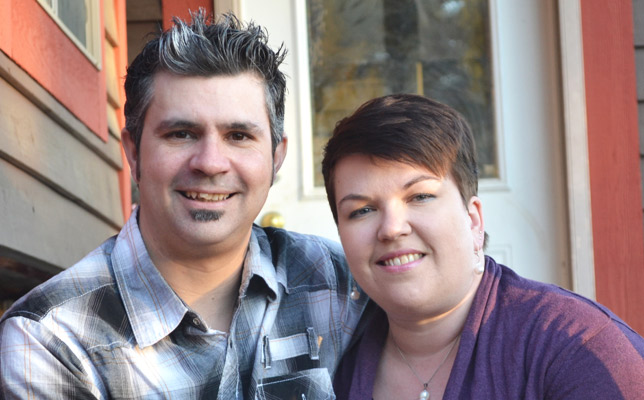 Fast forward a few years. I have connected with my biological family. My biological mom has stayed at my parent's house when visiting.
My biological half-sister (who is 13 years younger than me) lived with my husband and I for almost five years. She calls my parents "mom" and "dad" —it confuses those who don't know us well, and it's hilarious!
I have relationships with all of my biological siblings. And when I met my husband (whose parents passed away early in his life), my parents helped to fill that void in his life—they do the same with many of my brother's friends.
Our family is inclusive and encouraging.
Moving through the process of adoption as an adoptee has brought me full circle.
Because my parents went through a very similar process, I feel closer to them. I appreciate the honesty and openness in regards to adoption with which they raised us (unusual for the time).
It has shown me that although the opportunity of adoption is created by loss, it is also a priceless gift for many.
The adoption process has illustrated to me the challenges that families who value adoption face on a daily basis, and the opportunity to increase awareness of adoption-related issues.
It also reinforced my decision to view life as "glass-half full." Life is what you make it, after all.
Adoption has taught me that family has little to do with biology and everything to do with love and acceptance.
Because of adoption, I am forever more grateful, more open-minded, and more adventurous.
I have learned that what is "different" about each of us simply adds more valuable diversity to our families and communities.
I am also grateful for the positivity of openness in adoption today.
When I was adopted, openness was rare, and although I grew up knowing my adoption story, available details about my biological family were limited. I did not meet them until I was 22.
I am excited that our kids will know their story!
Our stories—including adoption and loss—have provided us with the ability to say "I've been there" as our kids work through attachment and grief.
Adoption and loss can be so isolating, but to know that those closest to you have been there as well makes it just that little bit easier.
Back to the original question: How did the fact that I am adopted influence our decision to adopt?
I would say that our stories did not really influence us to adopt so much as they will influence how we bond with, and how we parent, our children.
Ultimately, adoption is a beginning—a way to create an amazing family—and that is what influenced our choice. We choose adoption as our family's beginning.
Tanya, and her husband, Jean, live in British Columbia.
Do you have an adoption story? Share it with our community.